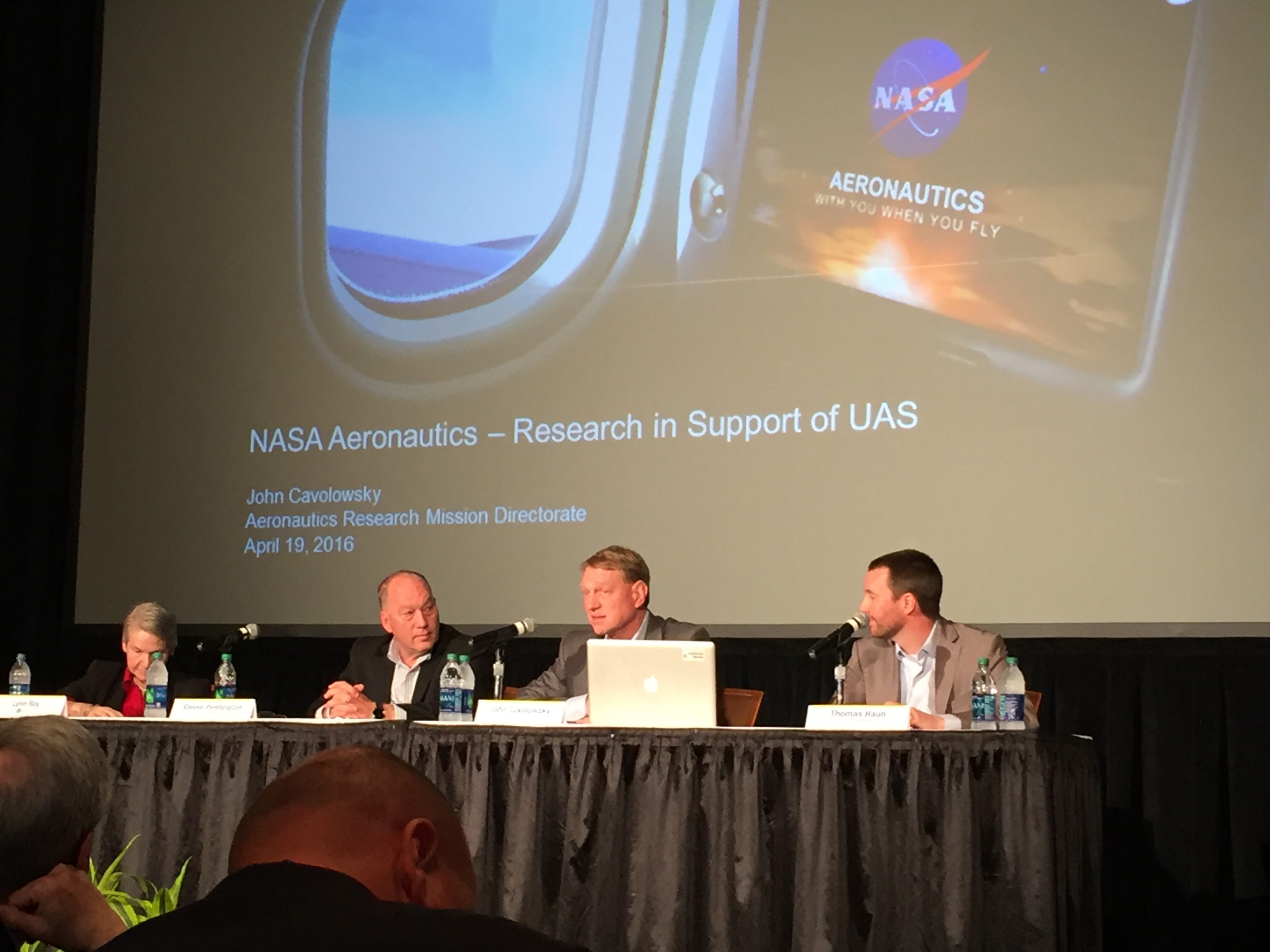 The frustration was clear as hundreds of members of the commercial drone industry met with aviation regulators at a symposium designed to begin mapping the next phase of integrating unmanned aircraft into the national airspace.
The April 19-20 symposium in Daytona Beach, Fla., took place just as drones once again seized headlines. On April 19 NASA officials demonstrated their progress on a possible drone traffic management system by flying 22 unmanned aircraft simultaneously at the six different drone test sites. Engineers further complicated the system trial by introducing dozens of virtual aircraft into the exercise. The tests, however, came just after news broke that an unmanned aircraft might have hit a plane approaching Heathrow Airport in Great Britain.
Amid that atmosphere of peril and promise the Federal Aviation Administration, NASA, and other organizations outlined the advances made so far and the remaining complexities involved in weaving unmanned aircraft operations into an air traffic system that can't see them to avoid collisions — at least not yet.
Among the challenges, they said, is finding enough radio spectrum to enable communications. One possible solution touched is a greater reliance on automation. Once proven, such an approach should dramatically cut the amount of communication necessary between the ground and an unmanned aircraft system or UAS — thereby making it possible to squeeze more aircraft into the skies despite critically limited radio frequencies.
Many commercial drone operators, however, were not focused on research and long-term plans but on getting the approval process now in place working in a more realistic way.
"The COA (certificate of authorization) process is broken," summarized one session moderator in his end-of-symposium report to attendees.
"I'm constantly turning down business because the process takes so long," the president of an aerial filming firm told officials. The permits can be pulled, he said and arrangements made with the local air tower but everything grinds to a halt when it comes to getting a COA.
"It's costing people a lot of money," he said in a strained voice.
"We want to be out of the COA business," said Lynn Ray, vice president of Mission Support Services for the FAA Air Traffic Organization. She pointed out that the small UAS rule was on track for release in a few months and once that rule was in place it could ease the way for more routine flights.
"We don't want you to turn down business," Ray said, "but we understand that's happening."
The problems, however, don't stop there, other firms pointed out.
Rogue operators are flying with little fear of getting caught while those operators trying to follow the rules — who could lose their pilots license if they make a mistake — have a hard time reaching people to get answers to questions.
Drone firms also reported being hamstrung by the requirement to obtain a Letter of Agreement (LOA) from airports within 5 miles of a proposed flight — especially in areas with multiple airports or in cases where airport operators are uncooperative.
One pilot said that he had to go through 33 hoops before he could take a job.
"I'm $150,000 into a business," he said, "and I can't fly."