The RapidDeploy SaaS dispatch platform now features a 911-integrated UAS deployment system, Archer First Response Systems (AFRS), enabling emergency workers who use the cloud-native technology to quickly locate victims and send them lifesaving supplies via drone.
AFRS from Archer Unmanned Air Systems comes equipped with deployment software, an autonomous aircraft, a ground control hub housing unit and Archer Survey, a proprietary artificial intelligence-based satellite analysis platform that can pinpoint more than 55,000 unobstructed coordinates, according to a news release.
The RapidDeploy platform makes it possible for dispatchers to visualize a caller's location with supplemental location data from mobile phones as well as opt-in medical profile data, vehicle telematics and alarm data. With this new partnership, they can confirm the availability and dispatch of sUAS, which can carry life-saving supplies like an AED, NARCAN and STOP THE BLEED Kit. The 911-based emergency medical supply delivery system can complete deliveries within a 35-square-mile coverage area in less than five minutes, according to the company website.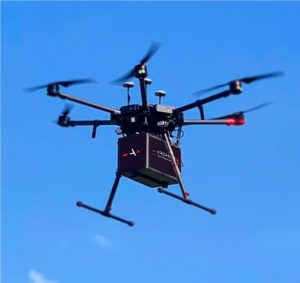 As a RapidDeploy Lightning Partner, Archer is part of "an ecosystem of technology players working to create an end-to-end Unified Critical Response platform, democratizing public safety through cloud-native technology."
Partner technologies and services are added to the company's 911 dispatch platform to reduce response times, improve situational awareness and give emergency responders the tools they need to enhance public safety. Other partners include AT&T, Microsoft, OnStar and ADT.
"RapidDeploy's Lightning Partner Program seeks out visionary technology partners who bring innovative tools and resources to public safety agencies that will shape the future of emergency dispatch," said Todd Komanetsky, director of partnerships at RapidDeploy, according to the release. "Archer UAS brings an entirely new approach to delivering lifesaving medical equipment and we're thrilled to partner with a company that is working to dramatically reduce response times for medical emergencies."
RapidDeploy has been deployed by more than 500 public safety agencies and 911 call centers. There are 150 more deployments in progress throughout the U.S.
Link to video: https://www.youtube.com/watch?v=pPbXg4m-zUM