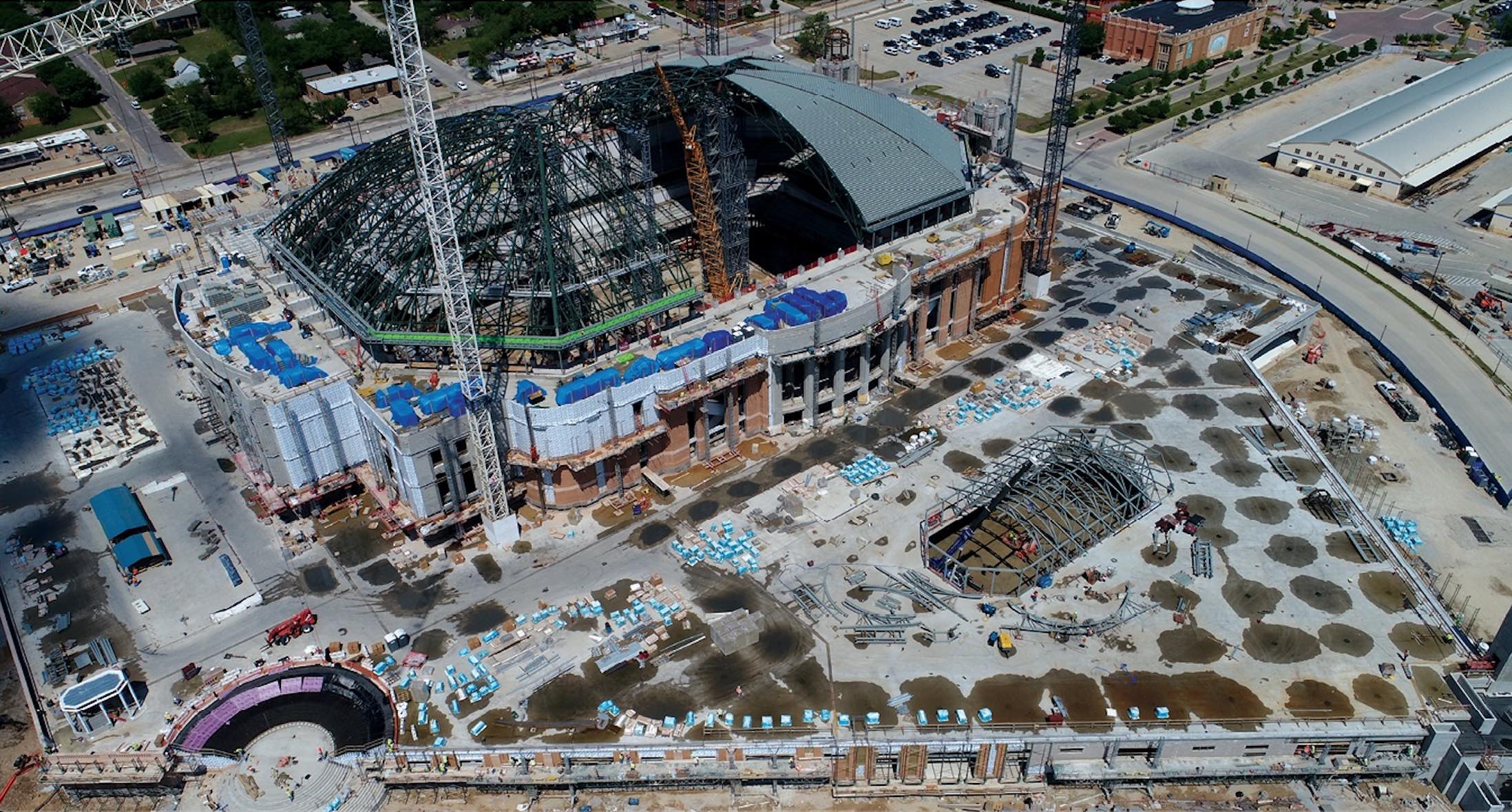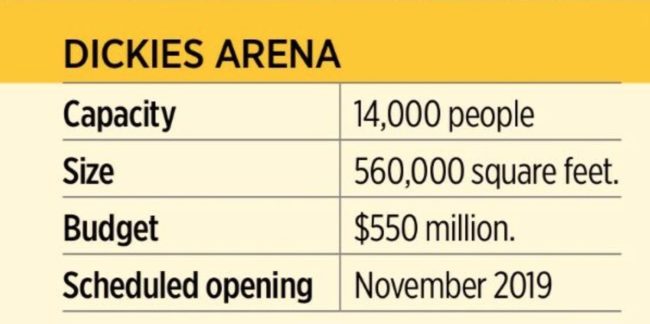 Will Rogers was once America's best-know political humorist. Born in the Cherokee Nation, his Oklahoma-cowboy persona placed him among Hollywood's highest-paid film stars, while his folksy witticisms appeared in thousands of syndicated newspaper columns.
In 1936, a year after his death in an Alaskan plane crash (the pilot was aviation pioneer Wiley Post), the Will Rogers Memorial Center opened in Fort Worth, Texas. Since then, the Center has hosted numerous rodeos as well as horse and livestock shows.
But Fort Worth has grown, and the new Dickies Arena will soon host most of the events currently held at the Center, as well as NCAA tournament games. Dickies, a clothing manufacturer, is known for workwear and Western apparel, and the new facility—located on the Center's campus—will hold 14,000 people within its 560,000 square feet. Retaining a 1930s art deco feel, the project's all-in cost is budgeted at $550 million.
Based in Dallas, Texas, The Beck Group also is venerable, having been founded in 1912. Yet the 900-employee integrated architecture and construction firm has embraced today's technology, and UAS have been integral to the Dickies project, helping to steer it toward a scheduled November completion.
As project provider DJI put it, drones are "aiding in the process as high-performing efficiency multipliers throughout construction. Utilized as enhanced platforms for BIM, 3-D mapping, progress monitoring, documentation and inspection tasks, the drones greatly reduced operating times while optimizing workflows throughout the construction phase."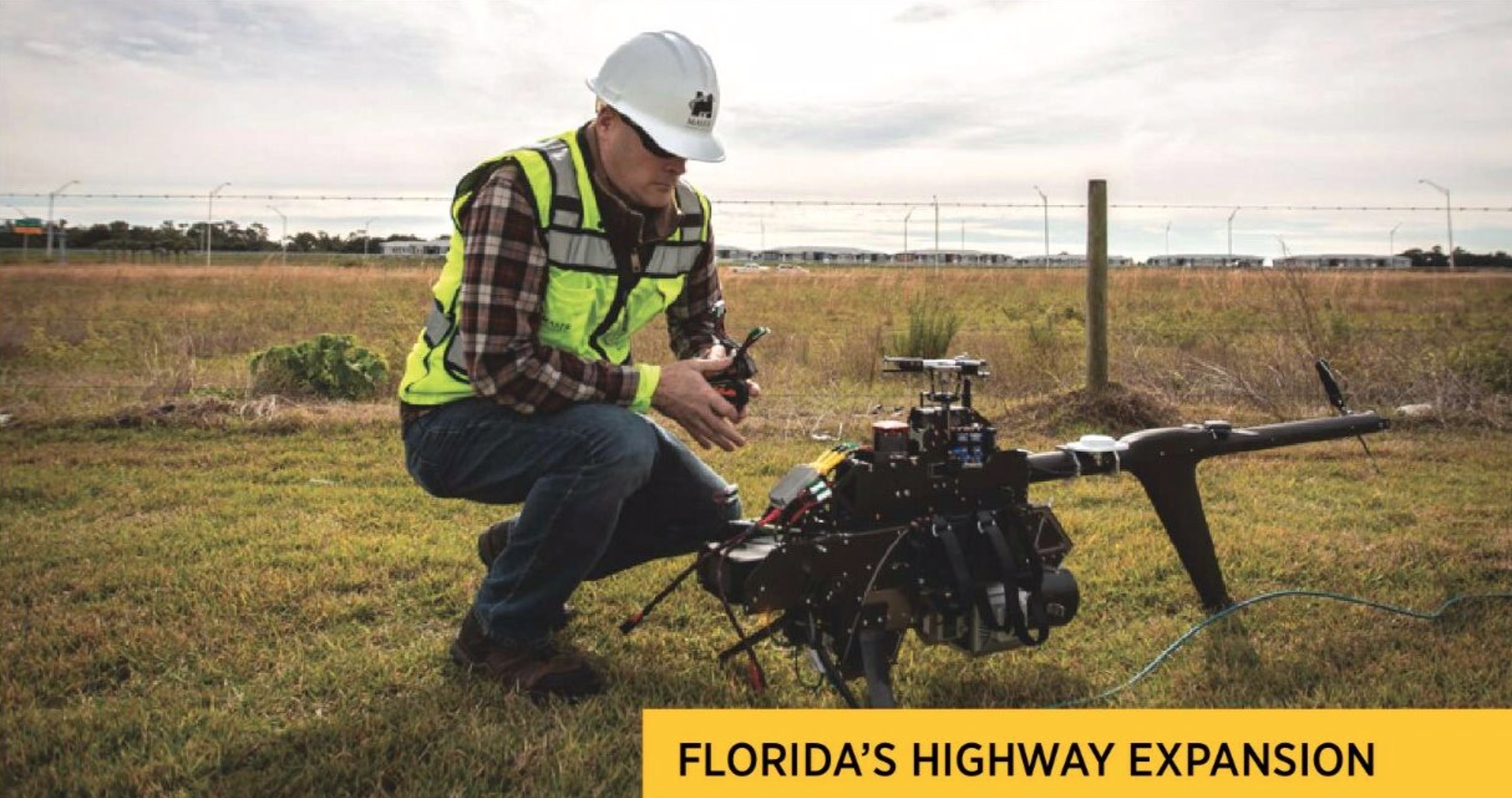 INTEGRATING DRONES, COUNTING BENEFITS
Grant Hagen is VDC (virtual design and construction) manager for The Beck Group. He's been with the company for seven years now, and was there in 2014 when drones first came up as a potential tool for contemporary construction.
"My dad and I had tinkered with RC stuff," he recalled to Inside Unmanned Systems. "We were playing around with a cheap drone at home, and the light bulb went off that, if taken outside and be easy to control, it would be a game changer for the way we did inspections. I told my dad this really could work professionally.
"My manager was looking at man lift rental costs, and was about to sign a contract. We put together comparisons on some key items to show where the drone stacked up and that it would be worth giving it a shot. I said, 'Give me one week of what it would cost.' We bought a drone that next morning, updated some software and were out flying that same day. We did our first inspection and came back to the office to pull up the pictures it took and instantly knew this was going to change everything.
"We saw the cost of investment on the front end to be worth the back end," Hagen continued. The first drone job, in 2014, was a roof inspection. The next year, The Beck Group tested UAS on three projects. When the FAA (Federal Aviation Administration) approved a 333 commercial use exemption in the summer of 2016, full testing quickly followed. The Dickies project broke ground in February 2017, and by June, The Beck Group had secured its first Project Part 107 pilot certification.
The Beck Group also identified an in-house pilot with 16 years of construction experience. "Corey Sanders is a pre-construction manager. He raised his hand and said he was interested in learning." Hagen also got a pilot's license.
UAS soon proved out against both man lifts and helicopters. A DJI Phantom 4 cost $1,500, while a man lift rental was $1,550 a week plus $2,000 for a manned inspection. Average time to complete an inspection took one-fourth to one-sixth the time of a man lift examination, and site and height figures were similarly favorable.
The same was true when it came to using drones instead of helicopters. "Faster." "Efficient." "Quality." "Detailed." "Cost" are some of the advantages Hagen is fond of enumerating.
"There are helicopter progress companies out there that deliver a box link with five photos. No video, no data collection. Here we own the cost of equipment. We don't have to pay cost of service. The frequency is greater and we can capture daily. It's safer. There's a higher quantity of deliverable. Process videos, inspections—the comps with a normal manned helicopter—it's kind of obsolete."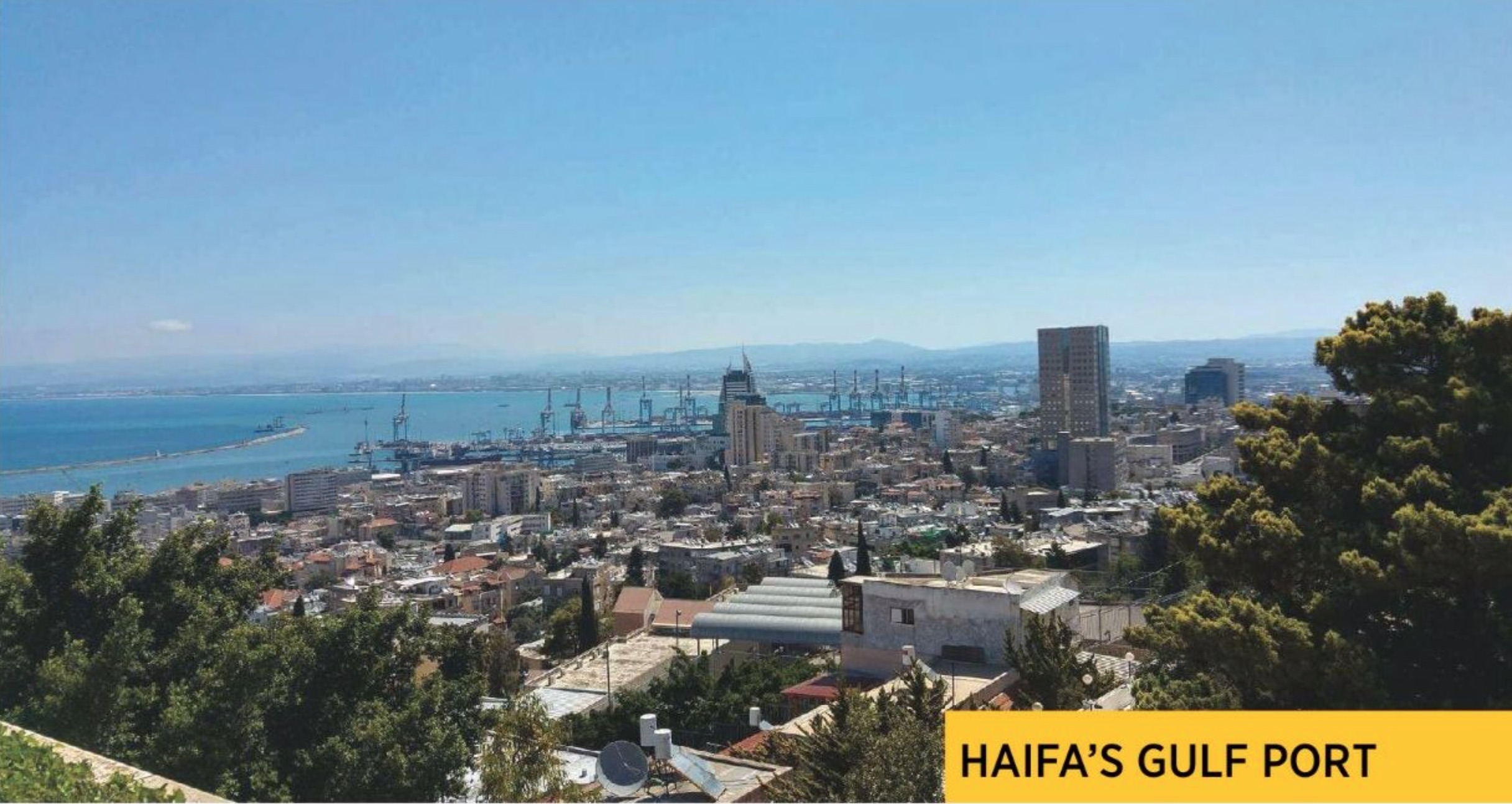 ENTER THE MAVIC
The Mavic 2 Pro soon appeared alongside the Phantom Four Pro. "It's a smaller, enterprise-available drone, with increased flight time. We purchased one right when it came out. Zoom quality is a bit of a value-add, the ability to zoom in without getting closer to [the structure].
"We set up a flight path, taking a photo every three seconds—80 to 90 photos per loop. This allowed the operator to be more focused on the safety aspect. Higher confidence, higher consistency of capture."
As the project proceeded, Hagen and his team identified a dozen 'drone value adds.' These ranged from plan overlay to inspection, schedule verification to site safety.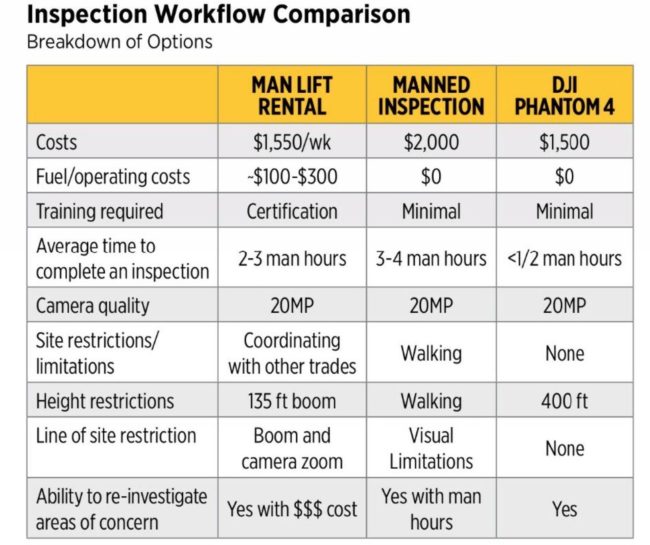 Meanwhile, some of The Beck Group's longest-standing managers have become major UAS advocates.
Drew Thigpen is a 45-year Beck veteran and managing director of the firm's Fort Worth office. "Site awareness and documentation on a project of this magnitude can be key…using this technology has proven to be one of the biggest contributors to our success."
Project Executive Gary Pille, 40 years in, noted that "utilizing this technology has enabled our team to work smarter, more cost effectively and more efficiently. You don't see that often in the realm of technology in our industry."
Hagen agreed. "This technology is truly changing the way we do work—it's transformative. There's higher quality. It's cost-effective, and schedule-wise it doesn't take us a long time to do. There's nothing that we did that couldn't be replicated."
He concluded with a construction-industry aphorism: "In construction, they say 'schedule, cost and safety, pick two of them.' This allows us to do all three."