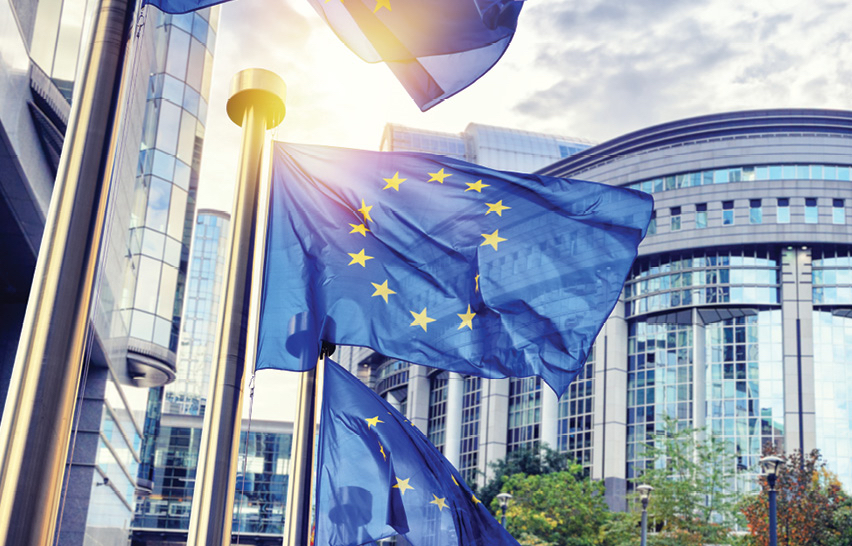 Unmanned flying systems – 'them drones – continue their inexorable march toward world domination. One can hardly attend a fashion show, political summit, sports even or high-tech trade fair without bumping into one.
We found Airbus showing off its new blimp-like ALtAIR drone system at a perfectly likely venue, the 2018 Unmanned Technologies & Security Expo & Conference (U.T.SEC) in Nuremberg. "We are here to present our new airship system," said Michael Rappsilber, Airbus system and test engineer, "The one you see above you right now is actually just for demonstration; it is about one-third the size of the actual operational ship."
The full-scale ALtAIR drone is about 11.2 meters long and about 27 cubic meters in volume. "It fits into a 40 foot container," Rappsilber said, "so it's easy to transport by truck to your target, which could be a big demonstration at a G20 summit, or a disaster site, the scene of a flood.
"You can place a five kilo payload, like a camera." In this case, the camera is by UAV Vision in Australia. "This is not a drone for transporting something, it's really more for when you have an area or situation that you want to survey." The system includes a target tracking function, so users can place a virtual marker on a specific person in a crowd and the airship will follow that person.
"This year we are implementing an autopilot system," Rappsilber said, "so it will be able to fly autonomously. And the camera will communicate directly with the autopilot, so if, for example, a person you are tracking hides under a tree the airship can, by itself, change its position and altitude to find them." All data is georeferenced, so users can see the target and get a precise location.
"Up to now we have been selling the service only," Rappsilber said, "but starting from next year we will be producing the system in numbers, so customers will be able to buy the whole system."
The advantages of an airship versus, for example, a rotor-wing unmanned aircraft system (UAS) comes down to safety and the ability to operate within existing rules, Rappsilber said. "Imagine you have a very dense city with many houses, cars and streets," he said. "You don't have any space to fly safely, and when you are there with a helicopter you are not allowed to be in a holding position because you have no space to do autorotation landings.
"With normal drones, if there is a failure, they will fall to earth like a stone, but we can operate because of our high safety factor." Thanks to its double-hull design and low payload weight, if the ALtAIR is damaged, for example somebody shoots a hole in it, it will take half an hour to an hour to actually sink to the ground. "It's more like a toy," Rappsilber said, "it's like a big balloon, it's an extremely safe product."
Real-Time Monitoring
Occupying a stand just next to Airbus was Ottawa-based Kongsberg Geospatial. We spoke to Capture Manager & Technical Solutions Specialist Colin Willey, who explained one of his company's key offerings.
We have a baseline geospatial and digital map capability that is integrated in all our parent company Kongsberg Gruppen products in the defense market in an around Norway. That's called our TerraLens Core. But we also build application layers using the same technology for other customers, and that's a product we call IRIS."
IRIS is a drone-centric, command and control system, with ground station capability that monitors drones in real time. "This allows you to look at your drones along a flight path and see how they interact with the environment – other aircraft, no-go zones, terrain. So we sell this to drone manufacturers, to people who are using drones, to security, to military. Anybody who has a need to view their drones in real-time can use it."
Willey said typical clients include anyone who needs to get a camera on a situation and make real-time decisions. "Similar to what Airbus is doing right over there, our clients can be people who are monitoring crowds and special-event scenarios, football games or even G20 summits, with video cameras and real-time VIP dignitary monitoring. It can be people delivering medical supplies to remote areas, pipeline monitoring service providers, search and rescue for sure. It's especially useful when you may need to get a drone up quickly, without time to set a flight path. With IRIS you see the drone with the terrain and all environmental elements in detail, when you fly."
Current partners, Willey said, include the Royal Canadian Mounted Police, Norwegian utilities companies, and even a pizza delivery service. "We've got a pilot project right now with a company called Flirty, out of Reno, Nevada. They are working with Domino's to test the effectiveness of using drones to deliver pizzas," he said. "They are really looking at the whole process of getting the pizza into the drone, finding a path to take, the obstacles, finding out where to land. You need to have exceptional maps to be able to do this."
Anyone hungry?
Drones Crash the Party in Munich
Hovweing over crowds, delivering goods in urban environments or speeding to save someone's life with medical supplies, all of these activities imply a set of rules on how and where one can fly.
Speaking on just that subject at the Munich Satellite Navigation Summit, an evant that was going on just down the road from Nurmeberg (apparently, one drone event at a time is not enough for the German federal state of Bavaria), was Dominic Hayes, manager of Galileo and EGNOS signals and frequencies at the European Commission.
In fact, the Munich SatNav Summit, which draws heavyweight speakers from the GNSS community across the globe, featured multiple sessions focusing on unmanned and autonomous systems. Suffice it to say everyone involved in navigation is eyeing drones, driverless cars, and other unmanned systems as a huge emerging market for precise point positioning (PPP) and as a stimulus to increase the attention paid to questions of reliability and security.
Right now though, even as unmanned markets move forward by leaps and bounds, there remains a lack of unified operating rules, even within the European Union, where individual countries continue to forge their own regulatory paths.
Back to Hayes: "I'm from the European Commission," he said, "and we're all about regulation. So, stepping back to 2008, we have the first regulation on UAVs that basically said Member States are responsible for UAS, drones, below 150 kilograms." Ten years later, this is still the only EU guidance in place. "So potentially that leaves space below 150 kilograms where there could be fragmentation between different member states," Hayes said.
Back in Nuremberg, at the all-drone U.T.SEC event, Airbus' Rappsilber told us, "In Europe we have to apply to the relevant authorities in each country where we want to operate. We do have some with that in Germany, with organizations like UAV Dach [German Association for Unmanned Aviation], where they will look at your system and give you advice about permissions. But it would definitely be better if there were one set of rules for everyone."
"So there is a new regulation being drafted," Hayes said. "It's aim is to unify the regulatory framework for US operations, and it will include those below 150 kilograms." Hayes was talking about the EU Remotely Piloted Aircraft Systems (RPAS) regulation, which we have reported on in the past, put together by the European Commission and the European Aviation Safety Agency (EASA).
"The draft I've seen seems quite advanced," said Hayes, "and I expect it to be in place this year." Just what 'in place' means is another sticky question. He told us later, "Yes, that means that it's then up to the Member States to implement it. But I do think this is one that they would want to implement.
While the EU RPAS regulation has been simmering, the EU SESAR initiative (Single European Sky ATM Research) has been busy drafting its own U-Space concept, meant to unify Europe's entire airspace under a single regulatory framework. Hayes said, "U-space comes in four phases. Already in phase one, geofencing is referenced, so UAVs are in it from the beginning. By phase four, which is 2030 and beyond, we get full integration of UAVs into existing air traffic management.
Moving On
Crossing back to Nurmeberg, we spoke to Julian Gonschorek, who is a project manager and research fellow at Germany's influential European Aviation Security Center (EASC). She said, "As far as I know the [EU RPAS] regulation will come. But we are not so sure about when exactly it would start in Germany. Not before 2020-2030, in any case, because even if the Union accepts it, passes it, then Germany still has to decide our own laws, and the law enforcement aspects have to be finished with the SESAR regulations as well."
So, meanwhile, the industry will simply continue to move forward without the EU regulation? "Yes, that's right," Gonschorek said.
Has the EU RPAS regulation initiative been an exercise in futility? Will it have any relevance in 2030? Many are already looking for other solutions, possibly to be provided by a group like JARUS, the Joint Authorities for Rulemaking on Unmanned Systems. This is a global assembly of national aviation authorities aiming, like the EU, to recommend a single set of technical, safety and operational requirements for drones. Time will tell who gets there first.
Wherever the legal wrangling leads, one this is certain, the rate at which drones are being put into service is not going to decrease. Drones represent a huge potential for innovation and business opportunities, and the majority of these systems are providing or will provide valuable and beneficial services. And then, conversely, in the wrong hands, they will also pose a real threat.
Bringing Them Down
At the Nuremberg show, we met Johannes Petz, sales director, counter UAV, for German company Hensoldt. He introduced us to Xpeller.
"It's not a jammer," he said. "It's a portable, counter-UAV system, equipped with a jammer but also a receiving part. It has an RF detector for picking up the drone signal, either the remote control or the video downlink. It give out an alert, so it vibrates, and we get some information via headphones. Then you can switch on the jammer."
But aren't jammers illegal? "Jamming, per se, is not illegal [in Germany]," Petz said, "but there are some very tough restrictions. It's allowed for some police services, like in certain scenarios if there's a threat in life, or for example if a political VIP visits Berlin, then it's a different story. If you want to protect such an event, police or institutional users with the respective mandate are allowed to do so. But for private companies, for private persons, for sure it's not allowed."
The relevant authority in Germany is the 'Bundensnetzagentur.' "It's like the FCC in the US," Petz said. "You have to contact them, explain your purpose, and you may be given permission to use a jammer for a specific period of time. I believe this is the way it works in most countries.
"So we can install Xpeller at a fixed site, or integrated into a vehicle," Petz said. "And over here you can see the portable version [indicating a mannequin in military garb, fitted with various antennae and other electronic gizmos]. This here is more for military guys, where they don't care about the collateral effects of jamming. Of course we can also reduce these side effects by making the signal very directed, or limiting it to only a short period of time, and we can also tweak the output power a little bit.
"We just had our jammers installed at an airport for a test we wanted to run, like a pilot project, and we were able to modify our jammers in such a way the German FCC allowed us to do our testing."
There were many other examples of new drone-related ideas, products and services across the events in Munich and Nuremberg. Clearly the growing number of possible applications is also bringing new questions about safety, where and when they can be flown, and how to deal with rogues, all of which means, if nothing else, that there remains a lot of work to be done by all concerned. Which is good news for all concerned.