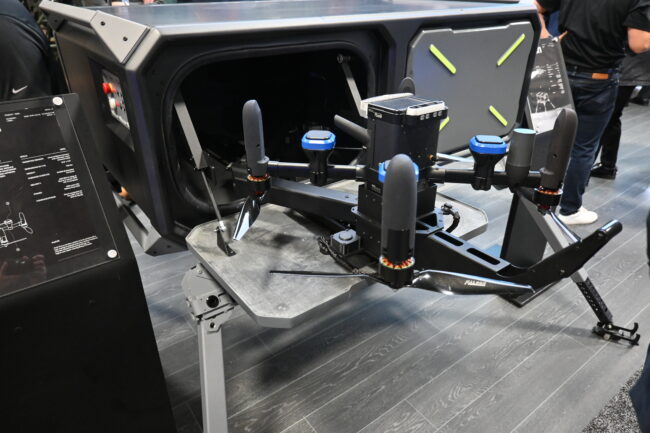 WASHINGTON—For every unmanned aircraft on display at the Association of the United States Army's recent conference, there was a system on display that could detect or defeat it.
Just as the drones came in all sizes, from ones that could fit in the palm of a hand to ones that could transport people, so the counter-UAS systems use a variety of detect and defeat mechanisms, including soundwaves, microwaves, lasers, nets or just by exploding to knock them out of the sky.
On the kinetic side, Anduril showcased its new Anvil-M, a munitions variant of its Anvil interceptor, meaning it blows up attacking drones instead of just ramming them, as the Anvil does. The 11.6-pound Anvil M can take out Group 1 and 2 small UAS, meaning systems weighing up to 55 pounds. The company said the new system is aimed at removing higher-end, faster-moving Group 2 threats.
Like many of the counter-UAS systems displayed at AUSA, Anvil-M is aimed at military base protection. It's deployed from its Launch Box, which can be located anywhere on a base to provide round-the-clock protection.
One of the more unusual counter-UAS detection system was from Squarehead Technology, which uses sophisticated passive acoustic technology to detect drone systems. The company's system combines 128 microphones with a single camera, to create what it calls an "acoustic camera."
"The camera's just for situational awareness," said Squarehead's Ryan Tomblin, the vice president of operations. The system can track an incoming object over a 105-degree coverage area, provide bearing and elevation for it, and aim other payloads or sensors, including a gun if needed.
"We are the only acoustics company out there," said Knut Moe, the company's vice president, defense. "We get everything," he said of rogue drones. "We don't have a massive range, but we get there."
The company displayed its Discovair G2, a system built to survive in extreme environments. At roughly the size of a pizza box, it can be carried by one person.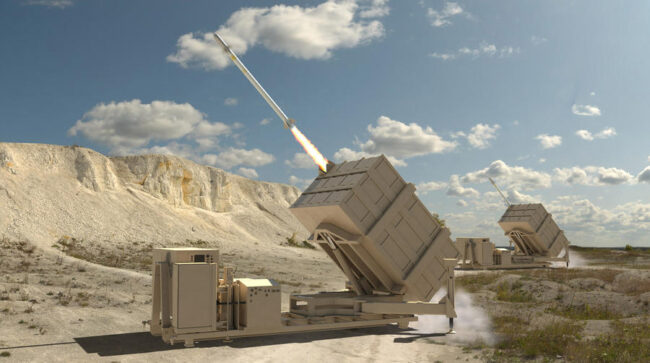 Larger Systems
Fortem Technologies displayed improvements to its DroneHunter 700 platform, enabling it to capture larger drones such as the Russian Orlan 10 and Iranian Shahed-136 drones being used against Ukraine.
"On the detection side, we have the R20 radar and the R30 radar, and we're announcing at the show the R40," said Warren Brown, the company's chief marketing officer. "So, we're now seeing small drones up to five kilometers," which he said creates "a nice perimeter around your stadium or your campus."
The Army recently announced it's moving forward with a production Other Transaction Authority contract worth $100 million to install DroneHunter systems "at hundreds of bases around the world over the next few years" to prevent Chinese surveillance or other threats to Soldiers on those bases.
"Our business is really taking off because a lot of the nefarious threats, a lot of the terrorist drones or ISR drones, there's no longer a joystick controlling them, so they can't be jammed, there's no signal to jam or intercept…so you need to physically stop them," Brown said.
With many Army bases in urban areas, that means they also can't be shot down, so capturing with a net—which is what the DroneHunter does with its NetGun or DrogueNet net-launching systems—can be ideal.
It's proving ideal in the war in Ukraine as well. "We have systems in Ukraine. We can't disclose where, how many, or to who," said Timothy Bean, the company's president and COO. "But DroneHunter is a system that people use when jamming is not effective. And usually when there are terrorist drones, they're just flying on waypoints that can't be detected with RF. That's when they turn to radar and physical interception.
"The other technology we're announcing is we can attach parachutes to the drone, so if there's a large drone coming in, we can hit the wing or fuselage and attach DrogueNet, so it starts to stall the vehicle and it comes down slowly," Bean said. This system allows the company to take down small Group 3 drones.
Taking down larger drones — and even multiple drones at once — is the bailiwick of some larger systems that were on display, including Leidos' Enduring Shield, a launcher for the Army's Indirect Fire Protection Capability (IFPC) Increment 2, aimed at shooting down cruise missiles and attack drones. It's similar to Israel's famous Iron Dome anti-missile system. The system can fire a variety of interceptors.
The Army plans to deploy four Enduring Shield launchers per platoon to create 360-degree defended areas, the company said. A decision to transition to production is scheduled for the second quarter of fiscal 2024, according to the Congressional Research Service.
"As we're seeing in Eastern Europe, there's a proliferation of new artillery, rockets, mortars and unmanned systems to defend against at a number of locations," John George, a Leidos strategic account executive and retired Army major general, said in a release. "Enduring Shield is a low-cost solution with open architecture which allows it to integrate with different types of interceptors."
Another large system was Epirus' Leonidas system, which uses high-powered microwaves to defeat drone swarms. At the beginning of the year, the Army awarded the company a $66.1 million contract to deliver several Leonidas prototypes for the IFPC High-Power Microwave Program.
In the summer, the company announced it had integrated Anduril's Lattice command and control system into Leonidas, allowing it to detect, track and classify potential drone threats.