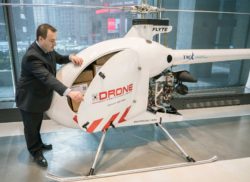 After a year of development, Drone Delivery Canada (DDC) recently introduced the Condor, the company's largest and farthest range cargo delivery drone.
The unmanned aircraft system (UAS) has a payload capacity of 400 pounds and can travel up to 200 kilometers, according to a news release. A gas propulsion engine powers the system.
The Condor, which measures 22 feet long, 5.1 feet wide and seven feet tall, has a wingspan of about 20 feet and is capable of vertical take-off and landing (VTOL). The UAS comes with the company's proprietary FLYTE management system, which is used in all of their cargo delivery drones.
DDC is working closely with Transport Canada and should have the necessary approvals to begin test flights in the third quarter.
To view Drone Delivery Canada videos, visit this page: https://dronedeliverycanada.com/video-repository/