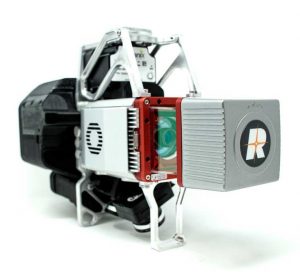 GeoCue recently released the True View 615 and True View 620 UAS LiDAR/imagery 3D imaging systems. Both are equipped with RIEGL's miniVUX-2UAV laser scanner integrated with dual photogrammetric cameras.
The Applanix APX-15 provides position and orientation for the True View 615 while the True View 620 comes with the APX-20, according to a news release. All the company's True View 3D imaging systems are bundled with Applanix POSPac, True View EVO post processing software and the True View Reckon data management solution.
The compact systems and survey grade 3D imaging sensors are specifically designed for UAS. The RIEGL laser scanner and dual photogrammetric cameras provide a fused LiDAR/imagery field of view of up to 120°. The post processing software creates ray-traced 3D colorized point clouds and geocoded images. The True view 615 can be upgraded to the 620 with the addition of the Applanix APX-20 external inertial measurement unit.
Mappers and surveyors can generate a variety of deliverables in the post processing software, including  bare earth models, profiles, cross sections, topographic contours and volumetric analysis.
"Our Quanergy-based True View 410 has rapidly become the standard for general purpose drone 3D imaging, where moderate vegetation penetration and accuracies of 5 cm RMSE are adequate," GeoCue President Lewis Graham said, according to the release. "The True View 615/620 provides a solution for situations where deeper vegetation penetration, wire extraction and extreme accuracy are required."