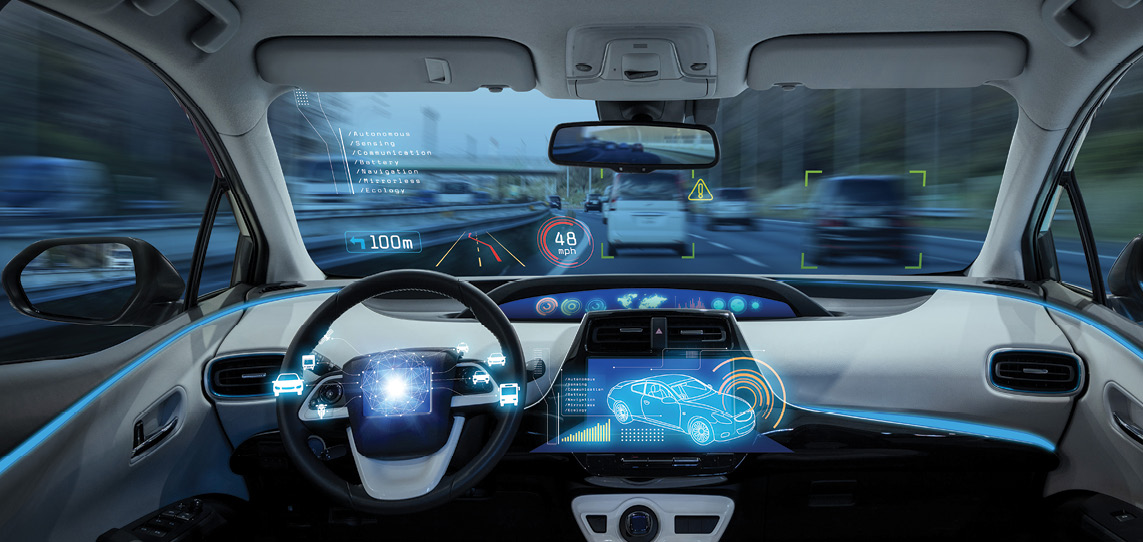 Unmanned systems innovators are working at break-neck speed to identify and assemble the world's best sensor and technology systems that will pave the way for driverless cars. Swiss company u-blox, a global leader in wireless and positioning chips, is helping guide the way to the driverless road ahead.
Autonomous driving is an exciting advancement that will, among other advantages, reduce the chance of accidents caused by distracted driving and other roadway issues. But before that dream becomes reality, the industry must solve one of the most safety critical prerequisites—the need for highly accurate and trustworthy car positioning and speed at any time, in any condition with no restrictions.
The autonomous system key challenges are that they must be able to establish an exact starting position within an HD map, to enable the system within authorized areas only (e.g. highways, 4 lanes road without crossing), and in any weather condition (e.g. rain, sunset), with or without landmarks required by the vision sensors. It must identify critical areas (e.g. to reduce speed). Cameras and even inexperienced drivers can fail in these tasks. The car must cope with road layout changes and help correct map errors (crowd-sourcing). Critical sensors (e.g. speed) must be regularly calibrated.
Every safety analysis shows that the autonomous system will require the use of several independent location technologies including, and especially, a functionally-safe GNSS. Each (independent) sensor will provide positioning information with a certain confidence level and the autonomous driving system will make a safe decision based on that data. Fail-safe modes (in case one or more sensors are lost) have to be anticipated and managed. Any OEM or Tier 1 will have to be able to demonstrate to authorities that it used all available technologies to mitigate the risk of accident to the absolute minimum, should a problem occur.
WHY GNSS IS CRITICAL
Such a functionally-safe and secure GNSS must deliver decimeter-level accuracy and integrity, or the ability to guarantee a position with ASIL-type error probability. Security has to be flawless. It must also be affordable and manufactured in high volumes to be able to monitor and guarantee automotive ppm quality levels.
"GNSS is indispensable as the unique source of absolute positioning and timing, velocity and heading," said Franck Berny, product strategist with u-blox. "The technology excels in situations where physical and visual sensors such as cameras, RADAR and LiDAR have limitations. Accuracy matters; but even more important is the GNSS' ability to guarantee a speed or position to solve some safety critical cases."
TODAY'S GNSS CAPABILITIES
Standard precision GNSS has made considerable improvements in recent years delivering incredibly strong performance in challenging environments like cities.
For instance, u-blox, a leader in the automotive space with over 15 years of experience in high volume products, is showing the way to superior GNSS navigation performance with its NEO-M8L GNSS 3D dead reckoning module. The module combines GNSS, inertial sensors and uses speed information from the vehicle to deliver continuous and accurate positioning.
The NEO-M8L embeds the latest advancements in multi-GNSS and sensor signal processing to offer superior performance regardless of GNSS signal quality or availability, including deep urban canyon conditions and tunnels. The u-blox Automotive Dead Reckoning (ADR) solution has been extensively tested in real-world environments, including city drive tests in Detroit, Chicago, San Francisco, New York City, Shanghai, Frankfurt and Zurich with outstanding results.
Figure 1 shows the u-blox ADR solution versus a competitor's ADR system during a drive test in the challenging urban environment of Chicago. Figure 2 shows the accuracy in the financial district of Frankfurt, Germany. In these very difficult conditions, the module demonstrated a 95% position accuracy of 3m, height 4m and heading 1°.
The NEO-M8L is compliant with V2X SAE US requirements required for V2X deployment (1.5m 68%, 2m 95% using SBAS). u-blox's complementary V2X sensors, such as the VERA-P1 modules, enable 360° awareness. With regard to security vulnerabilities, notably jamming and spoofing, u-blox boasts a comprehensive security portfolio and keeps embedding new features into new generations.
FUNCTIONAL SAFETY/INTEGRITY
While dead reckoning and other capabilities noted above are important, they are still not enough for autonomous driving. Decimeter-level accuracy, functional safety, and integrity must be included. Integrity is delivered as a "protection level," as shown in Figure 3.
Integrity goes beyond the ISO 26262, the automotive-specific international standard that focuses on safety critical components. It's a comprehensive assessment of the entire system, placing a measure of trust in GNSS and knowing when GNSS should NOT be used.
To achieve these numbers, the GNSS system must embed a combination of core GNSS technologies. These include multi-constellation GNSS reception for large numbers of measurements and a multi-band signal reception for minimal convergence time as well as 3D automotive dead reckoning to smooth multipath effects and to maintain positioning in tunnels, parking facilities and other indoor settings. u-blox offers dual-band carrier phase positioning along with wide area SSR corrections (broadcasted by both internet and satellite). This combination of technologies can cope with the level of interruptions to carrier phase lock and the multipath distortion caused by bridges, signs, trees and buildings in such environments.
A high-performance GNSS that meets the requirements stated above is required to enable automated driving. The highly automated vehicle may seem a long way off, but in reality, the safety critical components are under development and will be available soon.
"We are very excited about the way forward," said Berny. "The driverless car is coming—the solutions are just on the horizon and we are ready to be a part of it."