For years, the team at Houston Engineering has deployed drones to collect data for a variety of projects, quickly providing clients with actionable information. The North Dakota-based civil engineering and surveying firm recently decided to expand its offerings even further, teaming up with service provider SkySkopes to focus on a new area: LiDAR surveys.
The firm does a lot of surveying work for the departments of transportation (DOTS) in North Dakota, South Dakota and Minnesota, Senior Project Manager Jeremy McLaughlin said, and collecting the information via drone-based LiDAR is safer, faster and more accurate than traditional methods.
Typically, crews working on linear roadway projects must survey every X number of feet and complete cross sections, said McLaughlin, who is also a vice president for Houston Engineering. While they end up with a fairly good survey using that method, it takes time and is based on averages. Flying LiDAR via drone cuts that time and improves the accuracy of the data collected. Projects that once took weeks are now completed safely in a matter of hours.
"It took some time to calibrate our efforts, so with the first few projects we had to pay a lot of attention to height and we had plenty of ground truthing to define the process," McLaughlin said. "But once we were dialed in, it was amazing the amount of information we could get in a very short time frame, more information than with a traditional survey. Once they get the data they can extract as little or as much as they want."
Another huge benefit? Improved safety.
"We are able to collect data with equipment, which means reducing the amount of time our surveyors are in harm's way on busy roadways and corridors," he said. "You can't put a dollar amount on someone's life, and this helps keep our surveyors coming home to their loved ones."
The Projects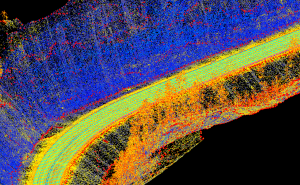 Houston Engineering has surveyed areas in Minnesota with uneven terrain and a lot of tree cover, which LiDAR can easily penetrate, McLaughlin said. The team has also deployed drone-based LiDAR to survey rural highways in North and South Dakota that are 15 to 20 miles long, finishing cross section surveys in about a day's time.
"Guys out in the field following line of sight can see a change of condition in real time and can adapt," McLaughlin said. "It's very handy for us in the field to be able to say 'this looks great,' or 'maybe we need to look at this a little closer.' It really does an amazing job. After a project in Rapid City, we got the survey back and the amount of points were so intense it actually almost painted a colored picture of the canyons and hills out there. We get some really cool imagery."
Using the Data
The DOTS, counties and cities Houston Engineering typically works for use the survey information collected to help design and construct transportation projects, McLaughlin said. These surveys serve as baseline for a roadway's existing conditions, with any improvements compared against it to accurately determine quantities and costs.
The deliverables clients want varies, McLaughlin said, but the survey information collected is typically provided in a digital format that can easily be incorporated into Microstation, AutoCAD or other design platforms.
"Having an accurate survey is critical to ensuring that projects are completed within estimated budgets," McLaughlin said. "LiDAR allows us to collect significantly more data at a reduced cost, thereby improving existing ground accuracies, resulting in more accurate quantities, and reduced risk for costly change orders. They also initially spend less on the survey when compared to traditional methods."
LiDAR Sensors, Working Together
SkySkopes deploys the Reigl Vux 1 Ranger LiDAR sensor because it is the "most accurate," SkySkopes CEO and Chairman Matt Dunlevy said, with the "best ability" to penetrate different vegetation.
The feature that really sets the sensor apart, however, is the attached electro optical camera, Dunlevy said. The camera is attached at oblique angles to colorize the point clouds.
Often, firms like Houston Engineering use the drone-based LiDAR in tandem with other LiDAR sensors, such as mobile scanners, another service SkySkopes provides. Combining the sensor data leads to an even more accurate and dense point cloud.
"We have different options we can use with LiDAR technology, whether it's hooked to a helicopter, which we have done recently with SkySkopes, a drone, a vehicle like a mobile scanner or all three," McLaughlin said. "We might use a combination of the technology and intertwine the LiDAR imagery all together with different set ups. It's easy to marry those different acquisitions together. Whether we go down one path or combine the different surfaces, what we get is phenomenal."