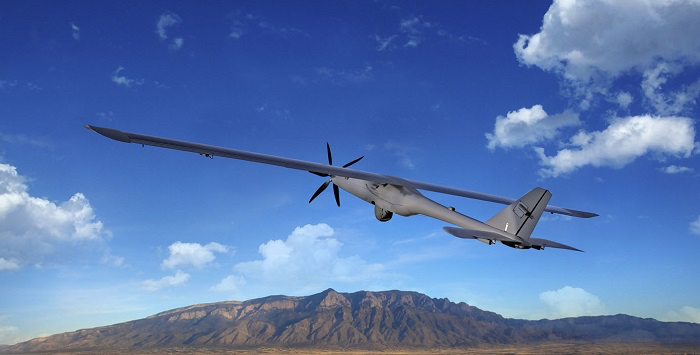 Inmarsat has chosen seven firms to participate in its UAV Pop-up Lab, an effort designed to explore using satellite communications to support the operations of unmanned aerial vehicles (UAVs). The participating companies will work with a range of industry-leading customers to carry out trial flights supporting a variety of missions including infrastructure inspection, disaster relief, mapping and wildfire containment.
The results of the trial flights will be presented at a showcase and discussion in London on May 30.
Inmarsat's partners in this effort are Cobham, which is based in the UK, and Starburst of El Segundo, California. Cobham is the designer and manufacturer of the AVIATOR UAV 200 airborne satellite terminal and EXPLORER ground terminal systems. These systems enable end-to-end UAV satellite communications and beyond-visual-line-of-sight (BVLOS) command and control (C2) with simultaneous video streaming using Inmarsat's global L-band network. Starburst is a global aerospace accelerator, connecting start-ups with corporations, investors and government.
The seven firms participating in the Lab are:
A-techSYN (Advanced Technologies with Synergy) is a private Irish company based in the Shannon region. A-techSYN will use satellite connectivity to enable beyond-line-of-sight capability and real-time video.
Alpha Unmanned Systems, which is based in Madrid, Spain;is a leading manufacturer of tactical gasoline-powered helicopter UAVs. The Alpha 800, Alpha's core UAV platform, is used from Asia to the Middle East and Europe for border control, agricultural research and wildlife conservation. It has a maximum takeoff weight of 14 kilograms with a 3-kilogram payload. In the UAV Pop-up Lab, it will utilize satellite connectivity to achieve a range of up to 85 kilometers when executing medical supply drops in remote areas.
FlyLogix provides commercial beyond-the-horizon inspection services of offshore platforms for the energy industry. In the UAV Pop-up Lab, this UK-based firm will use satellite connectivity to enable real-time video transmission directly from the UAV to engineering teams onshore, improving decision making and mission efficiency.
Intrepid Minds provides defense, security and commercial organizations with unmanned platforms. The portfolio of this UK firm includes air, ground, sea surface and sub-surface technologies. The company has several rotary drones that can lift up to 220 kilograms and fixed wing drones capable of flight up to 350 mph or for a duration of up to one week. In the UAV Pop-up Lab, Intrepid Minds will use satellite connectivity to support disaster response operations and infrastructure inspection.
Robot Aviation is a Norwegian company that develops and produces small to medium sized fixed-wing UAVs for commercial and military use. The company's FX450 unmanned aircraft is designed for long-range intelligence, surveillance and reconnaissance missions or persistent observation type operations. Its design allows for low fuel consumption and endurance up to 20 hours with a payload and fuel capacity of 70 kilograms. In the UAV Pop-up Lab, Robot Aviation will utilize satellite connectivity to enable beyond-line-of-sight control and real-time video in search and rescue operations in Norway.
RPAS Service is a UK organization created to provide a number of services and solutions to the commercial UAV industry. The firm can design and construct both fixed-wing and multi-rotor aircraft that fulfill a multitude of operational scenarios ranging from extreme long-range scanning and surveillance to heavy-lift operations for accurately delivering large payloads over long distances. In the UAV Pop-up Lab, RPAS Service will use satellite connectivity to support a long-range mapping mission of forest terrains in the UK.
Silent Falcon of Albuquerque, New Mexicomanufactures a long endurance, long range, solar/electric UAV for security, military and commercial markets. In the UAV Pop-up Lab, it will demonstrate the benefits of satellite connectivity in wildfire containment missions with the U.S. Bureau of Land Management.