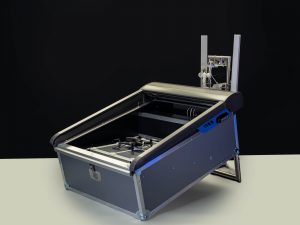 Through a partnership with automatic drone solution provider Hoverseen, Parrot ANAFI UAS have been transformed into automated, drone-in-a-box surveillance solutions that can dispatch and charge themselves from a lightweight docking and recharging station.
The ANAFI, ANAFI Thermal and the new ANAFI USA drones feature an ultra-compact tool that allows them to gain new aerial vantage points for security and inspection professionals, according to a news release. Along with a built-in 4K HDR camera, ANAFI Thermal and ANAFI USA drones are also equipped with a FLIR thermal sensor.
Hoverseen's software and charging stations enable the ANAFI drones to become automated and secure flying Internet Protocol (IP) cameras that can easily integrate into a business's security system and networks. The Parrot drones follow pre-programed automated routes; there's no need for a specialized pilot to operate the systems. Hoverseen can provide training to a company's existing staff members.
The Hoverseen solution provides livestream video and thermal metadata, while pictures and 4K video footage are automatically downloaded from the drone for offline analysis. The data is downloaded after the drone lands in the docking station and begins recharging.
The Parrot drones can be dispatched automatically in response to an alarm or on a routine schedule and feature an interface that makes it easy to monitor missions in real-time.
"As an automatic drone-in-a-box solution provider we were looking for a lightweight cost-effective drone, integrating the best technology available," Hoverseen Founding President Eric Villiers said, according to the release. "We are proud to be working with Parrot to pair our Smart Aerial Scanning solution with the ANAFI, ANAFI Thermal and new ANAFI USA drones to deliver a simple and secure solution to our customers."