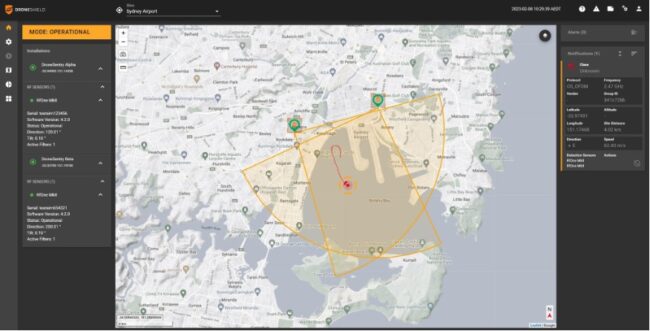 INDIANAPOLIS, Ind. and WARRENTON, Va.—Pierce Aerospace announced a partnership with counter-UAS company DroneShield to integrate Pierce Aerospace's Flight Portal ID remote ID technologies into DroneShield's C-UAS and command and control systems, including DroneSentry-C2.
DroneShield, with offices in the U.S. and Australia and presence in over 100 countries, is a leader in C-UAS technology with a recent recommendation from the U.S. DOD's Joint C-sUAS Office and numerous systems deployed worldwide. DroneShield customers range from the U.S. Air Force to Australian Defence Force and multiple European defense agencies.
The two companies announced a partnership to integrate Pierce Aerospace's Flight Portal ID remote ID technology suite, into DroneShield's products to provide enhanced situational awareness to DroneShield end users. This integration gives end users advanced UAS identification capabilities that were previously not available. These joint capabilities will be available to customers in 2023.
"We've worked with DroneShield for a few years at private and DOD-sponsored C-UAS integration events," said Aaron Pierce, CEO of Pierce Aerospace. "DroneShield has been a consistent advocate for our capabilities, and their technologies offer a great platform for integration. Their C-UAS systems are proven, and I'm excited to see end users work with an integrated solutions package that pairs radio frequency based detect and defeat, innovative command and control, and our remote ID and combat ID capabilities."
Past Pierce Aerospace and DroneShield work has combined the company's remote ID and RF defeat technologies in dismounted, on-the-move, and fixed-site C-UAS experiments. The inclusion of Flight Portal ID's remote ID data feeds into DroneShield's DroneSentry-C2 system enables end users to correlate and positively identify UAS, enhancing security operations by providing a holistic air picture with target discrimination.
"The integration of Flight Portal ID and DroneSentry-C2 provides users with the comprehensive picture needed to deconflict their airspace, maintain safe flight operations for both crewed and uncrewed aircrafts, while also having the real-time intelligence and means necessary to protect that airspace," said Matt McCrann, CEO of DroneShield LLC. "It's a game changer—not only for security and counter-UAS adoption, but this joint capability also addresses key requirements for effective unmanned traffic management and serves as an enabler of advanced air mobility initiatives."
Flight Portal ID, Pierce Aerospace's UAS remote ID technology suite, consists of remote ID receivers, broadcast modules, software, integration capabilities and remote administration services. Flight Portal ID has an integration service record with nearly a dozen commercial unmanned traffic management, detect and avoid and DOD command and control and C-UAS systems.