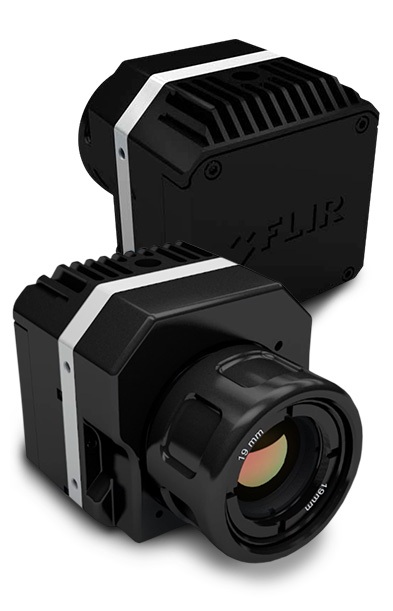 Earlier this year, FLIR Systems launched its first unmanned aircraft specific thermal camera, the FLIR Vue, making thermal imaging for UAS more affordable and easier to integrate. FLIR recently took that advancement a step further with the FLIR Vue Pro, another affordable, easy to mount thermal camera that also offers onboard data recording, PWM connectivity and Bluetooth capability.
"Onboard recording is key," said Bruce Cumming, FLIR director of marketing for emerging products. "The FLIR Vue Pro records all airborne thermal data. That's the one thing everybody really wants. And then you've got on-board settings to optimize images and the recording of images for airborne applications."
Here's a look at the new FLIR Vue Pro, its features and how this affordable UAS specific thermal camera could benefit the UAS industry.
The Features
The FLIR Vue Pro records digital thermal video, along with thermal still images, to an on-board micro-SD card. This on-board recording allows operators to capture thermal data they can analyze later. Video files can be recorded in either MJPEG or H.264 format, while the 14-bit still images provide high dynamic range imagery for mapping and survey applications.
The new FLIR Vue Pro offers a variety of other features, including enhanced data collection capabilities and in-flight control of a variety of camera functions. It's also easy to set-up with mobile apps. The camera's Bluetooth interface with a custom app, available for iOS and Android devices, makes it possible to configure functions that ensure the UAS collects the most optimal imagery possible, without having to connect the camera to a computer.
FLIR Vue Pro gives you in-flight control of two camera functions through direct PWM connections, enabling you to select color palettes, start and stop recording, or trigger the camera's e-zoom in-flight from your radio controller.
"That's handy once you're flying and you decide you need to change the color palette," Cumming said. "Instead of landing the aircraft to make the change, you basically can do it whilst it's airborne. That's a huge feature."
And while it's not available yet, the future MAVLink compatibility will interface easily with the standard flight control systems used for various commercial UAS applications.
The Development
Because of FLIR's experience in the thermal imaging industry, the building blocks were already in place to develop the Vue Pro, Cumming said, which took about six months. They spent most of their time designing "really clever electronics" that talk to the airframe and record data to the camera itself. They also had to work out the PWM integration.
"FLIR is in a unique position. We're the world leader in thermal imaging and we have a history in two spaces. Airborne thermal imaging for search and rescue, surveillance and other military applications, and we're also a leader in industrial thermography," Cumming said. "And it's those areas where we're seeing the most interest and the most demand for thermal imaging mounted on a drone."
The Applications
High-quality thermal imaging and video are needed in a variety of UAS commercial applications, including roof inspections, power line inspections, substation inspections, cell tower inspections, security, surveying, search and rescue, and precision agriculture.
"There's a strong correlation between how hot plants are and their health," said Cumming on the benefits of using thermal imaging in precision agriculture. "You can use thermal imaging to fly over a crop and determine plant health. You can use thermal imaging to find irrigation inefficiencies and pest infestations. When you take thermal imaging and put it on a UAS, you cover more ground, you can do it more often and the ROI is much higher than constantly having to use other methods."
Developing Partnerships
To expand the camera's capabilities even further, FLIR is working with partners like Pix4Dmapper to create 3-D thermal imaging maps of buildings and landscapes, Cumming said—a feature the UAS industry is excited about. The camera can be configured to automatically capture images and annotate each image with the aircraft's position and other critical flight information. These images are then instantly compatible with leading imaging stitching and orthomosaic-creation software like Pix4Dmapper.
"If you fly around a building multiple times and use Pix4Dmapper's clever algorithms to determine where to overlap, in 20 minutes you can create a 3D orthomosaic of a building envelope," Cumming said. "You can start to understand over time where any potential inefficiencies might be in that building envelope."
The Early Feedback
While the FLIR Vue Pro, priced at $1,999, doesn't begin shipping until November, FLIR has already received feedback from beta testers—and so far UAS operators are happy with the camera. They like that the camera is easy to mount to their UAS, and they've been impressed with the image quality, as well as the Bluetooth, PWM and on-board recording capabilities.
The FLIR Vue Pro is designed to make integrating a thermal imaging camera on a UAS easy, as well as more affordable and more beneficial to the UAS operators who need the data the images provide. Cumming says the FLIR Vue Pro hits all those marks, and he's excited to be part of a team developing quality UAS specific solutions like the FLIR Vue and the FLIR Vue Pro.
"We're going to see things starting to happen a lot in this industry," Cumming said. "And FLIR is going to be at the forefront of that."