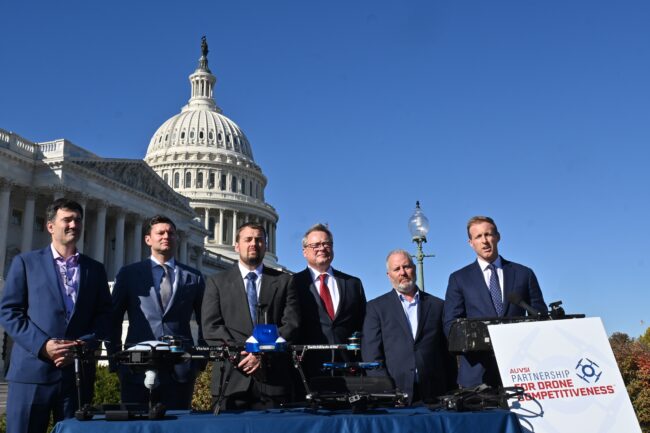 WASHINGTON—Senate and House lawmakers, representatives from industry and AUVSI officials gathered outside the U.S. Capitol on Nov. 14 to tout AUVSI's Partnership for Drone Competitiveness, which seeks to boost the domestic and allied drone industry against what they described as unfair Chinese competition.
China is the undisputed leader in the commercial drone market and in many industry markets, but AUVSI's new partnership, launched in September, says China achieved that by flooding the market with cheap, government-subsidized drones.
"Through our Partnership for Drone Competitiveness, we are seeking to level the playing field by enacting policies that will help U.S. and allied drone manufacturers compete," said Michael Robbins, AUVSI's chief advocacy officer.
Sen. Ted Budd, a Republican from North Carolina, agreed. "Chinese drones account for more than 90 percent of the U.S. consumer market, 70 percent of the industrial market and 92 percent of the first responder market," he said. "The world's best-selling Chinese drones are so insecure that our own DoD [Department of Defense] has banned them for our use.
"Last year, the DoD identified the leading Chinese drone company DJI as a Chinese military company operating here in the U.S. It's crucial for keeping America's competitive edge in the next generation of aviation technology to deal with this.
"Here's what we must do," Budd said. "Be sure that the drones we use for critical operations are fully secure. And we must invest in U.S. drone manufacturers like you see here. And we must foster a regulatory environment that promotes innovation on our shores and it doesn't push it overseas. It's essential that the United States dominate the unmanned systems market for the sake of our workers, for the sake of our national security."
Rep. Dina Titus, a Democrat from Nevada, referenced the solar panel industry, where most panels were made in China until Congress passed legislation to enhance the ability to build them in the United States.
She also cited the Drone Infrastructure Inspection Grant Act, part of the House version of the FAA reauthorization bill, which would provide up to $200 million to use for funding infrastructure inspections with drones.
"The more we can do that to incentivize our own industry, and make it easier and better and more efficient, and safer to use drones in these different lines of work and different occupations, different enterprises, the better off we'll all be," Titus said.
Robbins echoed that, saying, "we know that with that demand signal, there will be investment from private capital, there will be investment into advanced manufacturing and investment into the component supply chain base to allow the U.S. and allied nations industrial base to flourish outside of China."
Industry Voice
Several industry representatives spoke as well, while displaying their drone hardware on a table in the House Triangle outside the Capitol.
"We have been in business for about 10 years, we have accumulated a ton of talent and patents and knowledge, and we are looking to utilize this in the best way possible," said Ivan Stamatovski, cofounder and chief technology officer of Brooklyn-based Easy Aerial.
"I have to say the U.S. has some of the best ways to issue grants and to get small businesses out and in front of the defense industry, but I have to say it's not enough," he said. "We're here to ask for help to get the technology and the knowledge we have right here in the United States, in Brooklyn, to get it in front of the whole world and to get this product parity with Chinese drones on the right path."
Mark Valentine, who leads the global government business of Skydio, said his company was founded by three MIT engineers in a garage but now has thousands of employees across the country and the world and builds thousands of drones each year in California.
"I think the moral of the story is really simple, and I think everyone here will agree. Never, ever, bet against the United States of America. That's why we're all here today. Our industry is growing, but we still face headwinds," he said.
"We believe that innovators should compete on a fair and even playing field, undistorted by foreign subsidies. And we all want companies to invest in American workers without fear of being undercut by competitors paying cents on the dollar to build drones overseas."
Red Cat Holdings CEO founder and CEO Jeff Thompson said company subsidiary Teal Drones has a similar origin story, but its founder pivoted to the defense market "so he did not die and get crushed by DJI, cheap, inexpensive subsidized drones." Now the company has a new factory in Salt Lake City.
"There's a lot more work to do, and it is very difficult to compete on price, but there's a big false narrative out there that U.S.-made drones cannot compete against Chinese drones," he said. "I want all of these drone companies to be alive in a few years. With all the things you are doing, the AUVSI, those thought processes are going to make sure that we are around and aren't getting driven out by CC-backed drones."
Esmael Ansari, vice president of government relations for Seattle-based BRINC, said, "with targeted investments and what we believe to be common-sense policies, we can create a level playing field for innovation for the U.S. drone market.
"Stronger U.S. leadership in this industry is better for everyone, and we call upon the federal government to make direct investments in the production of domestic UAS and manufacturing. by doing so, we're investing in ourselves, we're creating stronger aviation leadership, we're creating great jobs here in America," he said. "We've heard from many companies today of them building out their facilities around the U.S., building drones here and creating really great, strong technical jobs for U.S. workers."
Shane Beams, founder and CEO of Vision Aerial, which builds industrial drones, said, "we're all playing the same economic game but we're essentially playing it by different rules…that's' what we're here today to do, to ask government to help us level that playing field.
"There's a number of ways that can be done. We could do it through tax incentives and government-backed loans, because as we de-risk capital investment, private industry will come right behind that," he said. "We can also provide funding for American agencies, both state and federal, to either help them start these high-efficiency drone programs or to help them transition from the Chinese fleets they have now with American fleets."