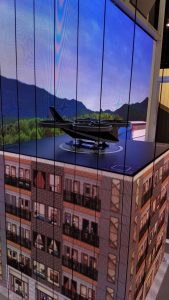 From its space-age Nexus air taxi, designed to ultimately operate autonomously, to the Autonomous Pod Transport (APT), a winged aircraft with vertical takeoff and landing capabilities operating in a Smart City, Bell Textron Inc, a Textron Inc company, took visitors on a flight into the future at CES 2020. Its booth was both hands-on and captivating.
Yet it's the company's emphasis on the digital backbone that will harness smart city transportation that provided true innovation.
Matt Holvey, Manager of Intelligent Systems at Bell, said, "We believe there is a gap in the industry. There are a lot of people working on vehicle autonomy, urban air mobility and maintenance applications and a lot of cloud technology out there—but there is no open framework infrastructure that allows for human management. Where do I plug in maintenance planning software or flight operations/air traffic management or airfield battery charging applications? We believe it's the collective autonomy with human management and oversight that make future systems like APT operationally possible."
To that end, Bell introduced AerOS, a digital infrastructure to manage fleet information, observe aircraft health, and manage throughput of goods, products and predictive data and maintenance.  By leveraging technologies like artificial intelligence and IoT, AerOS provides capabilities like fleet master scheduling and real-time aircraft monitoring, enhancing Bell's Mobility-as-a-Service (MaaS) experience. Built on Microsoft's Azure cloud, AerOS is designed to integrate seamlessly into fleet operations with an extensible API. Further, Bell developers use Azure's artificial intelligence productivity tools and machine learning to enable autonomous operations such as indoor drone navigation.
"As our air taxi solution and our unmanned logistics drones mature, AerOs will mature as well," said Holvey. "It's an evolutionary approach. While AerOS is still in the experimental phase, we continue to stretch its capabilities, integrate with other systems, and partner and collaborate with other innovators to make sure everything talks in the end."