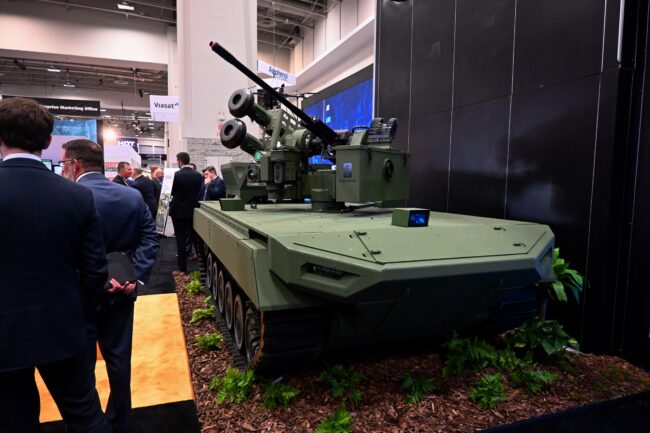 WASHINGTON—Textron Systems has been on a competitive roll lately, in the running to build not only robotic ground vehicles for the Army but a critical aerial system as well.
The company was tapped for the first phase of the Robotic Combat Vehicle-Light competition, along with McQ Inc., General Dynamics Land Systems and Oshkosh Defense. It also advanced in the Future Tactical UAS competition, where it is now competing only with Griffon Aerospace.
For the RCV-Light competition, the company is offering its M3 Ripsaw, a 13,000-pound system built with partners Howe and Howe and Teledyne FLIR, which has a 5,000 pound payload capacity. Textron officials are also trying to anticipate Army needs and think a few steps ahead.
For instance, the company has sized the Ripsaw M3 to fit in a CH-47 Chinook, and also have enabled it to ford water, two things that aren't currently in the requirements.
The M3 is "Goldilocks size," David A. Phillips, senior vice president of land and sea systems, told Inside Unmanned Systems at the Association of the U.S. Army's annual conference.
As the RCV-Light moves around the battlefield, "it's going to hit geographical boundaries on the battlefield. And so, in order for it to stay on the leading edge of collecting intelligence for the brigade combat team, it can't be constrained by geographical boundaries. So how do you get it around the battlefield? We believe that, although it's not a requirement, CH-47 internal transportability is going to be very useful."
The vehicle is also able to cross water. Textron had revealed the M3's "swim" capability at the AUSA convention last year, and this year, "we're in production for the M3 now, [and] we've maintained the native swim capability," Phillips said. "And I think that's important, because ultimately, they may want it. …The native chassis is designed to be floatable, to be airtight, to cross a wet gap. And we can apply a kit to it at the time. If the Army says, 'you know what, we really want to go do that,' we don't have to go back to the drawing board. We just apply the kit to it."
If troops need to set up ribbon bridges or assault bridges to allow the RCV-Light to cross to geographical obstacle, "you're kind of defeating the purpose," Phillips said, because the RCV is intended to operate on the leading edge of the brigade combat team. "They want them collecting intelligence before your brigade combat team gets up there. That's the value in these."
As happened in the early days of using unmanned aircraft in combat, the military isn't sure of all the uses to which the RCV can be put, Phillips said, and working with the prototypes is part of the effort. The four companies are to deliver two platform prototypes by August 2024 for testing and Soldier input. The Army will select a single contractor for phase II in fiscal 2025, with a production decision in fiscal 2027 and first unit fielding a year later.
"When you're in a competition, you've got to kind of be thinking ahead," Phillips said. "Got to be thinking ahead. How are you going to do things differently? You don't win a competition by doing things the same as everybody else, or at least I think so."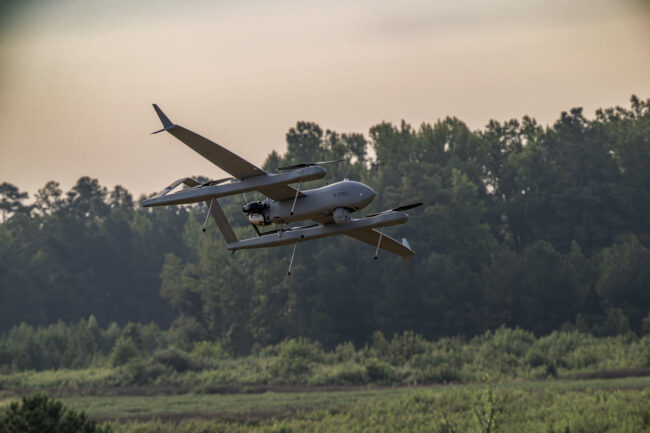 FTUAS
"This is a full and open competition. We're not taking anybody or anything for granted. We're really focused on providing a good technical solution for this new requirement for the Army."
So said Wayne Prender, senior vice present of Textron Systems, air systems business, after the Army's second agreement option, announced Sept. 26, selected Textron's Aerosonde Mk. 4.8 Hybrid Quad and Griffon Aerospace's Valiant VTOLs as finalists to become the Future Tactical UAS brigade-level asset. A Critical Design Review will establish final system designs and product baselines, and two more agreement option phases will feature flight demonstrations and testing of production-representative systems. Then, in 2026, the Army's choice is slated to operationally reach units, delivering "actionable intelligence information about the enemy in multi-domain operations."
"The Army is on schedule," Prender said in a separate interview with Inside Unmanned Systems.
Griffon executives declined comment, but Prender was willing to discuss Aerosonde's capabilities within the guardrails of not speaking for Army decision-makers or disclosing proprietary technology.
Prender contrasted today's combat theaters to what he saw as an Army intelligence officer in Iraq after 9/11.
"Today's Army needs to be much more mobile, more expedient. Concealment is very important. Specifically, the vertical takeoff and landing capabilities provide the ability to set up quickly, get eyes in the sky, on the move command and control, levels of interoperability to enable teaming throughout air, and ground-mounted and dismounted units. It really provides a lot more flexibility than the current system," (Textron's own RQ-7 Shadow, now upgraded to a high-payload Block III vehicle).
A crucial element going forward will involve third-party verification of MOSA, the Modular Open Systems Approach that's vital to interoperability, cost-saving and continuing innovation. "That is a very important part of this program," Prender said, "and we've integrated over 35 different payloads." Aerosonde can carry six at a time to include, among other capabilities, EO/IR, video, SIGINT communications, LiDAR and Wide-Area Search.
"We hope to demonstrate the ease and flexibility of our system and how it's been architected so the Army can easily swap out payloads and data links and mission computers and new technology they desire to inject," he said.
Textron cited Aerosonde's 600,000 flight hours of experience, including how Textron has acted on feedback from the field. "We took the 4.7 HQ to the 'Buy, Try, Inform' portion of this program," he said. "We really listened to the feedback the Army provided us and the Soldier touch points. They love the system, but they needed more power, more payload, more endurance. We took that feedback, and we scaled the system up."
The 4.8 offers a ceiling greater than 15,000 feet above mean sea level, an available 30-pound payload and 14 hours of endurance—significantly more than the original six-hour requirement. Two Soldiers can assemble and launch the vehicle in under 30 minutes.
"The Soldiers are extremely competent, creative, and they're going to find new ways to operate the system," Prender said. "We fully embrace that, and we'll learn and adapt."
Aerosonde also joins much of the Army in using heavy [JP-8] fuel. "We've certainly hit the 'I believe' button on heavy fuel," Prender said. "In the Army, fundamentals remain 'shoot, move and communicate,' and the ability to move knowing there's compatible fuel anywhere you go really allows us to have a multidomain force asset in a variety of theaters.
"We are looking forward to helping to provide next-generation tactical UAS to the brigade combat teams," Prender said.