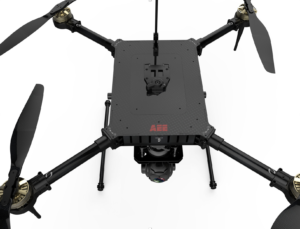 AAE debuted its new multiple payload capable drone, the Mach 4, at this year's AUVSI Xponential meeting in Denver.
The multi-rotor system is designed to be a high-quality yet economical solution for a variety of applications, including inspection, search and rescue, surveying and public safety. It can fly at a cruising speed of close to 30 miles per hour with a range of almost two miles. The base package includes everything needed to fly and starts at $5,500. Final price depends on payload, with higher-end packages coming in at about $8,500.
When developing the system, the team took what it learned from larger drones and applied that to a smaller airframe targeting the $5,500 price range, AAE Chief Marketing Officer Mike Kahn said. The Mach 4 measures a little more than two feet in length and weighs 8.8 pounds without its battery or payload. The max payload it can carry is 1.8 pounds.
The team also knew flight time would be important, so the modular unmanned aircraft system (UAS) can fly for up to 40 minutes and comes with a Y-12 ground station hand controller equipped with 1.4 gigahertz for flight control. It can operate in harsh environments and has the ability to hold its position in 24 mph winds.
"Customers are looking for a commercial drone in this price range that is rugged and offers a better flight time," Kahn said. "We want to add value to the market and create a new choice from a different vendor that offers all the important features, including a reliable platform and a long flight time."
The drone package comes with an aluminum siding carrying case that includes a professional charger and battery pack as well as three antennas that are attached to the ground station, which supports a 5.8 GHz video transmission and a 1.4 GHz digital radio system. It comes with an YT35, standard 4K camera with a 1 / 2.3-megapixel sensor so it can capture crisp, clear images.
Other available payloads include a 10:1 zoom camera and an advanced optical thermal payload for search and rescue as well as inspection missions.
The system will be available toward the end of June.