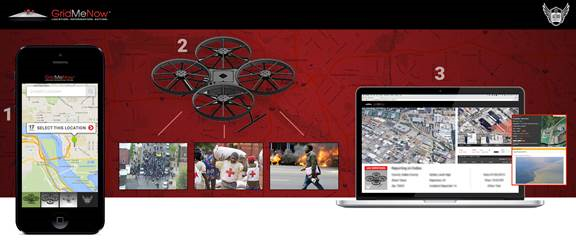 Aero Kinetics recently formed a partnership with GridMeNow to incorporate the company's mobile, real-time tracking solutions into their newest multi-rotor vertical takeoff and land unmanned aircraft system, creating the first on-demand UAS mobile ecosystem and providing real-time situational awareness.
Real-time event reporting and targeted communications will make it easier for Aero Kinetics to deliver the right information to key decision makers, according to a news release. With this technology, users will be able to call drones to their location using their mobile phone.
"We are incredibly excited to incorporate GridMeNow's mobile technology into our UAS," said W. Hulsey Smith, Chief Executive Officer of Aero Kinetics, according to the release. "We will essentially become the Uber of unmanned systems where UAS can be dispatched by mobile phone directly to your location. If you need aerial footage/support or medical supplies delivered to a remote location, GridMeNow will provide those capabilities."
For more information visit aerokinetics.com or gridmenow.com.