At last year's Consumer Electronics Show, EHang made a splash by revealing a drone with the capacity to transport a passenger over medium-short distances. Now the Chinese drone maker has announced it plans to turn a profit in less than two years.
The electricity-powered drone, called EHang 184, can carry up to 220 pounds (100 kilograms) of weight for 23 minutes at sea level. It has an average cruising speed of 100 km/h, according to the company. Passengers enter a destination into the accompanying smartphone app and its automated flight system does the rest, eliminating the need for a pilot license to fly. The drone takes off vertically and upon landing, its four arms can be folded to take up the size of a parking spot.
EHang 184 AAV (autonomous aerial vehicle) is described on the company website as a safe, smart, and eco-friendly low altitude autonomous aerial vehicle, aiming to provide medium-short distance communication and transportation solutions. The drone's cabin is fitted with built-in air conditioning and 4G Wi-Fi internet.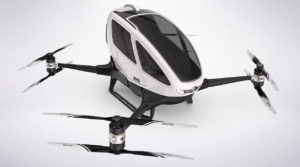 "It's been a lifetime goal of mine to make flight faster, easier and more convenient than ever. The 184 provides a viable solution to the many challenges the transportation industry faces in a safe and energy efficient way," Huanzhi Hu, the chief executive of EHang, said previously in a press release.
According to EHang, the drone is designed to not only change the transportation industry, but also improve efficiency in the shipping, medical care and retail industries. The company is looking to become a bigger player in the growing area of commercial applications for drones. Previously the company was more focused on consumer drones and aerial photography.
China's EHang, which is developing a passenger drone, claims it will become profitable within the next two years, according to CNBC.
Early this year, EHang and the Dubai Roads and Transport Authority (RTA) announced a partnership at the fifth World Government Summit to jointly promote and introduce the EHang 184 autonomous aerial vehicle into Dubai, the city with the aim to build the world's most intelligent transportation system.
Derrick Xiong, CEO and co-founder at EHang, told CNBC recently at the Fortune Global Forum in Guangzhou, China that the company's target is to become profitable within the next two years.
EHang announced in October that it will design and build an intelligent drone monitoring and command & control center for the Shaoguan government to aid in responding to emergencies. Ehang and the government of Shaoguan, a city in northern Guangdong Province, jointly announced the establishment of strategic cooperation to apply Ehang's technical prowess in intelligent UAVs (Unmanned Aerial Vehicles) and its flight command and control systems to the integrated government management sectors and innovative tourism industry of Shaoguan, with the aim of making it a leading and model smart city of UAV system applications.