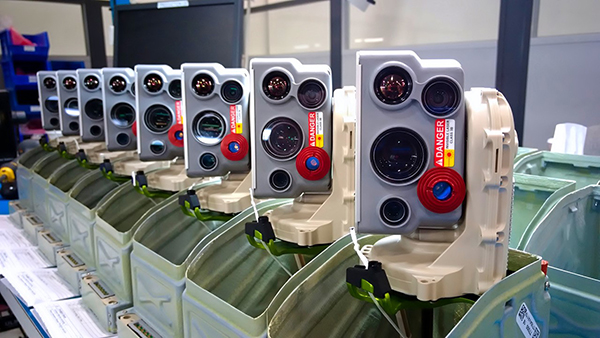 AeroVironment recently announced the Mantis i45 electro-optical/infrared (EO/IR) gimbal sensor suite designed for its Puma AE small unmanned aircraft system (UAS) is now in full production and shipping to customers. The suite was unveiled last May, and is designed to enhance the drone's intelligence, surveillance and reconnaissance (ISR) capabilities.
"Compared to the i25 gimbal, you can be seven times further away from the object and still get quality images," said Steve Gitlin, AeroVironment's vice president for marketing strategy, communications and investor relations. "There are many missions where you want to make it difficult for the adversary to know they're being watched. By operating the Puma further away, it reduces the chance it will be spotted, increasing safety and the probability of a successful mission."
The higher resolution imagery also helps with target analysis and positive identification, as well as enables operators to identify threats to friendly forces, according to a press release.
The Mantis i45 has an advanced suite of ultra-high-resolution EO and long wave IR imagers as well as a new low-light camera for day or night operations in a single payload. The EO/IR/low-light/illuminator sensor suite features dual-color, 15 megapixel (MP) cameras (wide and narrow views), improved (640 x 480 MP) infrared imagery, a new 1.5 MP low-light camera, a high-power illuminator, 50-times zoom in EO, optional on-board storage of high definition video and high-resolution stills, and a dedicated on-board image processor.
The all-environment i45 provides the same electro-optical image resolution as its predecessor, the i25 gimbal, at up to seven times the distance. The powerful, lightweight Mantis i45 is easy to install on the Puma AE platform and features modular software that can support a variety of imagers.
It is backward compatible with deployed Puma AE systems. The rugged waterproof design protects against sand, dust, rain, salt, fog, snow and mud.