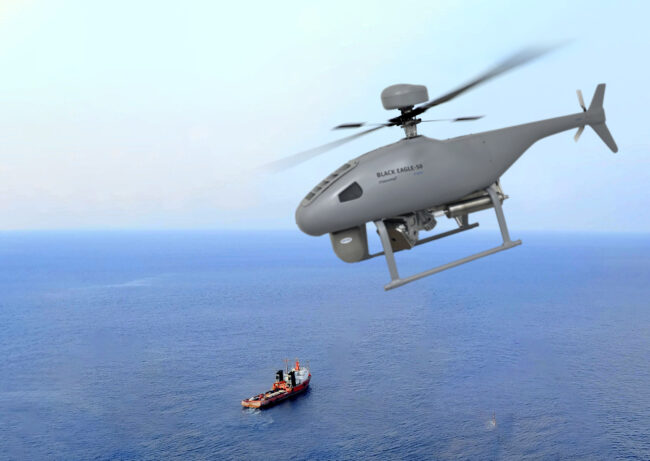 Until recently, UAS manufacturer Steadicopter, based in the Haifa area of Israel, would have been an unlikely candidate for vehicle adoption in the Persian Gulf. Now, change is literally in the air.
On Feb. 8, Emirates Defense Technology and Steadicopter announced an agreement to adapt the Israeli company's rotary-wing Black Eagle UAS to meet emerging requirements within the Gulf States.
EDT has been in business since 1996, and Mohamed Bin Jabr Al Suwaidi is the defense integrator's CEO and owner. "We had scouted Steadicopter and its Eagle family—a platform of solutions that fits synergistically with other solutions manufactured in the region.
"We found that Steadicopter's systems, which are used by various armed forces around the world and have already been operationally proven in various missions, meet the highest standards and needs of our customers. We are proud to launch them in the UAE, using both companies' strengths and relevant accumulated experience, and anticipate that this will be a long-term cooperation."
On its part, Steadicopter started with an R&D focus in 2005 and went to market around 2017. "We thank EDT for expressing confidence in the unique and proven systems developed by Steadicopter," said Noam Lidor, the company's vice president for sales, marketing and business development. Lidor also credited U.S.-driven normalization efforts for opening new markets in the Gulf. "Without the Abraham Accords, we could not perform or execute the agreement," he told Inside Unmanned Systems.
The Emirates announcement came a year to the day after Steadicopter unveiled the Black Eagle 50H in preparation for the Singapore Airshow. "The Black Eagle 50H is the first-ever hybrid-powered [gas and electric] unmanned helicopter," Lidor says now about the small tactical rotary UAS. The 50H hybrid model combines the reliability and high-altitude adaptiveness of Steadicopter's electric 50E model with the energy efficiency of the gasoline-powered Black Eagle 50 variant. It allows operators to power by generator en route and then switch to quieter, more covert batteries during the mission itself.
Lidor ticked off advantages. "With a maximum takeoff weight of 50 kilograms, the system can carry multiple payloads, and is capable of up to 5 hours of flight time, extremely high endurance when compared to other VTOL platforms when carrying such heavy payloads [up to 12 kilograms]." Maximum speed is 70 knots an hour, cruising speed is 45 knots and comms range is up to 150 kilometers.
"This enables high performance and maximum operational flexibility for various applications," Lidor said, "such as military, low-intensity conflict, law enforcement, search and rescue, cybersecurity, intelligence, offshore rigs and strategic infrastructure protection, high-end maritime missions and civilian applications."
Toward the end of this February, another opening to the Gulf occurred when a new configuration of the Black Eagle 50H appeared at the International Defence Exhibition and Conference (IDEX) in Abu Dhabi, the capital of that wealthy emirate. This advancement adds another Israeli innovation, BIRD Aerosystems' miniature airborne radar and proprietary technology, for use in maritime intelligence missions.
Implemented in a single small Line Replaceable Unit, Bird's lightweight, low power µMPR (micro maritime patrol radar) cuts through clutter, allowing the BE50H to map all vessels within a radius of 200 kilometers within a few hours, day or night. When installed in conjunction with AIS and an electro-optical EO/IR payload, automatic cross-cues between the radar and the EO/IR sensor can confirm target identification and georeference to inform ground control.
IDEX was another worthwhile trip, Lidor said, as "there was a lot of interest from official delegations." And Steadicopter, he added, hopes to increase its corporate range even more. "The U.S. market is an attractive market."