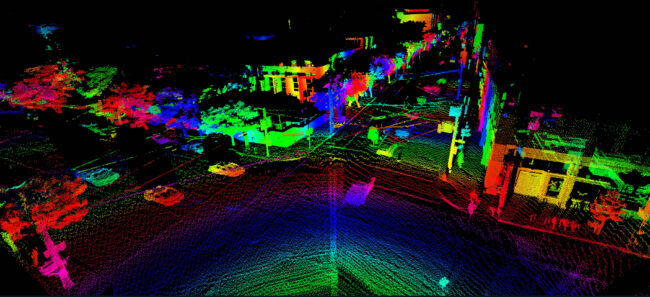 California-based AEye, which builds software-defined LiDAR systems for automotive applications, is moving into the aerospace and defense market with its 4Sight LiDAR for tasks such as locating orbital space debris and working with counter-unmanned aircraft systems.
The company created a new office in Florida's Space Coast last year and lured Steve Frey, a veteran of the defense industry, out of retirement to head up the new effort as vice president of business development for aerospace and defense. That office has now grown to 10 people, all veterans of the defense and aerospace fields. It's really a return to the founder's defense roots, Frey told Inside Unmanned Systems.
"My history is with our founder and CTO, Luis Dussan," Frey said. "He used to work for me at Lockheed Martin many years ago, and we just stayed in touch." Dussan worked at Lockheed Martin and Northrop Grumman, designing targeting systems for fighter aircraft. He founded AEye in 2013 to bring that perception technology to the automotive world to create safer, autonomous vehicles.
Dussan and Frey began discussing the idea of a move back into the defense and aerospace arena, and opened the Melbourne, Florida, office in May 2022. It has a two-fold charter, Frey said: "help the team in the product development in automotive, but go pursue defense and space applications because we think our product lends itself very well to some of those, with the capabilities that we have.
"Our system is very software definable," he said. "We can change the scan pattern, the laser power, we can change a lot of things that aren't possible to change in other traditional LIDAR systems."
That could mean a variety of uses for the defense market: helicopter wire detection, to keep helos from hitting power lines; path planning for ground vehicles over rugged terrain; drone detection and tracking; drone swarm management; space debris tracking; and counter-drone systems.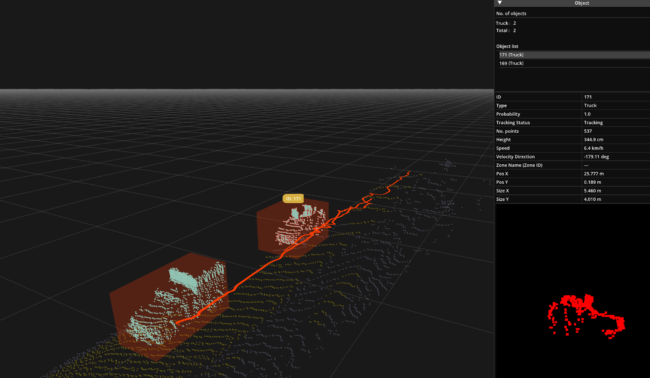 Frey said the company is working in all of those areas but two are likely to come to the fore first: counter-drone systems and space debris tracking. "Those are our two nearest term, really hot areas," he said.
The system's flexibility is what enables it to tackle these various tasks, he said. AEye's software-definable LiDAR can quickly change its scan pattern, within milliseconds, if it needs to suddenly hone in on a certain portion of a wide-angle scan, such as when it detects a rogue unmanned aircraft.
"Anybody can get a drone these days, there for a couple hundred dollars you can get something, right? Being able to detect and track these, it's a problem with radars and current sensing suites. They have a hole and I think we're helping them fill that."
The LiDAR can show objects at a higher resolution than most radars, and track an object precisely.
"They may be able to see it [a rogue drone] at a longer range, but they tend to lose them in different kinds of maneuvers. And we could put a very precise 3D track on that," Frey said. "We give it X, Y, and Z, whereas they struggle with position…so, we kind of fill in a gap that's going on with the radar system. And thermal imagers are great, they can see things at a long range, but they can't tell how far away it is. So, we fill that gap in that one. It's kind of a gap filler between all of those."
The issue of monitoring space debris, particularly during spacecraft rendezvous and docking is another promising area, he said.
Most docking systems "use cameras, stereoscopic cameras," Frey said. "Some systems are out there with the LiDAR, but it's very large and expensive. Our system is much, much smaller and lower cost because we're dealing with automotive-class technology…we have a number of companies that are very interested in this right now and we're working with a few of them."
AEye's systems do need to be hardened against radiation and shock, "but other than that, it's pretty flexible and able to work in that kind of environment once it gets up there," Frey said.
He said the company foresees growth for the new division, which is intended to chart its own business path and minimally draw on the resources of the automotive side.
"The quantities aren't going to be automotive," he said. "There's an awful lot of cars out there in the world. But there's substantial marketplace in all of these. Space isn't a big numbers game, right? There's only so many things you can fly up there. But all the helicopters, commercial, land, military, who would need some capability, that's a pretty large number. The drone detection and tracking one could be a very large number…if you want to do some high security at sporting events and stadiums and all those sorts of things. It could be quite a large number."