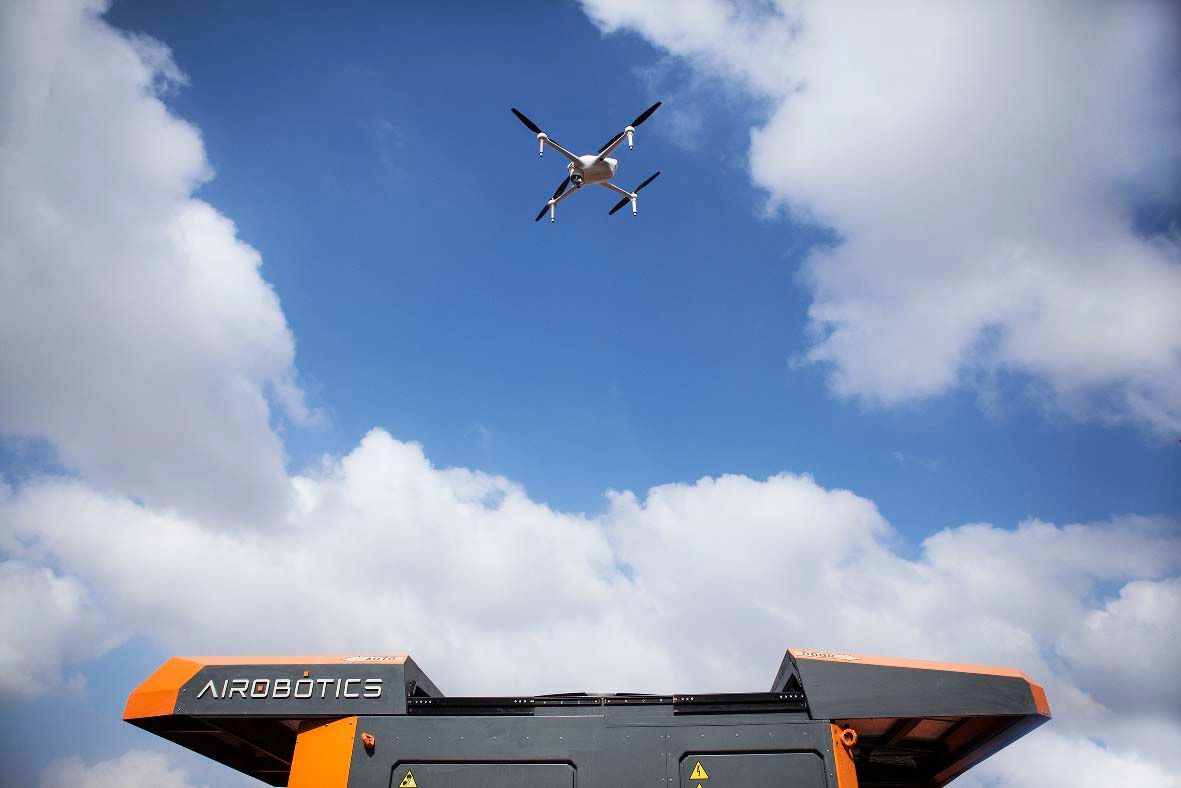 When Airobotics first began working with The Home Team Science & Technology Agency (HTX) of Singapore about a year ago, the plan was to support the Singapore Police Force (SPF) to enhance first responder capabilities. The coronavirus pandemic has shifted that plan, at least for the time being.
The company's drone technology is now being used to help SPF track anomalies such as large congregations of people and to ensure necessary safety precautions are being followed to prevent additional spread of the disease, Airobotics CEO and Co-Founder Ran Krauss said. The system has flown over a major industrial estate area during the country's COVID-19 "circuit breaker period."
"People today understand large public gatherings are probably the No. 1 spreading method of this pandemic," Krauss said. "So, making sure that doesn't occur is part of what we're helping to do in Singapore." One of Israeli-based Airobotics' offices is located in Singapore.
While Krauss couldn't give specifics on the exact data the drone is collecting and how, he did say it's being deployed daily. The automated drone technology broadcasts real-time aerial data, speeding up the feedback process so the SPF can quickly make informed decisions. SJ Defence, HTX's local partner and defense arm of Surbana Jurong (SJ) Group, is providing logistics management, operations coordination and ground safety observers.
Because the system is flying in an urban environment, safety is crucial and is one of the reasons the Airobotics unmanned aerial system (UAS) is so well suited for this type of mission, Krauss said. It also offers the endurance such flights require.
The platform, which is made up of three parts, makes it possible to run missions automatically and to monitor, inspect, survey and secure urban areas, as well as industrial facilities. Optimus, the company's large, high capacity drone capable of flying 45-minute missions while carrying a one-kilogram payload, launches from and lands on the automated base station, or Airbase, without human intervention. The platform's integrated, dynamic software makes it easy to control and manage missions.
Industrial facility clients are also turning to drone technology during the coronavirus pandemic, Krauss said. Many companies are working with skeleton crews, and the Airobotics UAS gives personnel the ability to do their jobs remotely. One client in Houston is deploying the platform for inspection, security, remote monitoring and mapping.
"This is the age of the unmanned. It has definitely gotten a boost," Krauss said. "Once this is over, hopefully most governments, corporations and organizations will sit down and figure out what we've done well and what we haven't and how we can prepare for the future if this comes back. Unmanned technologies, whether rovers or drones, are going to be part of that because they're very helpful tools."
As far as the partnership with HTX, while the focus shifted to the coronavirus pandemic, Krauss said there are plans to return to the initial project scope soon. The drone will be used to respond to 911 calls ahead of emergency personnel, giving first responders a better understanding of a situation before they arrive on scene. If there's a fire somewhere in the city, for example, the drone can quickly fly to the scene and then send a live video back to the fire truck so firefighters know what's waiting for them, helping to save time and potentially lives.
"HTX is currently trialing the system in real operations, collecting critical operating data, for evaluating the feasibility of using this advanced technology to perform remote viewing of wide and difficult-to-access areas, in a safer and more cost efficient way," said Cheng Wee Kiang, director of robotics for HTX's Automation and Unmanned Systems Centre of Expertise, according to a news release. "The Airobotics system could provide the additional dimension of capability to augment our frontline."