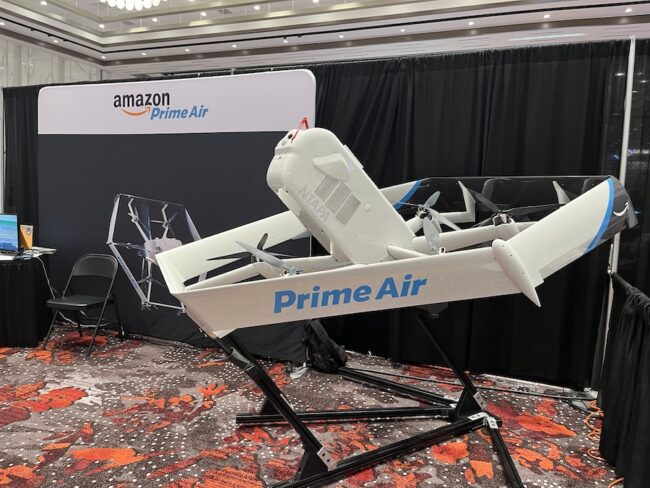 Six motors, six propellers and designed to deliver packages within 30 minutes of ordering. Shown at the just-concluded Commercial UAV Expo, the drone is able to take off vertically, fly horizontally and drop its cargo from three to four meters in the air, said Eric Berlinberg, lead program manager. The system, dubbed Prime Air, has a 15-mile delivery range. The drone itself measures 6.5 by 6.5 by 4 feet.
Prime Air will be operating at this point under EVLS (extended visual line of sight); however, it has a sense-and-avoid system to function without visual observers. Algorithms use a proprietary suite of object detection technologies to avoid both static objects in its path (such as a chimney) and moving objects on the horizon (such as other aircraft). If objects are identified, the drone will change course. In addition, as the drone descends to the customer's back yard or other location, the algorithms will make sure there is a small area around the location that is clear of people, animals and other objects.
Amazon is piloting the system in two locations: Lockeford, California, and College Station, Texas. These sites were selected on the basis of existing Prime and customer density, weather and other factors. Amazon expects customers to be able to receive deliveries later this year. Customers will see whether items are available for Prime Air as they now see eligibility for Prime Delivery, make a selection and then be able to track their package. To assure safe arrival of contents, Amazon has designed a new box within a box.