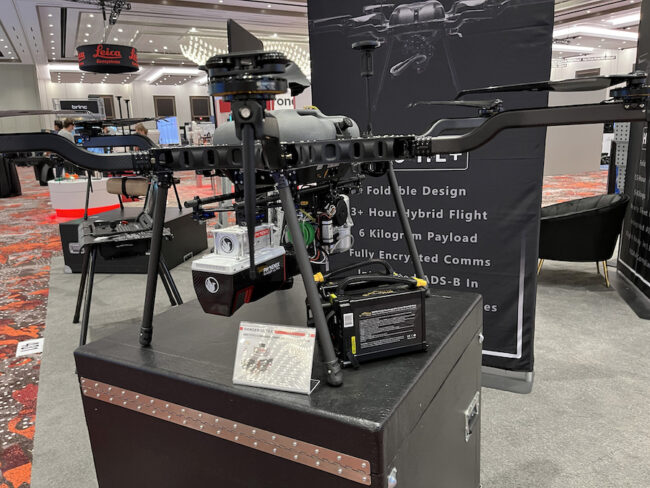 Casselberry, Florida based Harris Aerial talked about their new EFI system, gas tank and battery rack for its five-year old flagship Carrier H6 hybrid drone, at the Commercial UAV Expo in Las Vegas last week.
Ethan Wash, director of engineering for the company described the new advancements:
First, he noted, there is a new 2.4kw EFI system. "Before," said Wash, we had a carburetor version. With the carburetor, though, the operator had to tune it for each individual environment, which is a bit of a nuisance. With the EFI, there is no carburetor and no need to tune anything."
Second, he said "We have a new design for the gas tank that goes on the hybrid electric H6. The 7L tank is much lighter, form fitted, easier to use and has a higher capacity than the previous 4.3 L tank, he explained.
The third upgrade is a new design for the drone's battery rack for two Tattu Smart 12s 16000mAh batteries.
"The (batteries) can be hot swapped instantaneously with two plunger pins," Wash said, "so, going between batteries and hybrid electric is much easier now." Wash explained that being able to switch easily is important, "because in some use cases, service providers can make a lot of noise with the generator and if they're in a neighborhood or somewhere else where they're not able to make noise, batteries will suffice. Now they can change over in the field."
For now, the generator does not have a casing, although there might be one in the future, Wash noted.
The H6 hybrid UAV Platform is available in three power configurations: 2.4 kw EFI, which can carry a 5 kg payload; battery powered which can carry an 8 kg payload; and a hydrogen model.