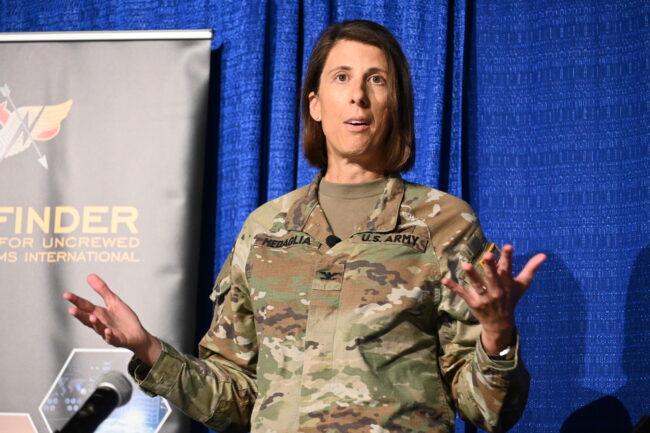 HUNTSVILLE, Alabama—The U.S. Army is planning more flexible unmanned systems, changing its strategies for using them and insisting on common hardware and software interfaces, a top UAS official said.
"We're here to revolutionize the battlefield through UAS," Col. Danielle Medaglia, the Army's project manager for uncrewed aircraft systems, said here at the AUVSI Pathfinder chapter's 34th annual symposium this week.
Quoting Gen James Rainey, Commander of Army Futures Command, she said, "'we will not sacrifice first blood for first contact anymore.' What we're doing here, collectively, is important. We're saving lives."
The Army isn't alone in feeling the urgency for unmanned systems, she said. "In the past 18 months, every [military] branch is getting after UAS with all they have," Medaglia said.
Similarly, she said "FMS sales [foreign military sales] are exploding in UAS. It's like nothing we've ever seen before. Quite frankly, with the events going on in Ukraine, over a year now, wow, countries are coming out of the woodwork saying I want to be in step with what the United States is doing. And we want to buy what you're going after."
Launched Effects
In January, the Army plans to release a request for information to industry for short-range Launched Effects, the new name for what were formerly Air-Launched Effects, reflecting the reality that these small UAS can be launched from air, ground or sea.
Related to that, Dennis Teefy, the program manager for sensors and aerial intelligence for IEWS, said industry should "expect a flurry of sensor RFIs, about all different kinds of payloads" for the short-range LEs.
"Launch effects are just a truck," Medaglia said. "It can do anything, depending on the payload we have on it. For example, extended EO/IR is a big deal. Our Soldiers want EO/IR on the launch effects because they're primary." Or, the systems could carry kinetic weapons.
The mid-range LE program and will be moving into the prototype phase, the short range will have its RFI this fall and the longer-range variant will come online in 2027 or 2028, Medaglia said.
The Army is also continuing work on a program to use drones to resupply Soldiers and Marines when other methods aren't available.
"I think a lot of us have heard the stories where the Soldiers had to leave their FOB [Forward Operating Base] to go about three clicks to go get batteries. It didn't work out super awesome," Medaglia said. "Why in the world do we have to send Soldiers out of a FOB a very short distance to go get batteries? Well, we're not going to do that anymore. We're going to send a robot…ground, air, it doesn't matter."
In September, the program—JTAARS, for Joint Tactical Autonomous Aerial Resupply System—will go before a "shaping panel" to see whether it can proceed, Medaglia said.
FTUAS Need
One much-desired capability will be delivered by the Future Tactical UAS, or FTUAS, which is under competition with four companies still in play—Northrop Grumman/Shield AI, Textron Systems, Sierra Nevada Corp. and Griffon Aerospace.
The Army won't comment on the competition, save to say the program is on schedule, but Medaglia said the Army wants it badly. The first units are scheduled to be equipped with FTUAS in 2026.
"When I tell you the Army wants the FTUAS today, it is loud," Medaglia said. "We want it, we want it today. We are tired of being hamstrung to an airfield, a runaway. This vertical takeoff and landing ability of FTUAS is a game changer for our BCTs. God forbid, a coming war, we're not doing FOBs. You stay in one place, you die. FTUAS is a brigade-level asset…they can do it from wherever they want, they don't have to be next to a runway."
Reiterating what speakers before her had said, Medaglia said her shop is fully committed to MOSA—the Modular Open Systems Approach for hardware and software interfaces—and Scalable Control Interface (SCI) and the RAC-2 (Robotics and Autonomous Command and Control), software control systems that will enable Soldiers to operate Group 1 and 2 UAS (with RAC-2) and larger Group 2-4 vehicles, including the sizable Gray Eagle UAS (with SCI).
Soldiers can request permission to control a UAS and quickly get the data they need, without even knowing if they are using SCI or RAC-2, as they will be transparent and somewhat interchangeable.
"I don't need to call a UAS commander anymore, especially if you're in the middle of a mission, a Soldier on the ground. You can ask permission and boom, you've got it, you've got the data. That's fast," Medaglia said. "The speed of what we're working here is something we've never seen before."