Companies are seeking to lower delivery costs and emissions at every stage of package delivery, using everything from autonomous trucks and delivery robots to cargo aircraft and package delivery drones.
From the first-mile, where packages leave a production facility; to the middle-mile, where goods are transferred from a warehouse or distribution facility to a fulfillment center or store; to the last-mile where consumers take possession, there's a strong case to be made for autonomous trucks, vans, drones, cargo aircraft and robots.
While initially focus was on last-mile delivery, where costs are highest (53%), attention is now turning to middle-mile, and even first-mile segments. Partnerships are being formed as shippers look to scale autonomous deliveries when regulations allow.
A shift to e-commerce, driver and pilot shortages, as well as high fuel prices and a need to lower emissions, are all driving growth in autonomous delivery.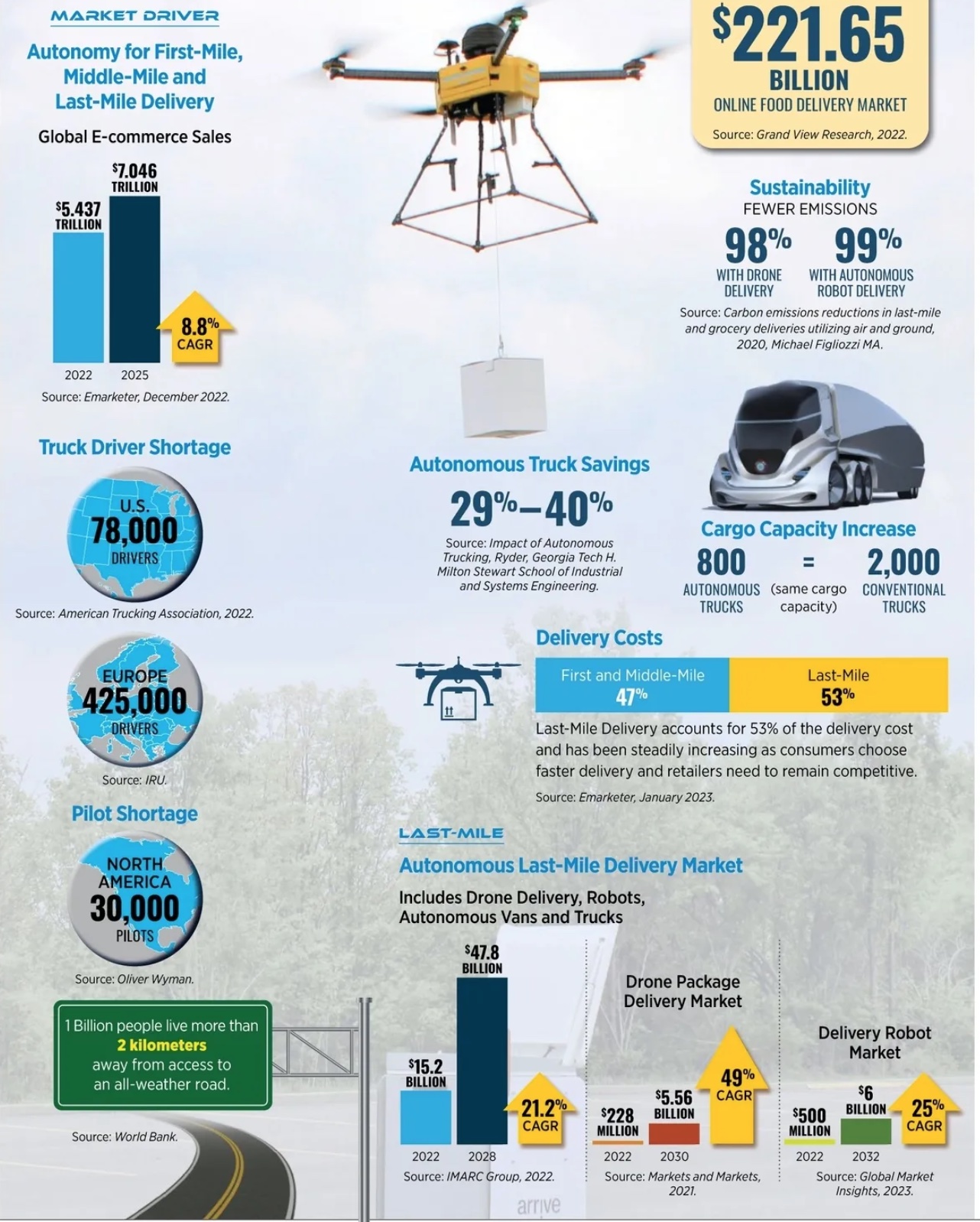 AUTONOMOUS LAST-MILE DELIVERY GETS COMPETITIVE
Despite regulatory hurdles, autonomy in last-mile delivery is advancing and currently valued at $15.2 billion. By 2028, the market is expected to reach $47.8 billion. Within this market, drone package delivery will represent a a $5.56 billion opportunity by 2030.
"Demand is driven by convenience," said Kristen Costello, vice president of safety and compliance for DroneUp. In 30 minutes or less, for $3.99, customers within one mile of a Walmart with drone delivery can get items delivered to their home or townhouse.
For Costello, the biggest challenge is keeping up with ever-changing federal, state and local legislation. DroneUp addresses privacy concerns by not recording during flights. They also meet with community members. "We let them look at the drone and see the live feed that the drone provides," Costello said. "So much of our success in delivery hinges on community awareness and understanding."
A McKinsey analysis compares the cost and emissions of drone delivery to electric cars, vans and an internal combustion engine van. At $13.50, the cost of a single drone delivery by one operator is not competitive with any other modes, but when a single operator can manage 20 drone deliveries, it's very competitive. Technically, this is already happening. Matternet recently received an FAA waiver that allows the company to operate up to 20 aircraft with a single remote pilot at its test site.
By the middle of 2024, Wing believes its systems will be capable of handling millions of deliveries at a lower cost per delivery than ground transportation for fast delivery of small packages.
The market for autonomous robots in last-mile delivery is currently valued at $500 million and expected to reach $6 billion by 2032. "Convenience, sustainability and cost are some of the key drivers for robotic delivery," said Henry Harris-Burland, vice president of marketing at Starship Technologies. Burland said Starship robots are already cheaper than a human delivery person and don't require tipping.
Because Starship robots travel on sidewalks, the regulatory landscape isn't as challenging. However, Starship is pushing for legislation that would standardize legislation across the states.
"We feel it is important that there is a standard because we want to ensure all companies operating do it safely," Burland said. "This is a new technology and we want to make sure that the local residents are comfortable wherever we go."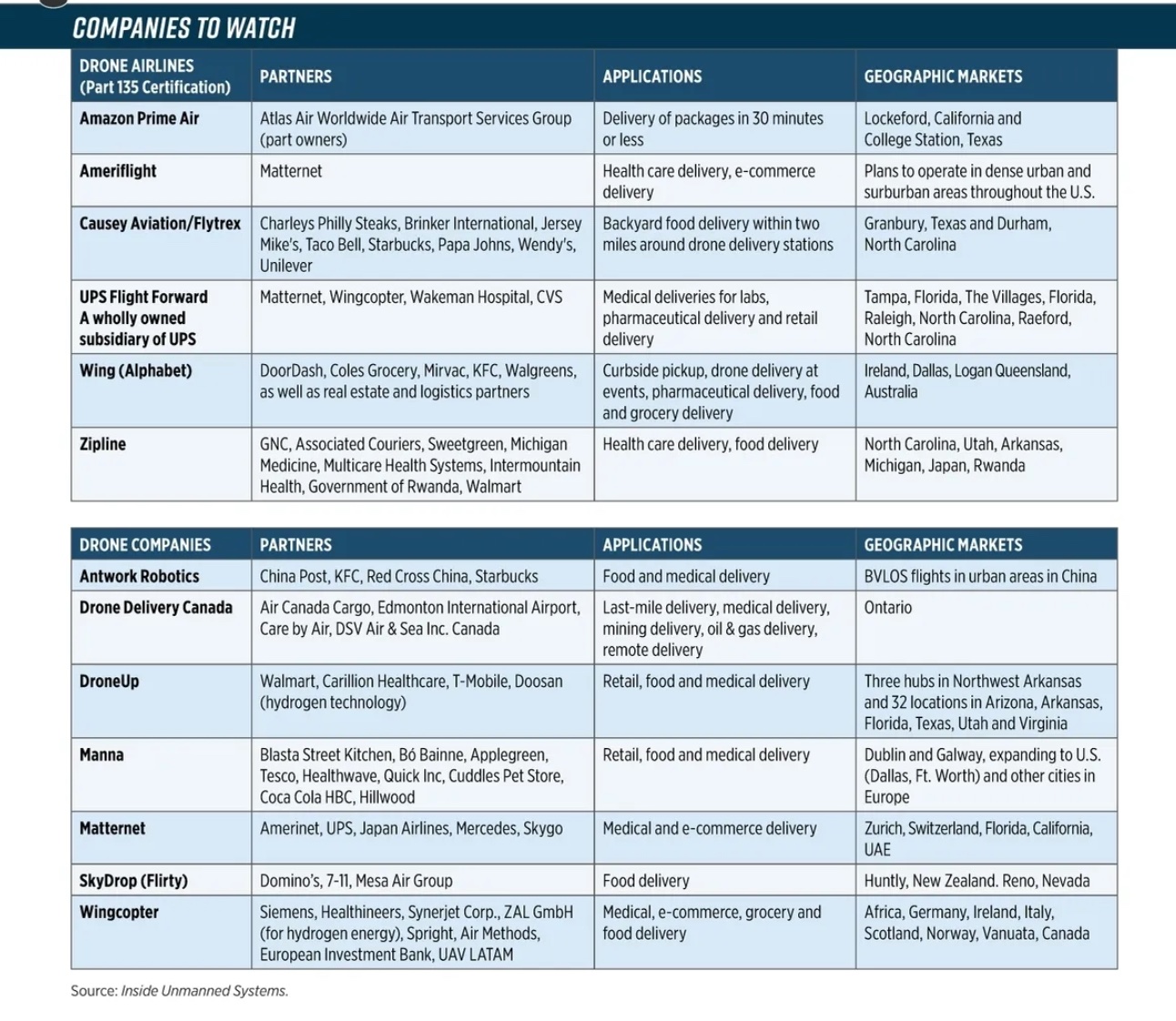 PREDICTABLE MIDDLE-MILE ROUTES ARE A BIG OPPORTUNITY
Shippers gain efficiencies during the middle-mile because routes are more predictable. By focusing on short, repeatable routes, autonomous trucking firm Gatik is finding success with Kroger, Walmart, Pitney Bowes and Georgia Pacific. In an interview with Yahoo News, CEO Gautum Naran said he expects operating cost savings of 30% when medium-duty autonomous trucks are fully deployed. Autonomous trucking also allows for more frequent deliveries and store replenishment.
Long haul trucking has also turned its attention to the middle-mile, with trials using autonomous trucks to drive long stretches of interstate routes between transfer hubs. Human drivers will handle local deliveries. Ryder, a leading logistics and transportation company, commissioned researchers at Georgia Tech to analyze its transportation network in the Southeast and found an Autonomous Transfer Hub Network that combines autonomous trucks with conventional trucking operations for the first and final miles could reduce costs between 29-40%. Savings come from improved fuel efficiency, lower operating costs and a far lower percentage of trucks returning empty.
Loadsmith is counting on autonomy as it designs its network to use autonomous trucks in the long -haul sections of its newly formed Loadsmith Freight Network. The company will purchase 800 trucks from Kodiak Robotics with delivery beginning in the second half of 2025. Because autonomous trucks are not limited by hours-of-service rules, their average use is 2.5 times that of a normal truck. Those 800 trucks will have the same capacity of approximately 2,000 traditional trucks.
With the ability to fly cargo longer distances more cost-effectively, air cargo drones are another middle-mile solution gaining traction. The market is expected to grow from $680 million in 2022 to $16.9 billion in 2032.
Licensed to fly in the EU, the Dronomics Black Swan cargo drone recently completed its first test flight and the company expects to begin commercial deliveries by year-end. The company claims its aircraft is 80% faster, 50% cheaper and has up to 60% lower emissions than alternative modes of transport.
Even without regulatory approval for cargo drones, pre-orders for Elroy Air's Chaparral eVTOL have topped $2 billion, while pre-orders for the Natilus aircraft total $6.8 billion. Other companies such as Reliable Robotics are retrofitting existing air cargo planes to fly autonomously. With its certification plan approved by the FAA, the company hopes to have final approval to fly in 18-24 months.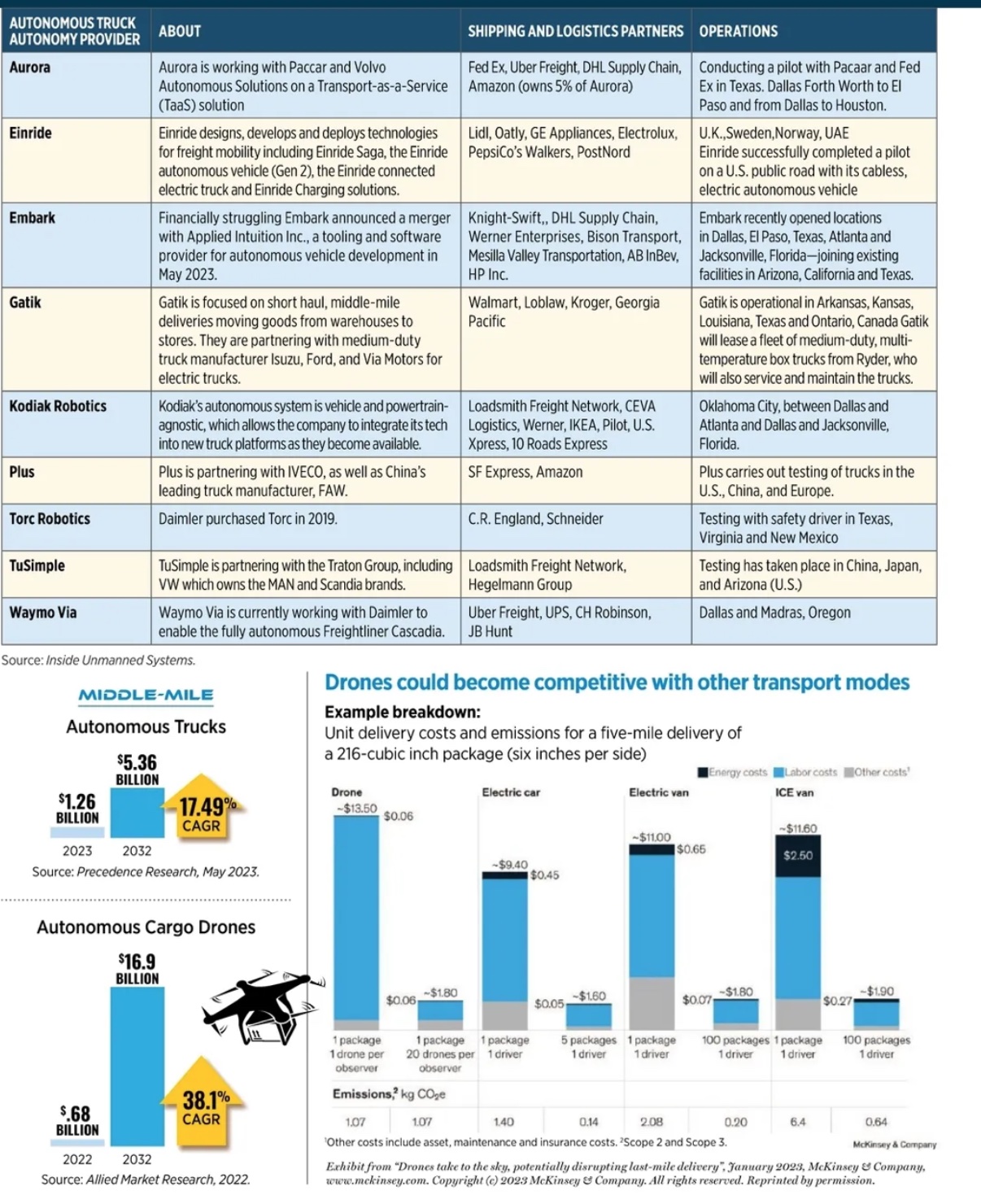 FIRST-MILE AUTONOMY OPPORTUNITY
Autonomy in the first-mile of delivery has been far less publicized. However, Ottonomy is testing how autonomous robots can improve intra logistics, especially in city centers. In a collaboration with the Norwegian postal service and Holo, the Ottobot will collect goods from selected restaurants and drive them back to a hub in Filipstad, where couriers will come to pick up the goods and drive them out to the end customer.
Improving the speed, cost and environmental impact of delivery is a win for both shippers and consumers. Despite regulatory challenges, autonomy providers and their partners are moving forward to ensure safe operation and public acceptance of the technology.