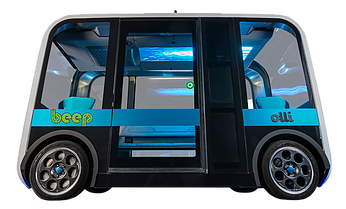 Mobility-as-a-service (Maas) provider Beep recently formed a partnership with digital vehicle manufacturer Local Motors to expand the number of autonomous vehicles driving on both public and private roads.
Through a reseller agreement, Local Motors will provide Beep with Olli 2.0 autonomous, electric, 3D-printed shuttles for future customer deployments, according to a news release. The company also will work together to "advance and expand the operating domain of multi-passenger, autonomous vehicles in concert with their ongoing testing and information sharing program through the National Highway Traffic Safety Administration (NHTSA)."
The Olli 2.0 is guided by Robotic Research's AutoDrive autonomous kit.
"By partnering with Beep and leveraging our existing relationship with Robotic Research, we can bring Olli to new customers in expanded markets across the U.S. and abroad," Local Motors President Vikrant Aggarwal said, according to the release. "We're living in a world where self-driving technology is needed now more than ever, and this partnership is a huge validator of the increasing demand for autonomous solutions. By deploying more vehicles and introducing Olli to new, complex scenarios on public and private roads, we can provide safe, sustainable, and comfortable experiences for all riders now and in the future."