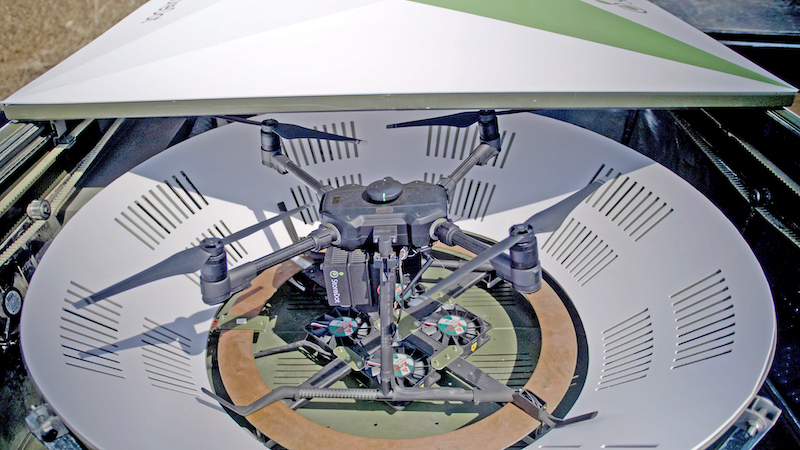 StoreDot recently demonstrated its ultra-fast charging (UFC) platform, successfully charging a drone in five minutes.
The Israeli company originally showcased the platform with partner BP when it fully charged a two-wheeled electric vehicle in five minutes, according to a news release. Typically, it takes 60 to 90 minutes to charge a drone for about 30 minutes of flight. Additional batteries can be swapped out between flights, but that can be a costly process that requires a "man-in-the-loop" to change the batteries.
"The launch of a UFC solution for drones changes the game," StoreDot CEO Doron Myersdorf said, according to the release. "By reducing battery charging time to just 5 minutes – which is up to 18 times faster than existing drone batteries – and eliminating the need for human intervention, drone operators have far greater freedom about where they can site charging stations. As a result, continuous, fully autonomous drone operation is finally being made a reality."
When used with the required ultra-fast charging station, StoreDot FlashBattery technology reduces drone charging times with little tradeoff in energy density, so flight time is only slightly reduced.
Sample cells are now available to drone manufacturers for testing, with full commercialization expected by the end of the year.
"Drones will now be able to spend much more of their valuable flight time engaged in actual missions, greatly extending their range, rather than having to return to base to have their battery swapped out," Myersdorf said, according to the release. "At the same time, UFC will also enable drone users to expand their operations into regions they could not previously access. Both of these factors will significantly increase operational efficiencies and profitability, making the business case for drone use much more attractive than ever before."