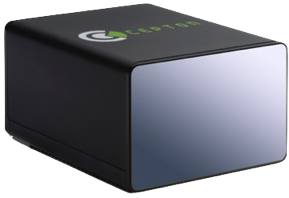 A variety of LiDAR companies displayed their solutions at this year's AUVSI, including the relatively young Cepton.
Those who visited the Cepton booth could see a live demonstration of the company's SORA 200 LiDAR, which was introduced last October in partnership with LIDAR USA, said Wei Wei, Cepton's senior director of business development. The system offers long range, high resolution and low cost aerial and ground-based mapping capabilities.
SORA weighs 550 grams and has a 200 meter range, he said. The company uses patented MMT, or micro-motion technology, which is different than a solid state sensor. How? It has moving parts but there's no rotation. No power is needed for the motor, making the core more reliable, Wei said.
"A lot of companies look to add one special component to their LiDAR to differentiate themselves," Wei said. "Our goal was to produce something with a better performance at a lower cost. We follow the developments in new components and materials, and when they're mature, we adopt them."
Cepton was founded 22 months ago, Wei said, and in that time has launched four LiDAR products. The newest is the Vista, which made its debut in March. That sensor is also built on the company's MMT platform, so it has no rotational or frictional parts and consists only of high maturity automotive components for expedited automotive grade certification.
Vista is designed for the automotive market and features a 120-line-equivalent scanner that offers 200 meters of range and 0.2 degrees of spatial resolution. The Vista LiDAR is smaller than most solutions on the market and uses fewer than 10 watts of power, allowing automakers to seamlessly integrate LiDAR technology into the vehicle body.
Quanergy Systems was also among the LiDAR companies exhibiting at the AUVSI show in Denver, with CEO Dr. Louay Eldada delivering a presentation titled "Bringing the Power of Sight to Autonomous Machines: New Applications for LiDAR Technology." Eldada focused on the company's solutions during the talk, including the S3—a solid state LiDAR that is available for $250. There is no MEMS component to the S3 and there are no moving parts. Everything is housed in one chip, a technology that took him 28 years of research to develop.
LiDAR USA, Velodyne LiDAR and Continental were among the other LiDAR manufacturers at the show.