Cloud Ground Control (CGC), a hardware agnostic drone fleet management platform powered by Advanced Navigation, features a cellular micro-modem that uses 4G and 5G networks to link unlimited uncrewed vehicles to the platform and to each other—enabling command and control from a web browser and simplifying fleet management.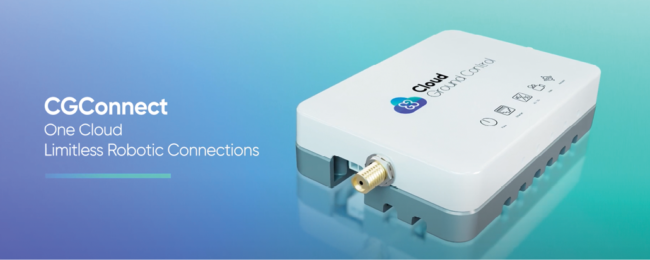 As enterprise users scale up their drone operations, many are relying on different types of systems for different tasks. They're deploying fleets that include VTOLs and quadcopters, completing long-range missions and up-close inspections, and many are gathering data from uncrewed ground and sea vehicles as well.
There are many possibilities for robotic fleet operations, but managing multi-drone, multi-vehicle missions can be complicated—and that's holding the technology back. Advanced Navigation has developed a solution to change that: CGConnect. This cellular micro-modem uses 4G and 5G networks to link unlimited uncrewed vehicles to the Cloud Ground Control (CGC) drone fleet management platform and to each other, enabling live-streaming command and control from a web browser.
CGConnect brings drones and vehicles into one holistic autonomous fleet, opening up opportunities across a variety of industries and emergency response operations such as search and rescue (SAR) and disaster relief. It simplifies fleet management, improving accessibility, and because the platform is hardware agnostic, it doesn't matter which platforms you choose to be part of the fleet, said Michal Weiss, Head Of Product–Cloud Ground Control.
"We're facilitating the connectivity between the end user through to the browser and the vehicles themselves, ultimately creating a multi-vehicle connected fleet ," Weiss said. "The game changer is users are no longer restricted by a manufacturer's software. As a result, it enables new applications that weren't possible before."
EASY ACCESS FROM ONE LOCATION
No matter the type of data you're collecting or which platforms you're deploying, all the data is stored in one central location and is easily accessible to authorized users, Weiss said. You don't have to install anything on your device to use the platform or meet specific requirements. The browser "is just open and it all works."
Having access to data from both aerial and ground-based unmanned vehicles can be critical for some applications, she said. An operator surveying an area might send out a rover to collect data on the ground and then deploy a drone to capture data from a different altitude simultaneously, for example, quickly providing a more complete picture.
"And you can receive the information in real time," Weiss said. "You don't have to wait to extract the SD cards from the vehicle, put them in your computer, upload into whatever software you're using, wait for it to be processed and then send the information to whoever needs it."
Depending on the connectivity of the site, the solution makes it possible to aggregate data with near zero latency.
Weiss displayed this during a keynote on CGC in Singapore. Her team operated multiple drones in Sydney, with the flights displayed on her browser in Singapore. Weiss illustrated how easy it was to request control of the gimbal from the pilot to change the direction or zoom in and out. Another connected drone joined her on stage, allowing the audience to see the near real-time latency for themselves.
"That just shows how advanced this technology is," Weiss said," and how many use cases it can actually open up."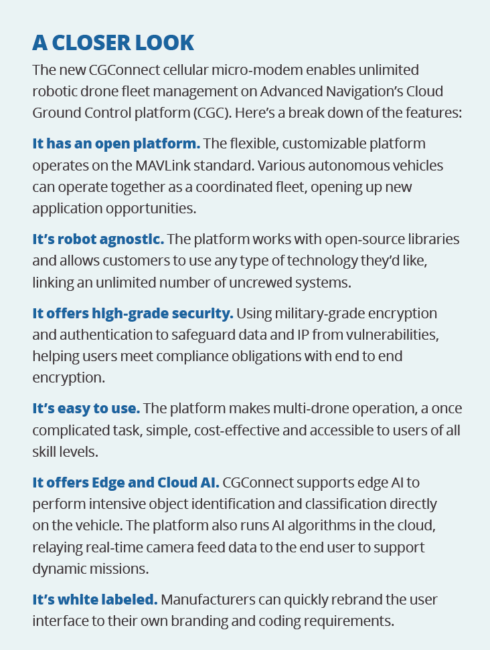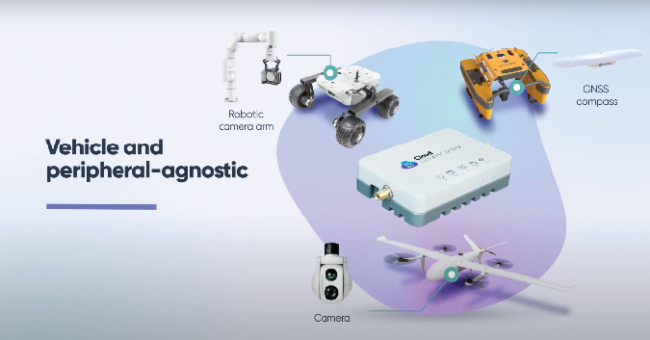 THE TECHNOLOGY
Through CGConnect, remote users have instant access to CGC's many features, such as real-time telemetry, cloud storage, video and payload data—all available simultaneously through a web browser. The device, which weighs 55 grams and is about the size of a credit card, can be easily integrated into any product to expand its functionality and applications while also shortening development time. The flexible, customizable platform simplifies fleet management and unlocks access to new markets.
AI algorithms allow for real-time object detection, tracking and classification directly on the vehicle, Weiss said, a real game-changer. Instead of having to take the data offline after the mission to run it through AI algorithms, CGC runs them in the cloud—making it possible to relay real-time camera feed data to the end user.
"You don't need to wait," Weiss said. "We activate AI algorithms that are already trained and then we display the insights on the front end. So, AI can detect objects in an image and then display that immediately to the user. This is something that hasn't been done in real time before."
The platform runs open source libraries, Weiss said, and those who already have trained AI models are invited to include them. For example, one customer developed an AI algorithm to detect sharks for their SAR missions, which was easily integrated into the open source platform. Once a shark is detected, CGC immediately notifies the response team.
However, users don't need to rely on developing custom AI algorithms. The CGC platform offers an array of AI detecting models accessible for customers to use throughout their missions.
Of course, what the open platform offers is broader than just its AI feature, Weiss said. For example, customers have access to cloud capability, so if they need to process any information gathered in real time for their specific use case, they can build it in the CGC platform and do that in the cloud.
"Once the information is on the cloud, we can process it immediately," Weiss said. "There's no limitation on the cloud computing."
Users also can create an interface from the company's APIs or enhance what's already there. The platform offers a lot of flexibility and opportunity for customization, meeting the specific needs of a broad range of customers.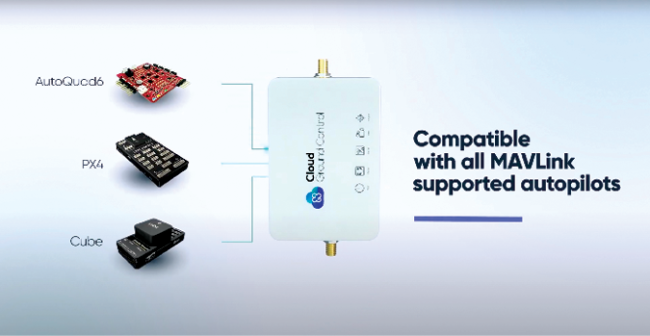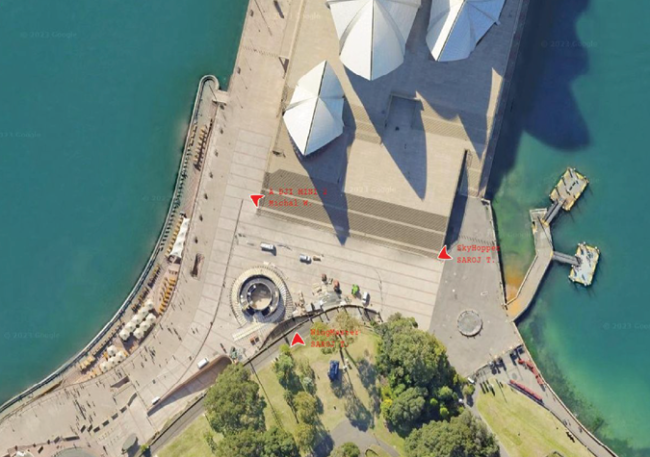 THE APPLICATIONS
The CGC platform can be used across various industries deploying robotic fleets, including security, construction, asset inspection, agriculture, environmental and emergency response. It enables any type of use case across air, land and sea that involves an autonomous vehicle.
So far, the platform has more than 400 users, with customers deploying their own vehicles and performing their own specific applications, Weiss said. This includes Clean Earth Rovers, which develops technology to monitor ocean quality. The organization's autonomous cleaning robot, the Rover AVPro, collects physical and chemical pollutants that have flowed into harbors and communities, supporting immediate disaster relief and ocean health restoration.
Clean Earth Rovers deploys CGConnect across its fleet of Rover AVPros, giving them access to the CGC platform. Any authorized users can log in through a web browser to view real-time footage from each rover's perspective, providing situational awareness by the second for better decision-making during disaster relief missions.
CGConnect also increases situational awareness for lifeguards conducting beach patrols, enabling quick identification of and response to immediate threats. On land, drones carrying thermal sensors can look for signs of life, or inspect areas for hazards all before a risk assessment is even complete. The applications for CGConnect are endless—not only improving communication and coordination across operations, but also removing users and/or first responders from life threatening situations.
"Think about a scenario where you have a flood and you send in a swarm of drones to identify people in distress and then immediately autonomous boats are sent to their rescue," Weiss said. "Rescuers are getting notification as to where these people are and immediately they have access to help. Those are the kinds of things the system can provide in the future."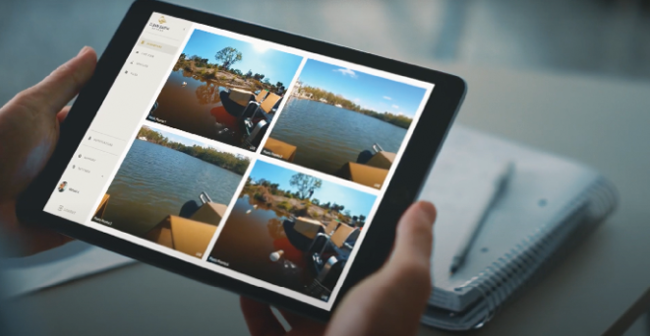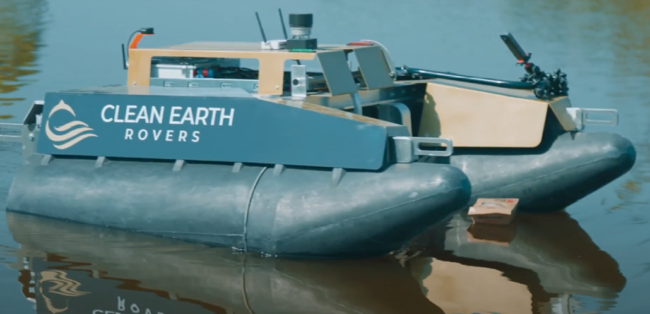 KEEPING DATA SECURE
Of course, it's critical to ensure the data collected across these fleets remains secure, Weiss said.
"We're aware the information we're dealing with is very sensitive, so we're treating it with the highest priority, which means it's not only end to end encrypted, every feature that we're developing is encrypted," she said. "We have security in mind, and we have military security standards and practices that we're following to make sure this information doesn't land in the wrong hands."
Users can set the roles and permissions to ensure only authorized team members have access to certain data, Weiss said.
"We have VPN capabilities that allow users full access to any vehicle and its peripherals as if it was connected to your own computer," Weiss said.
A TRUE PARTNER
Advanced Navigation serves as an industry partner, expanding use cases to make applications once impossible now possible. Well suited for enterprises, the CGC platform can easily integrate with other systems and help manage a variety of unmanned vehicles in one single platform that's easily accessible through a web browser.
The platform is white-labeled, meaning manufacturers can brand it to match their company guidelines, while maintaining complete control of the experience," Weiss said.
"Advanced Navigation and the CGC platform simply serves as the technology enabler to make it all happen. This is a huge benefit to users, as it's quite rare for one platform to offer it all," Weiss said. "It's usually a collaboration between integrators."
With this platform and the new CGConnect cellular micro-modem, multiple uncrewed vehicles can work collaboratively across air, land and sea, allowing users to realize the full potential robotic technology offers.
Images courtesy of Advanced Navigation.