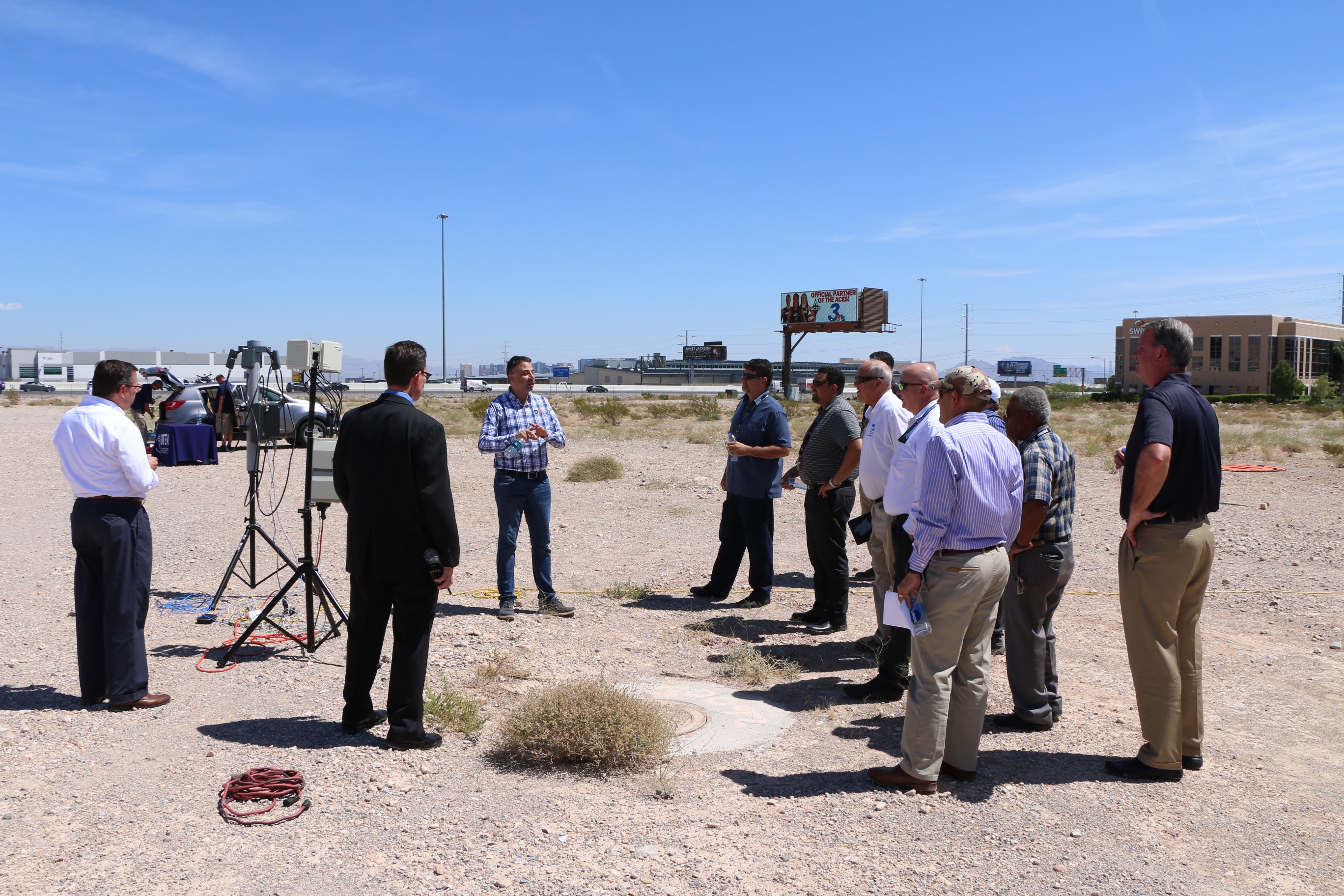 Following a successful week at the Commercial UAV Expo in Las Vegas October 28-30, 2019, the Nevada Institute for Autonomous Systems (NIAS) and FAA-designated Nevada UAS Test Site announced the official launch of its world–premier business-to-business (B2B) trade and investment matchmaking platform for autonomous systems: the Nevada-Global Drone Trade Alliance (NV-GDTA). This membership-based platform focuses on delivering a series of annual marquee events to bring end-users, technology proponents, service providers, and investors together. The goal is to identify the needs for novel technology solutions and the capability of autonomous systems to support commercialization, promote investment and drive the autonomous systems industry forward.
The NV-GDTA will focus on four key marque areas, to include:
❖
Commercial UAV Seminar and Technology Demonstration;
❖
International Investment Forum;
❖
Federal Advocacy Fly-in (Regulatory/Legislative focused); and
❖
Outbound Trade and Investment Attraction Mission(s) to select key international trade shows/conferences.
Partnering for Progress
"There is a significant gap and global need for the Nevada Global Drone Trade Alliance," said Dr. Chris Walach, executive director of the Nevada Institute for Autonomous Systems (NIAS), FAA-designated Nevada UAS Test Site and the NIAS Unmanned Aviation Safety Center of Excellence. "…The NV-GDTA brings together an international synergy of the best entrepreneurs to create and advance innovation. The goal is for international partnerships built through the Alliance over the past two years to lead the global drone industry."
"NIAS is a unique UAS test site, in that it specializes in not only solving the problems that face operators who are looking for safe integration of UAVs into the national airspace, but they do so in a way that is commercially viable and scalable," added J.B. Bernstein, CEO of AviSight, Inc.
The Southern Alberta Institute of Technology's Center for Innovation and Research in Unmanned Systems (CIRUS) is the Alliance's first official Canadian member. Rick Tofani, Director of Applied Research and Innovation Services, Southern Alberta Institute of Technology, cited the advantage of "bringing industry and academia together across borders and beyond to realize commercial opportunities for our international drone partners. Through the recently announced MOU between SAIT and NIAS, we are proud to be advancing extreme weather testing and applications in key industry sectors, such as oil and gas, and mining…."
Following the success of its recent International Desert Drone Detection (ID3) event in August 2019 in Las Vegas, Nevada, NIAS will continue to advance commercial applications across broad industries. "Events like the Desert Drone Detection (D3) Challenge are invaluable opportunities to share industry capabilities and tackle the growing challenge of keeping our National Airspace safe," said Thomas Williamson, Program Manager of Liteye Systems. "Our experienced professionals understand the risks and threats to the nation's airports and are grateful for the opportunity to collaborate with industry partners and the aviation community alike,"
Flying Forward
NV-GDTA will bring together top industry stakeholders in March 2020 for its first commercial technology demonstration event in Las Vegas and Henderson, Nevada.  "The NIAS launch of NV-GDTA will provide an important vehicle to accelerate the interest of international drone/UAS technology companies in working more actively in the State," said Nissim Ezekiel, Co-Founder of Nevada Innovation Center LLC. "Nevada Innovation Center LLC's (NIC) ongoing efforts to attract Israeli technology to Nevada have already resulted in important visits by Israeli companies to NIAS to explore collaboration models in the UAS space, and NV-GDTA will provide the ideal partnership opportunity. NIC has also established a global collaborationbetween Israeli and Vegas-based companies that has resulted in sophisticated testing of UAVs for the infrastructure market here in Nevada. The demonstration event in Las Vegas/Hendersonwill serve as the perfect occasion to invite leading UAS tech companies from Israel to establish an active presence in Nevada."
NIAS hopes to build a broad international platform, said Sylvester Wyka, Director for the Center of Space Technologies, Warsaw Institute of Aviation (ILOT). "It is a great opportunity to participate in interesting projects and for transferring technology and knowledge between institutions," he added. "Our experience from joint tests of autonomous systems shows that NIAS has extensive competences to build relationships between various entities. The new NV-GDTA initiative is a chance to create important global technological developments. I am glad that we are part of this great project together with our NIAS partners,"
Learn more at https://nias-uas.com/nevada-global-drone-trade-alliance/ or contact Michael Couch, NIAS at michael.couch@nias-uas.com. This coverage is adapted from a NIAS release.