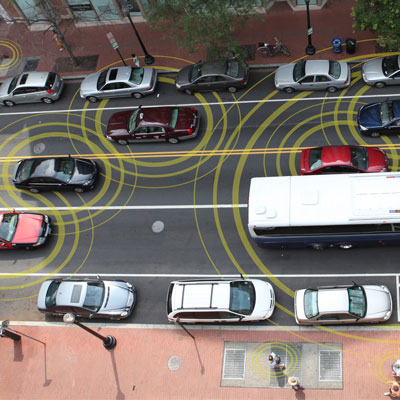 The U.S. Department of Transportation (DOT) issued a Notice of Proposed Rulemaking that would require automakers to install vehicle to vehicle (V2V) communication technology on all new light-duty vehicles.
"We are carrying the ball as far as we can to realize the potential of transportation technology to save lives," said U.S. Transportation Secretary Anthony Foxx, in a statement. "This long promised V2V rule is the next step in that progression. Once deployed, V2V will provide 360-degree situational awareness on the road and will help us enhance vehicle safety." V2V devices would use the dedicated short range communications (DSRC) to transmit data, such as location, direction and speed, to nearby vehicles, DOT said. That data, updated and broadcast to nearby vehicles, allows V2V-equipped vehicles to identify risks and provide warnings to drivers to avoid imminent crashes. Vehicles that contain such automated driving functions as automatic emergency braking and adaptive cruise control, could also benefit from the use of V2V data to better avoid or reduce crashes, the agency said.
In February 2014, Foxx directing the National Highway Traffic Safety Administration (NHTSA) to begin work on the V2V rulemaking. To accelerate the development and deployment of automated vehicles, NHTSA issued an Advance Notice of Proposed Rule-making in August 2014, the agency said.
However, not everyone is happy with the proposed rule. Mark Scribner, Competitive Enterprise Institute research fellow, said he is disappointed that the NHTSA would try to "push through its highly controversial vehicle-to-vehicle communications mandate in the final weeks of the Obama administration." Scribner said that the NHTSA admits that safety benefits of the mandate would be trivial for the next 15 years.  After that time, he said "superior automated vehicle technology may be deployed to consumers."
Scribner said the only accomplishment of the mandate, which is open for public comment for 90 days, would be to misallocate resources away from more promising safety technologies.  "The incoming [Trump] administration should immediately withdraw this dangerous proposed rule," he said.
V2V communications can provide the vehicle and driver with enhanced abilities to address additional crash situations, including those, for example, in which a driver needs to decide if it is safe to pass on a two-lane road, make a left turn across the path of oncoming traffic, or determine if a vehicle approaching an intersection appears to be on a collision course, DOT said. In those situations, the agency said that V2V communications can detect developing threat situations hundreds of yards away, including incidents where the driver and on-board sensors cannot detect danger.
Another mandate critic says the proposed rules contain such caveats as "potential" and "fully deployed" to describe future V2V benefits. "Potential implies that vehicles don't already have Automated Collision Avoidance (ACA) systems that work. If they do, the potential incremental reduction of crashes that this proposed rule would have is a small fraction of what is claimed above," said Alain Kornhauser, Princeton University transportation program head and professor, in his weekly blog. "Moreover, an infinitesimally small portion of what is already a small fraction can't be achieved until there is substantial deployment. V2V only avoids crashes between vehicles that both have the mandated technology. The chances that V2V can play a part is the product of the probability that vehicle A has it and the probability that vehicle B has the technology."
Kornhauser contends that until 70 percent of vehicles on the road have the technology, there isn't even a "coin flip's chance that V2V could play any part in avoiding a crash." He says it will take 25 years for vehicles to be fully equipped with V2V technology if there is no retrofit provisions.
Kornhauser also believes DOT is relying on such older technology as DSRC when it should be concentrating on automated systems. "How obsolete is a DSRC approach going to be before [it] contributes anything measurable?" he said.  "I thought that Secretary Foxx had realized that automation was the way to go.  Why didn't he propose a rule requiring [an ACA] system that actually works to be installed in every new car. At least such systems would eliminate most of the crashes that would have been caused by the drivers of each of the so-equipped vehicles."
In related news, the Federal Highway Administration plans to issue guidance for Vehicle-to-Infrastructure (V2I) communications, which helps transportation planners integrate technologies to allow vehicles to "talk" to such roadway infrastructure as traffic lights, stop signs and work zones, DOT said.