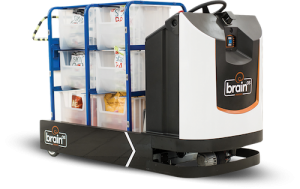 Robotic delivery tugs typically only found in warehouses are now being deployed in stores to help retailers automate goods movement from the stockroom to store shelves.
Dane Technologies and UniCarriers Americas Corporation (UCA) are behind the nationwide retail rollouts, according to a news release. The autonomous tugs are powered by Brain Corp's BrainOS, an artificial intelligence (AI) software platform for building and using autonomous mobile robots (AMRs).
With Brain Corp's AI technology, the tugs can safely navigate in public environments within high-traffic commercial locations, such as store aisles.
"The supply chain ends at the customer, not the back warehouse," said John Black, senior vice president of new product development, according to the release. "These new autonomous delivery robots help automate the movement of goods for that 'last 500 feet'—the distance between the stockroom and store shelves. This has huge ramifications for increasing employee productivity, improving customer satisfaction, and reducing potential exposure to workers' comp claims. We are excited to bring this new innovation to market with our manufacturing partners."
The delivery tugs eliminate the need for employees to move heavy carts from the stockroom to store shelves several times a day. The tugs can move up to 1,000 pounds of goods, enabling employees to focus on  other things, such as new customer health and safety requirements. It also enables workers to stay in separate zones, allowing for social distancing.
The units don't require custom infrastructure or specialized training. The patented "teach and repeat" technology simplifies deployment and can be adapted to store layout changes. Cloud-based performance metrics gives users access to reports on delivery use, routes and drop-offs in near real-time.
"This is a true game changer for retailers and other businesses that want to easily automate an arduous and repetitive task," said Dan Johnson, founder and CEO of Dane Technologies, the company behind the QuicKART shopping cart return system, according to the release. "The value is off the charts for this application, which can also be used to transport trash and recyclables, as well support online order fulfillment."