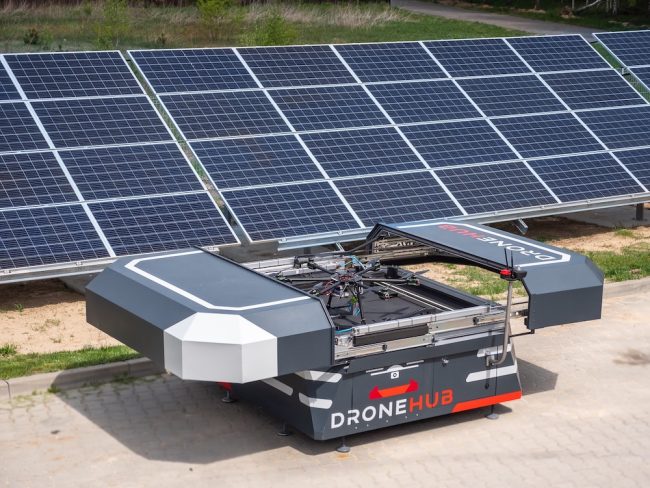 Dronehub, a European maker of drone-in-a-box systems, recently became a member of the Global UTM Association (GUTMA).
GUTMA, based in Lausanne, Switzerland, is a 32-country consortium of unmanned systems traffic management (UTM) members. It's designed to support global interoperability and the safe, secure and efficient integration of drones in national airspaces. Dronehub, based in Warsaw, will be the only company in the drone-in-a-box sector and the only Polish member.
"It is a big thing that we will be in daily working contact with companies such as Airbus, Boeing or Verizon", says Vadym Melnyk, Dronehub founder and CEO. He noted that Dronehub plans to both learn from and share with other members. The company also expects to increase drone-in-a-box scalability and harmonization within the industry.
Sebastian Babiarz, who is both Dronehub's vice-president of business development and the recently elected second-term GUTMA co-president (representing Dronehub), noted that membership in GUTMA will help Dronehub expand into Europe, the Middle East and Africa.
Drone-in-a-box systems combine drones, infrastructure and AI-powered software. They can launch from and return to self-contained landing boxes. Standard UAVs usually consist of the unmanned craft and a controller manned by an operator while drone-in-a-box systems can launch independently to carry out pre-programmed directives, then return to their base for new instructions and to charge.
Dronehub offers monitoring, inspection, measurement and cargo transport systems, as well as mobile ground infrastructure. It also produces docking stations with automatic battery replacement, which allow drones to perform 24/7 with no human interaction.
Dronehub already cooperates with the European Space Agency, the European Defense Agency and local and international companies such as PKN Orlen, Deutsche Bahn and Hubraum T-mobile. GUTMA members are involved in infrastructure, data, manufacturing, operations, service, regulation and research.