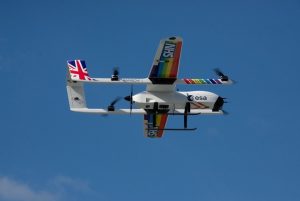 Back at the beginning of the coronavirus pandemic, representatives from the National Health Service (NHS) reached out to York-based drone training company Flyby Technology and partner Skylift UAV with an idea. They wanted to deploy drones to deliver live COVID-19 samples from hospitals and test sites to laboratories in support of NHS Test and Trace, filling a logistical gap to get tests processed faster.
As part of the British Drone Consortium, the companies were already working on beyond visual line of sight (BVLOS) flights and were quickly able to apply their knowledge and experience to this type of application. They're in the "later stages of approval" from the Civil Aviation Authority, Flyby CEO and Chief Examiner Jon Parker said, and recently demonstrated the VTOL aircraft known as Rainbow One at Broomfield Hospital.
Typically, COVID-19 test samples are delivered via motorbikes and cars, but they're just not getting to the large testing machines fast enough to meet demand, Parker said. UAS can help fill in the gaps, delivering tests every half hour to keep the machines full.
"We're not here to replace the bike, we're here to add an extra layer of capability so machines can work to optimum capacity," said Parker, who is a former Royal Air Force (RAF) fighter pilot. "Once proven, there could be thousands of use cases for this technology and pilots trained to this standard."
How it will work
Parker was quick to point out these aren't robots delivering the samples; the drones will be operated by former RAF, Royal Navy and combat helicopter pilots.
"Pilots are still flying the aircraft and generating a mental air picture and situational awareness," Parker said. "They're using the same skills as an airline pilot, they're just not in the aircraft. They're flying it from home."
The health care professionals who perform the tests will be trained to load them into the drone, Parker said, to eliminate the risk of transmission. Once loaded properly, the aircraft will take off flying manually or via a flight plan. Once in navigation mode, it will send back thousands of data points, such as data and system health, that can be analyzed later.
The samples will be stored in special containers inside the drone, Parker said. The drone can carry 5 kilograms in one configuration and up to 25 kg in another, and also can be used to deliver other medical supplies.
Once the drone arrives at the laboratory, staff members who are trained to handle COVID-19 samples will collect the tests and get them to where they need to go. The UAS will be wiped down and sterilized with an antiviral spray after every mission.
Next steps
The first project is slated to begin at Broomfield Hospital in Chelmsford in mid-December, Parker said, and will be run by Apian Ltd. A drone pad infrastructure will be installed so the UAS can take-off and land at hospitals, laboratories and warehouses.
Apian is working with the Civil Aviation Authority, the UK Space Agency and the emergency services to provide a network of secure air corridors designed for drone delivery across the NHS.
"Covid-19 has highlighted challenges in NHS supply chain logistics," one of the company's founders, Christopher Law said, according to a press release about the project. "There has never been a better time to create a faster, more dependable and environmentally friendly method of transporting medical supplies. We are confident that by setting up a medical drone delivery service we'll be able to fly samples to labs more regularly, reliably and quickly, improving patient health outcomes."