If shipwrecks make you think of buried treasure, you're right. But they're not always about gold and silver—sometimes, it's about a treasure trove of biological, archeological and cultural treasure. Scientists have obtained and can now explore these findings, with special thanks to two underwater drones named Yogi and Guru working as connected ROV's (remotely operated vehicles).
This May, NOAA (the National Oceanic and Atmospheric Administration), in conjunction with key partner agencies, concluded "Valor in the Atlantic," an investigation of historical shipwrecks, and their growing reefs and fish populations. The expedition was conducted in and around the Monitor National Marine Sanctuary in the Cape Hatteras region off the coast of North Carolina, as well as in other areas in North Carolina's Outer Banks.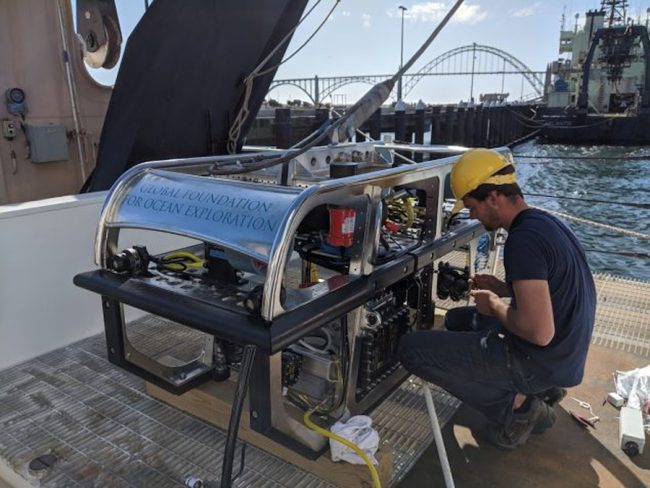 The operation presented difficulties from many perspectives. As Jenny Lyons of NOOA's National Ocean Service noted: "The environment is particularly challenging because the Gulf Stream current coming up from the south collides with a Labrador Current that's coming down." Chris Taylor, research ecologist at NOAA's National Centers for Coastal Ocean Science, elaborated that "In the 75-160 years since these wrecks have rested on the seabed off of our coasts, they've formed dynamic and remarkable habitats for fish. They often form islands that are in a vast array of sand… and it's very challenging to study these sites."
ROVs Work Together
NOAA's technical partner was (and continues to be) the GFOE (Global Foundation for Ocean Exploration), which designed, owns and operates the equipment used in the exploration. Working off the NOAA ship Nancy Foster, the main components were the two ROVs working together as a two-body system, a VSAT (Very Small Aperture Terminal) set-up loaded onto the ship that provided video and photo streaming as well as two-way audio communication in real time, and the operations center on the ship.
Guru, the larger drone, is a stainless-steel camera sled with lights, cameras and sensors including an articulated HD camera, 2x auxiliary cameras and 15×6,000 lumen LED lights. Its fixed tether is connected to the onboard operations room and it is designed to provide stability when working with the smaller, lighter Yogi.
Yogi, attached to the anchoring Guru by a flexible tether, can move around and investigate. It carries cameras including a 4K main camera, a 3x auxiliary camera, and a Boxfish 360 (aka spherical) camera on an extendable mount, whose output is used to create 3D programs. Along with 6×6000 lumen LED lights, it includes Doppler velocity log (DVL) which allows for auto-position and XY surveys, as well as CTD (conductivity, temperature and depth) sensors, a temperature probe, suction sampler, tube core, five-function manipulator and more.
Guru has 2x thrusters with heading control and Yogi has 6x thrusters. Both ROVs are equipped with USBL (ultra-short baseline) position tracking. Guru has scanning sonar while Yogi also has Blueview dual frequency multibeam sonar, which is used for low-visibility, close-up work, or to find objects out to 80 meters.
Communications Dome
The portable VSAT (very small aperture terminal) set-up is actually a large, white dome with the ability to send video and photos via satellite to scientists and observers around the world. This system allowed these observers, and the public, to tune in real time, offering feedback during the operations.
Civil War Battle Anniversary
One highlight of Valor was exploration of the wreck of the U.S.S. Monitor. Twenty twenty-two marks the 160th anniversary of both the Monitor's famous battle against the Confederate ship Merrimac and its sinking later that year during a storm 16 miles off the coast of Cape Hatteras.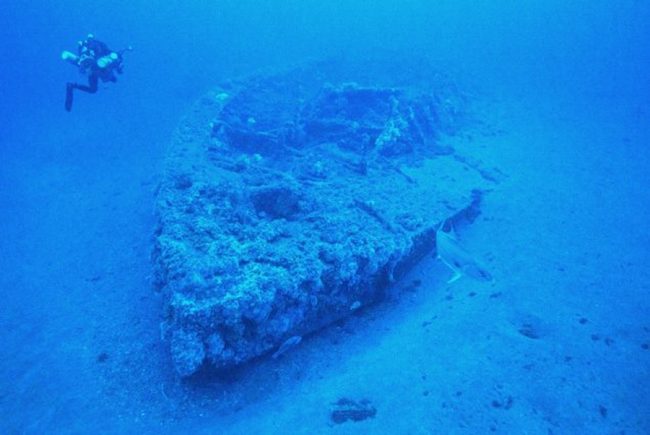 "The Monitor's design as the first turreted ironclad U.S. warship changed naval warfare forever, and signaled the United States' transition to an industrial and technological giant," said Chris Taylor, research ecologist at NOAA's National Centers for Coastal Ocean Science. Other ships examined included wrecks from both world wars including both a German ship and a U.S. ship sunk by Germany. Videos of dives to the Monitor can be accessed by YouTube.
Operation a Success
According to Karl McLetchie, senior mechanical engineer at GFOE, the operation was a success. "The tech worked flawlessly, with no dives lost to technical issues," he noted. It was crucial, he added, to have Guru as the heavy, stationary, vehicle hanging down near the seafloor, allowing Yogi to explore the lee side of the wrecks, protected from the current.
"A focus of the cruise", he continued, "was documenting the wrecks using the Boxfish 360 spherical camera and Yogi's 4K video camera." 3D models of the wrecks, including virtual reality, will now be made using photogrammetry techniques. "All of this video data will give biologists a chance to understand what life is on and around the wrecks, and it will give archeologists a chance to understand how the wrecks have changed over time."
McLetchie also provided insight into the names of the drones. Yogi was originally named after Yogi Bear during an earlier stint in Yellowstone National Park, he said. Guru was named "because a Yogi needs a Guru," he added.
Tane Casserley, lead scientist at NOAA's Monitor Marine Sanctuary noted "What struck me the most, is that when we were zoomed in, looking at a fish or another animal, and the substrate was near and looked like an alien planet, the camera would pull back and you realize that what you thought was a natural reef was actually a Civil War ironclad. Our team was exceedingly happy that we were able to share these experiences in real time with the public joining us from around the globe. This is the way forward for marine science."
"Valor in the Atlantic" ran from May 15-25. Through August 18th, NOAA is again working with partners including GFOE in an exploration of the Mid-Atlantic Ridge down to 6,000 deep. Two different, bigger drones are being used off the NOAA ship Okeanos Explorer, according to McLetchie.