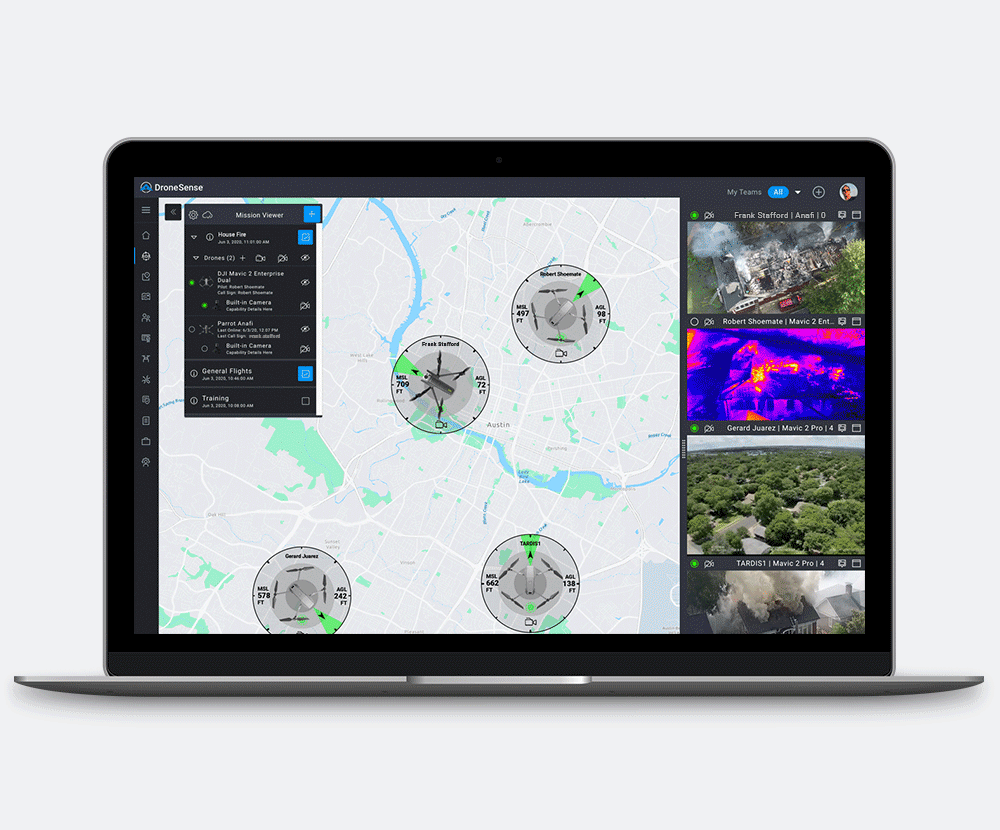 After working with DroneSense on a trial basis over the last few years, the Texas Department of Public Safety (DPS) recently enlisted the Austin-based company to provide software and support for its large drone program.
Through the contract, the DroneSense Public Safety Drone Platform will integrate and centralize large datasets to improve situational awareness and make it easy for multiple agencies to collaborate. The platform "builds a common pilot experience" no matter what system is deployed, saving time and money on training and helping agencies like DPS build out their drone strategies, DroneSense CEO Chris Eyhorn said.
"With their drone program being as large as it is, they were running into challenges of scale," Eyhorn said, noting DPS uses more than 100 drones across multiple agencies. "Our platform helps solve those challenges so they can take on diverse sets of missions. Being a state agency, they have manned aviation assets, so they also need to deal with both manned and unmanned aircraft in the same airspace on a scene."
The Missions
DPS first started a drone program in 2017. Crime scene reconstruction, search and rescue operations and keeping eyes on armed suspects are just a few of the many different applications DPS has had success with over the years.
"They use drones to keep officers out of harm's way and to get better situational awareness of a scene to make better decisions," Eyhorn said. "Let's say they're going in to serve a warrant. This is a great use case because it provides that overwatch. I feel like I hear a new use case they've dreamed up every week."
The Challenges
While drones offer a variety of benefits for agencies like DPS, they also present challenges. One is training. It can be difficult to create an encompassing curriculum to train pilots when the drone program includes systems from different manufacturers. The DroneSense platform extracts the differences between the hardware and provides real-time telemetry and video so pilots can pick up any system and have the same flight control experience, Eyhorn said.
DroneSense also manages maintenance and batteries for the drones, alerting operators when necessary. There are standardized checklists and everything is automated, ensuring pilots can focus on their mission. And when there's hundreds of drones and their batteries to keep track of, having those maintenance alerts makes it easier to scale.
Another challenge is working with multiple drones on a scene, Eyhorn said. In some cases, deploying multiple drones can actually be less productive, another issue this platform addresses.
"I can't tell you how many times I've been on a scene and two pilots are spending half their battery life trying to talk to each other and coordinate where they are," he said. "Our platform solves the challenges of geospatial awareness by bringing all video feeds into one viewer so pilots can see the drones on a map. They can also create their own geospatial layers using map tools. They can pre-plan a mission and that shows up on every pilot's screen."
The company recently released a mobile streaming version, bringing situational awareness from manned and unmanned assets on the ground and in the air together in one convenient place.
"If I have to log into five different systems because five different systems are providing geospatial awareness or video feeds, there's going to be a real estate problem in the operations center," Eyhorn said, noting all flight logs are automatically uploaded through the app. "That in itself causes operational costs. This brings everything into a single pane of glass."
The Future
Eyhorn focused on public safety to give officers a solution that not only makes their jobs easier, but that also protects their lives. The DroneSense platform provides more dimensions to a scene and allows for real-time collaboration.
Because of these benefits, drone use cases in public safety will only continue to expand. Eventually, fewer people will be required to operate the systems and BVLOS flights will start to become the norm.
"We're working with several agencies on this idea of drones as a first responder, making it connected from the dispatch call through the entire value chain," Eyhorn said. "We're really working toward a future where drones live in various places and are dispatched as appropriate. That could be launching a drone on a tether to stay up and provide situational awareness for longer durations or drones in boxes. There's a tremendous value proposition there but it's also a tough challenge."