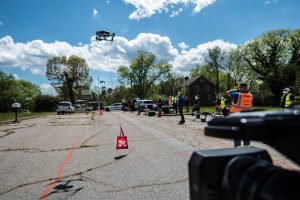 As the health care industry looks for technologies that can accelerate testing and treatment for coronavirus, DroneUp is working to determine how UAS might be able to help.
The company, along with partners UPS and subsidiary UPS Flight Forward, Virginia's Center for Innovative Technology (CIT), and Workhorse Group, completed tests earlier this month in Virginia to evaluate "the commercial drone industry's ability to provide and scale small unmanned aerial systems to support various use cases to speed and assist the U.S. health care system during the novel coronavirus crisis," according to a news release.
"We've proven through ongoing commercial drone delivery programs that effective drone delivery of medical products is faster than conventional ground-based transportation," said Scott Price, UPS chief strategy and transformation officer, according to the release. "Drones offer a low-touch option for delivery of lab specimens and medical products that could make a significant impact in an urgent response application."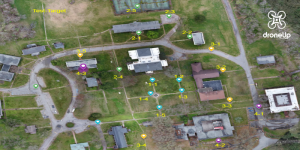 Tests were conducted over three days on the vacant campus of St. Paul's College, in Lawrenceville, Virginia. The safe, complex community environment made it possible to test UAS package delivery under a variety of conditions. Exercises focused on delivery to residential and commercial areas.
The goal was to determine safe operational capacities based on existing technologies, policies, personnel, and environmental restrictions; airspace de-confliction for safe and efficient delivery day and night; and proposed policy changes to further enable the use of UAS.
Findings and recommendations from Operation Last-Mile: Critical Drone Delivery Testing will be included in a report to the White House.
"Many in the public—along with federal, state and local officials—are asking how drones can be used in this time of crisis," DroneUp CEO Tom Walker said, according to the release. "Rather than speculate, it is incumbent upon our industry to conduct operationally based exercises that produce factual data and lessons learned to ensure we can respond safely, effectively and efficiently when called upon. Data collected now will impact our capabilities beyond the COVID-19 outbreak we are currently facing."