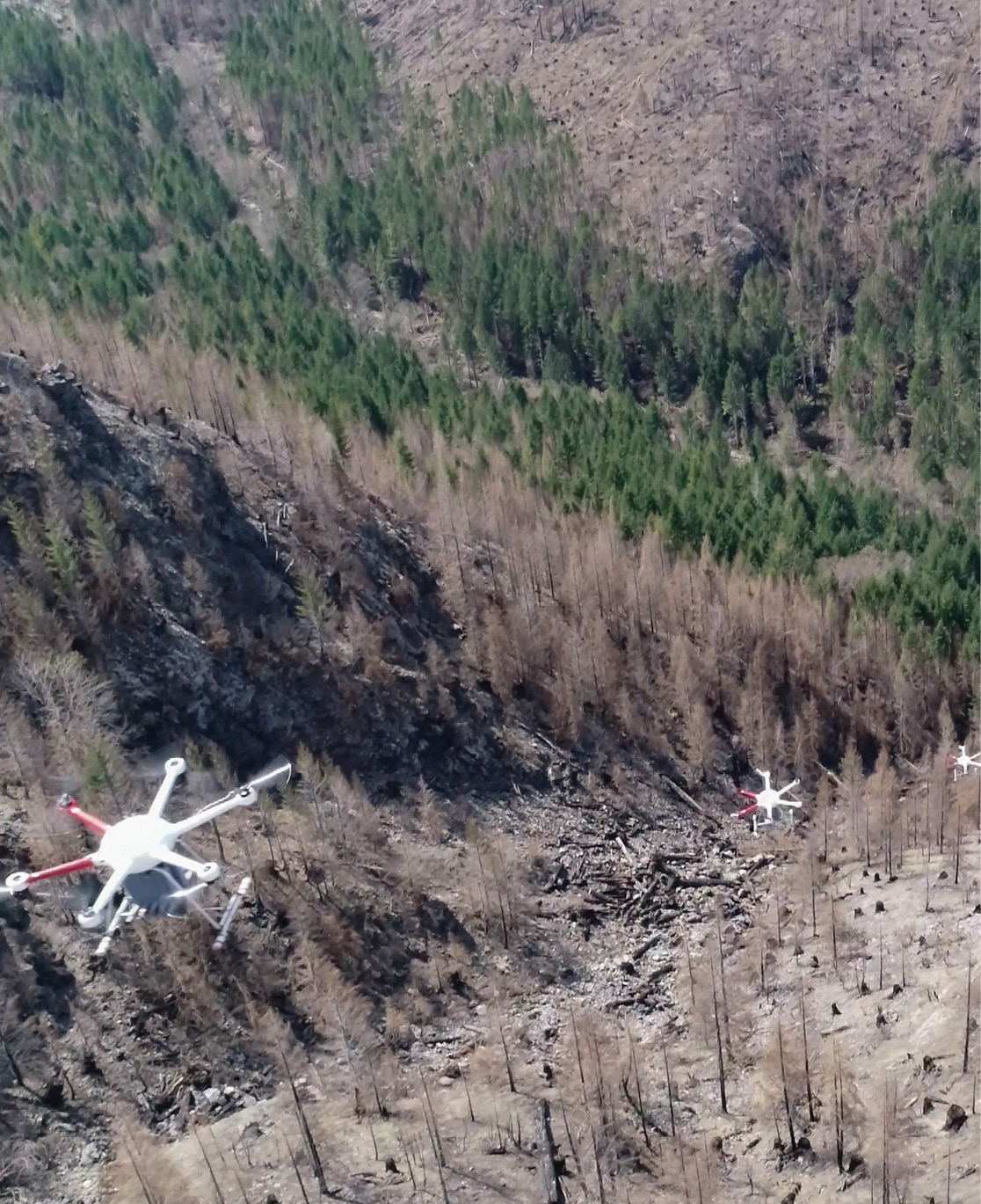 A roster of drones and sensors are being deployed against all phases of environmental threats.
Jeff Strebler received the call on the second day of a wildfire that was raging across a 20-mile area west of Santa Barbara, California. The operations chief at ground control needed real-time images of the Alisal Fire, which was rapidly approaching the state's primary shoreline highway and triggering evacuation alerts in residential neighborhoods.
At 11 p.m. on an October night, Strebler, chief technology officer for Overwatch Aero, launched an L3Harris FVR-90 drone equipped with a Trillium Engineering HD80 EO/LWIR infrared camera to capture photos of the fire line and transmit them within seconds to the command center on the ground. The live feed allowed fire commanders to determine where to send crews and engines to battle the blaze, which took nine days to contain.
"The Holy Grail is getting real-time data down and getting it out and putting it in people's hands," Strebler said, estimating it would have taken about 12 hours for a manned aircraft to provide images of the fire line to ground crews.
As natural disasters such as wildfires increase in intensity and frequency, emergency responders are relying on UAS to provide situational awareness with mapping technology and imagery. While drones were once deployed primarily after natural disasters to assess damage, they are now being used in all phases of emergency management, from prediction to containment.
"We've gotten to a point where we can use drones to mitigate for a disaster," said Romeo Durscher, vice president of public safety at Auterion, which provides an open operating platform for connected drones from its Moorpark, California headquarters. "We can't stop the disaster, but with proper data and with proper use of the technology, we can potentially lessen the impact. So what once was a technology that we use after a disaster has become a technology that can be used before, during and after, and that's huge."
BATTLING WILDFIRES
Droughts and rising temperatures have led to an increase in the length of the wildfire season, the frequency of wildfires and the amount of land burned each year in the United States, according to the Environmental Protection Agency. Since 2000, an average of 70,600 wildfires has burned about 7 million acres annually, more than double the acreage destroyed in the 1990s.
Drones are now helping to mitigate wildfires using two approaches: limiting spread by dropping aerial ignition over blazes in controlled burns and providing situational intelligence to commanders trying to contain the flames.
During this past fire season, Drone Amplified, a Lincoln, Nebraska-based company, dropped "Dragon Eggs"—plastic spheres of flammable material that ignite when punctured—on wildfires in California, Colorado and Oregon. The company's remotely controlled IGNIS system is fighting fire with fire to remove overgrown brush and trees, which can fuel megafires.
In the second strategy, Overwatch Aero, based in Ballard, California, provided images of the Alisal fire not only to ground commanders but also to FlameMapper, a Ventura, California, company that produces predictive models of where fires will spread. FlameMapper's data shows where the fire will move within one, two or four hours, enabling fire officials to decide where to drop retardant or move crews with chainsaws to cut down vegetation in the blaze's path.
Once a fire is contained, DroneBase, a Santa Monica, California, company, deploys UAVs to take photos of property damage, which are used by insurance companies to process claims. The images provided by its drones before a natural disaster can also identify property risks, such as dried shrubbery or trees that could ignite from an encroaching fire.
"If you're a policy holder, you want that claim to be processed as quickly as possible, and drone technology facilitates the speed of the actual inspection process," said Jose Giraldo, general manager of the property vertical at Drone Base. "So instead of using traditional methods in insurance where someone goes on site and climbs up on a residential or commercial roof, the drone allows us to have somebody on site take high-quality imagery to assess the condition of the property."
In the aftermath of a wildfire, drones are also being deployed to reforest acres of land where trees have been destroyed. DroneSeed, based in Seattle, uses fleets of drones to drop seeds encased in specially designed packets on burnt forests at a rate that is six times faster than crews manually replanting saplings.
"Our mission is to make reforestation scalable and mitigate the worst effects of climate change," said Grant Canary, CEO of DroneSeed. "Drones are key to making reforestation scalable in the speed that they operate on a day-to-day basis and in the navigation of the terrain."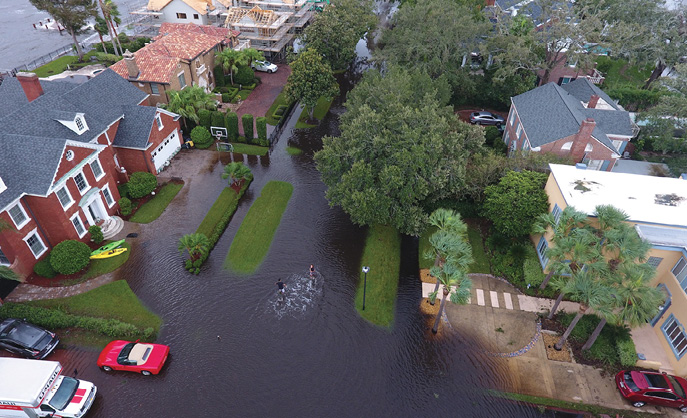 COMBATTING FLOODING AND HURRICANES
In the Maldives, the lowest-lying country in the world, climate change is threatening to destroy or submerge most of its 1,200 Indian Ocean islands. An estimated 80% of the nation's islands lie only three feet above sea level and could become uninhabitable by 2050 because of rising water, according to NASA and the U.S. Geological Survey.
In 2017, the United Nations Development Programme (UNDP) and the government of the Maldives came up with a unique strategy to tackle the ever-increasing flooding. They decided to fly drones across the islands to create 3D risk maps, both before and after floods, to use in developing emergency response plans.
"The majority of those islands had no proper electronic maps," said Romeo Durscher, who formerly worked at DJI, which was contracted to produce the maps. "They had paper maps where people drew the islands and they had outlined where the main buildings were, but there were no electronic maps."
While the drones took one day to map a single island, the UNDP estimates it would have taken almost a year to create risk maps of 11 islands without them. The images not only highlighted topography, but also pinpointed specific areas that would be prone to flooding and identified safe zones for residents to use if they had to evacuate.
Although it wasn't possible to map all of Maldives' 188 populated islands, the project included training sessions with local officials on how to fly the drones so they could complete the risk maps on their own.
"The whole idea was in essence to train the trainers and then leave the technology and the knowledge behind so that they could scale up themselves," Durscher said. "That's the only way to make this sustainable—you teach the locals how to use the technology and how to deal with the data so they can become self-sufficient."
In the United States, where hurricanes often trigger flooding, drones are increasingly being deployed to assess damage to buildings and infrastructure in the storm's aftermath. Utilities are now using drones to locate downed power lines so that electricity can be restored in communities in a hurricane's path.
Percepto Autonomous Solutions, based in Israel, has flown drones before and after hurricanes in Florida to record damage to power lines. The company's drone-in-a-box system was based at the utility. ready to deploy during hurricane season, said Ariel Avitan, the company's chief commercial officer (for more on Percepto, see the use case elsewhere in this issue).
Using drones to inspect power lines after hurricanes can be done much faster than by crews driving around looking for damaged poles and cables, which can take days, Avitan said. After the drones identify changes in the power grid, an automated process analyzes the data, generates a report and emails it to the utility.
"Our ability to fly around and see a lot of area in a very small time and then crunch that into specific GPS location enables the power companies to reduce the time to getting power back," Avitan said.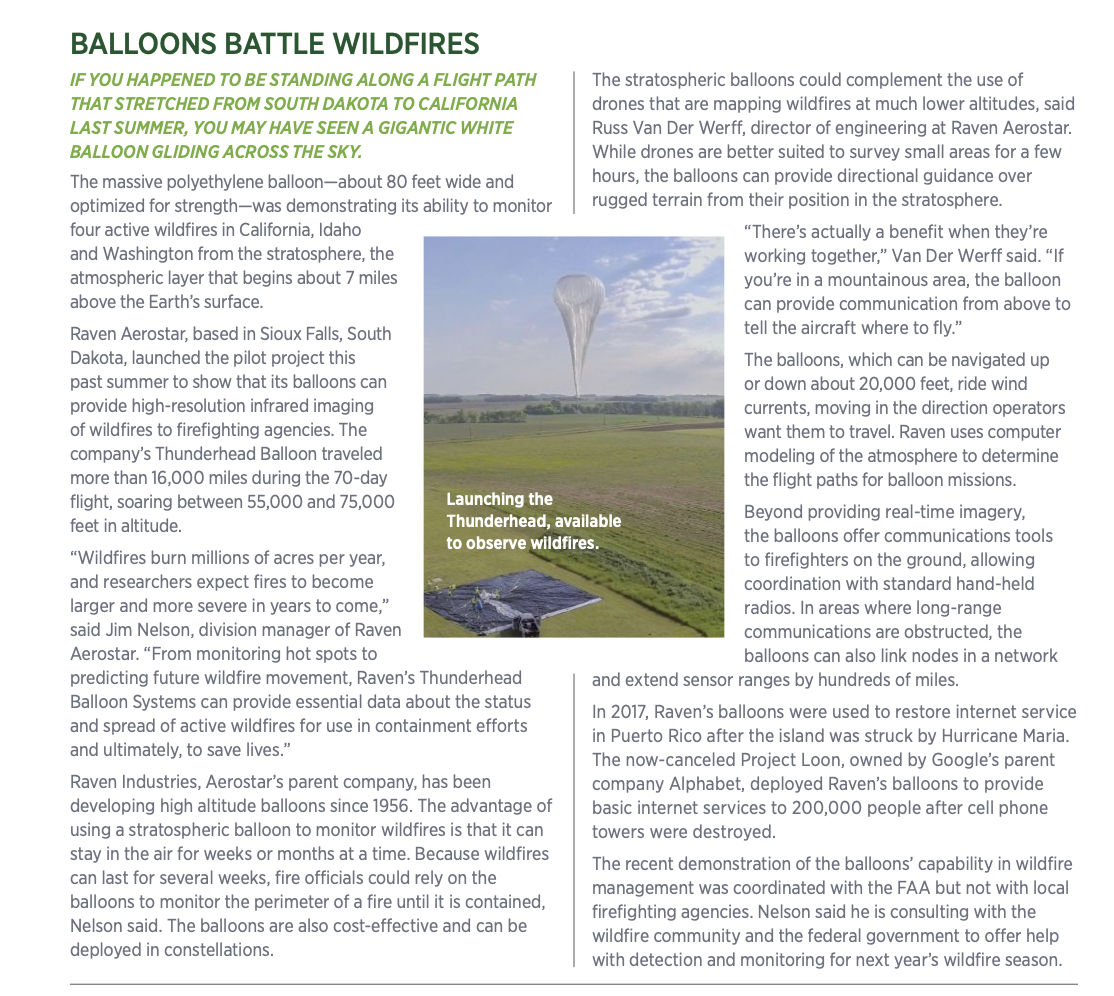 ASSESSING TORNADO IMPACT
In March 2021, an outbreak of tornadoes hit Mississippi and Alabama, killing six people, leveling homes and businesses, and knocking out power to thousands.
When deadly twisters rip through an area, it's easy to assess the damage in cities and towns where the population is clustered. What is more difficult is determining the impact in remote rural areas where there are no residents to report the damage.
To determine how unpopulated areas were affected by the spate of tornadoes last spring, unmanned aircraft were used for the first time by NOAA's National Severe Storms Laboratory in Norman, Oklahoma. The research drones enabled NOAA to quickly assess the damage in hard-to-reach locations so forecasters could more accurately map the path of destruction.
One of the advantages of deploying drones is the ability to use a multispectral camera, which can capture images from 400 feet above ground. "It allows us to see damage to vegetation that we wouldn't otherwise be able to see outside the human eye," said Melissa Wagner, a postdoctoral research associate at NOAA.
The photos taken by the drones helped the community's response and recovery efforts after the tornadoes moved eastward to five other states. Mapping the damage, for example, allowed forecasters to identify the starting point of an 80-mile tornado path in a remote area with limited road access close to a river.
Before using drones, forecasters often relied on images provided by satellites orbiting the earth. But those images did not have the high resolution produced by drone cameras and the ground is not visible through cloud cover, Wagner said.
"When we're flying at 400 feet with the drones, we're getting high resolution of 3 centimeters or less," Wagner said, compared to the resolution for satellite images of 30 meters.
Another use of the new imagery is to help determine when to issue warnings for future tornadoes. "By having that information and then also comparing this to the signatures that they see in the radar, this could be a way in the future to help other forecasters with their warning decision criteria," Wagner said.
POSITIONING FOR THE FUTURE
As more drones are deployed in natural disasters, NASA is creating a plan that will help manage the various types of aircraft responding to such events. Developing better coordination of the airspace was prompted in part by the increasing use of smaller UAS in pre- and post-disaster emergency management.
"We see the inclusion of small UAS starting to take off," said Marcus Johnson, project manager for the Aviation Systems Division at NASA Ames Research Center. "Prior to a disaster, in terms of prediction and really understanding where the areas of highest risk are, UAS are getting adopted a lot more."
Larger manned aircraft need to be made aware of drones flying in the airspace, Johnson said. That need is one of the challenges driving a project NASA launched in 2020 called STEReO (Scalable Traffic Management for Emergency Response Operations), which is creating a new ecosystem for what NASA calls "faster, smarter, safer emergency response operations."
"We're looking at specifically how to raise situational awareness between the piloted aircraft that are currently in the [disaster] response with these new small UAS that are being introduced into it," Johnson said.
The airspace above natural disasters is currently managed by an air tactical group supervisor, using radio communications and visual observation from an aircraft. Yet at 2,000 to 3,000 feet above ground, the supervisors cannot see UAS flying at 400 feet and below, especially in smoky conditions, Johnson said.
One solution to the problem is to leverage data information exchanges between the ground control station and the UAS and transmit that data to the supervisor's cockpit. That would allow UAS to become visible with communications tools that area already being used, Johnson said.
"UAS offer an enormous benefit to really start shifting some of the risks away from the pilots in the aircraft to these remotely piloted systems," Johnson said. "The challenge is that if we can't start utilizing the UAS more, the firefighters just can't make use of these really great tools that can really enhance their situational awareness and enhance their ability to suppress fires."
Overcoming those barriers will allow UAS to become a "force multiplier" in disaster response, Johnson said. "These can be very game-changing technologies. We know the UAS in general has come a long way over the last couple of decades and they're really in a good place right now to start getting a broader adoption into operations to support disaster response."