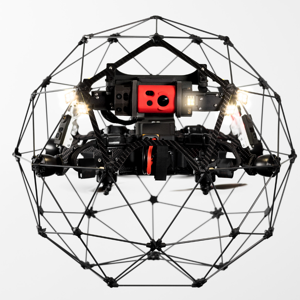 Flyability introduced its new indoor inspection drone, the Elios 2, at AUVSI XPONENTIAL in Chicago.
The easy-to-use collision-tolerant UAS features intelligent flight handling and improved data collection capabilities, according to a news release. It comes equipped with seven vision stability sensors that point in all directions and provide GPS-free stabilization.
"At the heart of Flyability products lies collision-tolerance," CEO Patrick Thévoz said, according to the release. "It is the true enabler to gathering data in the intricate and hostile places where our customers are searching for insights."
The system comes with a 4K camera optimized for rendering images, enabling Elios 2 to provide the level of detail inspectors would get by standing at arm's length of an object. It also comes with a powerful, intelligent lighting system that produces 10K Lumen of light for improved situational awareness in large spaces. The indirect dustproof lighting configuration makes it possible to traverse dirty areas. It also has oblique lighting mode to better detect cracks and pitting.
Other features include a thermal camera, shockproof payload, full HD live video feedback, distance lock, 2D measurements, 3D modeling, a modular design for easy maintenance, and a redesigned software suite that streamlines data management.
"In developing Elios 2 we asked our users to challenge us. With their critical feedback, we went back to the drawing board to design, from the ground up, the ultimate indoor inspection drone they had dreamt about," said Dr. Adrien Briod, Co-founder & CTO of Flyability. "The result is an intuitive-to-fly drone fitted with an unobstructed 4K camera that can hover in place to spot sub-millimeter cracks. It performs reliably in GPS denied environment, in dark, dusty and troubled airflows, beyond line of sight, and particularly in places that no other drone can access."
Described as the most intuitive, reliable, and precise indoor inspection drone, the Elios 2 is on display at AUVSI XPONENTIAL at booth #2616. First-time drone fliers were able to quickly learn how to fly the Elios 2.