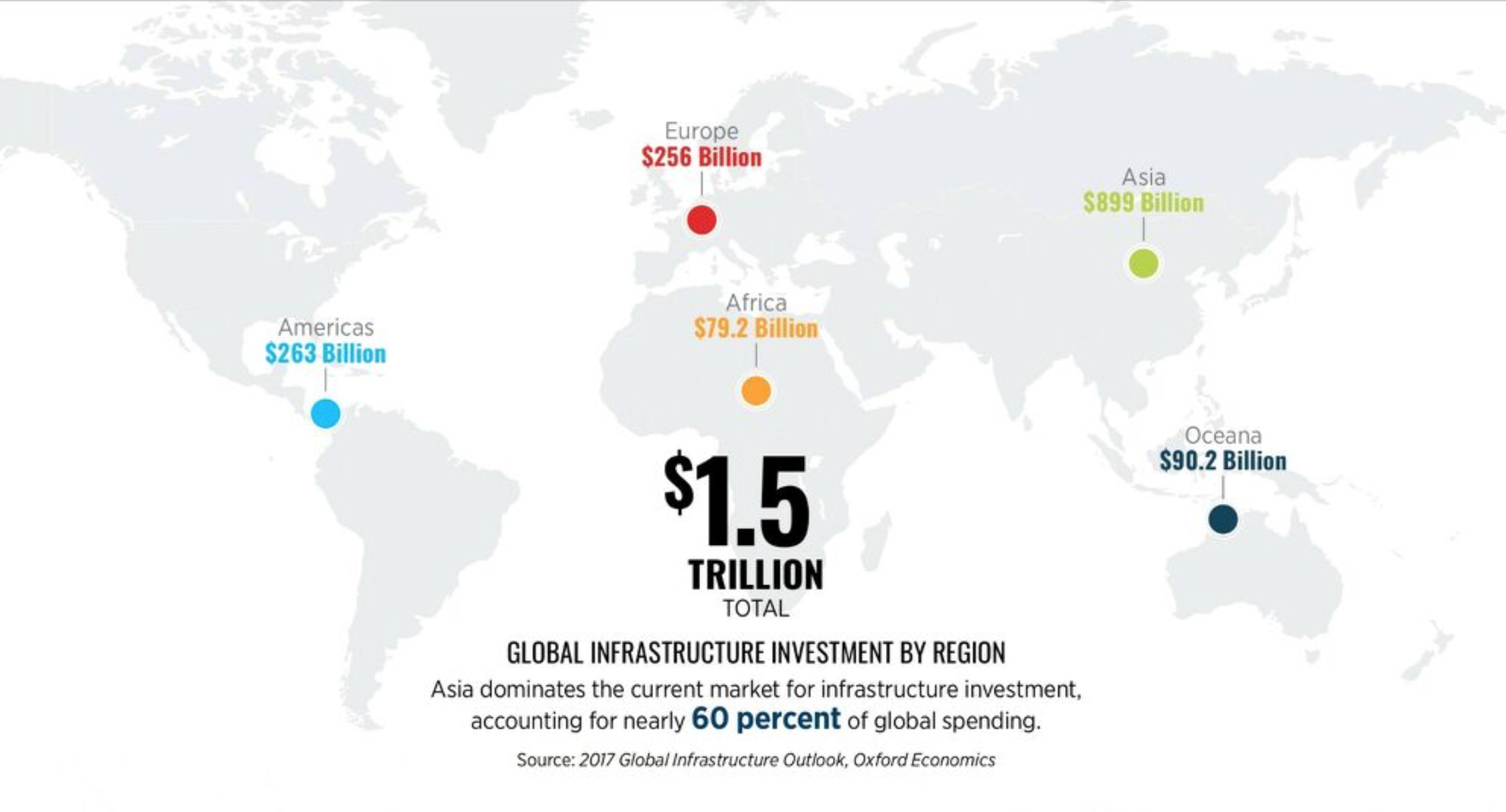 UAS have proven their worth in the construction and inspection of infrastructure assets, while the market for autonomous construction equipment is in its infancy.
In just a few short years, UAS have proven themselves to be an effective tool in the construction and inspection of infrastructure assets. With an estimated market value of $1.5 billion dollars, infrastructure represents an important and growing segment for drone hardware, software and services.
According to Oxford Economics, GDP growth and urbanization are the key drivers for investments in infrastructure. Asia dominates infrastructure investment, led by China's massive infrastructure initiative "One Belt, One Road." Over the next 10 years, China and its local partners are expected to spend as much as $1.3 trillion on railways, roads, ports and power grids to connect Asia with Europe. Urbanization will continue across all regions. By 2050, 68 percent of the world's population will live in urban areas, according to the United Nations.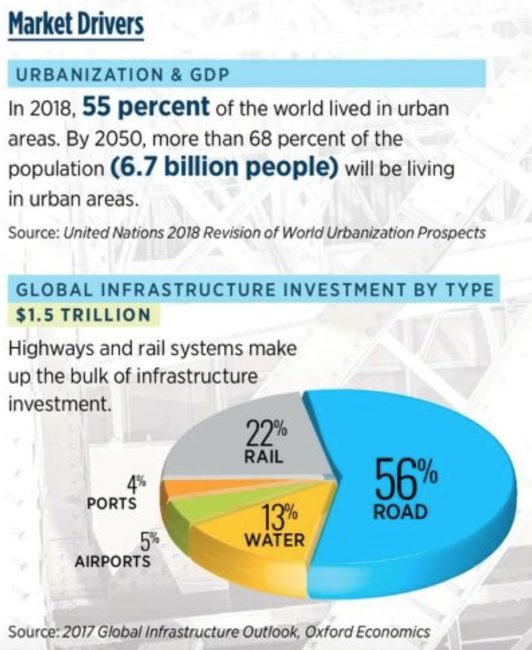 DroneDeploy, a software supplier in use on more than 400,000 jobsites in 180 countries, has seen its highest adoption rates year-over-year in construction. "The market is still scaling," CEO Mike Winn said. He attributes the strong adoption rate to improved hardware and software that have allowed construction companies to incorporate drone data into their workflows. "Many companies that initially hired a drone service company are now taking their drone operations in-house and expanding their usage."
Winn sees increased use of ground control points, which deliver a higher level of survey accuracy as well as additional imaging devices such as thermal cameras. He expects drones in a box—fully autonomous drones that take off and land from self-contained landing boxes—to catapult the industry forward.
"Every jobsite has the opportunity to benefit from an aerial mapping tool," said Sebastian Witkowski, product marketing manager for Komatsu's Smart Construction division. "Aerial mapping empowers our customers to measure progress and productivity with greater resolution. You can do it more quickly and more often, which unlocks a powerful perspective for our customers."
Drones also have become an essential tool that keeps workers out of danger. From water towers, bridges and ports to rail and sewers, drones offer a cost-effective and safer way to inspect structures and survey land areas. The most common uses among U.S. DOTs (Departments of Transportation) are photos and videos of highway construction sites, surveying and bridge inspections.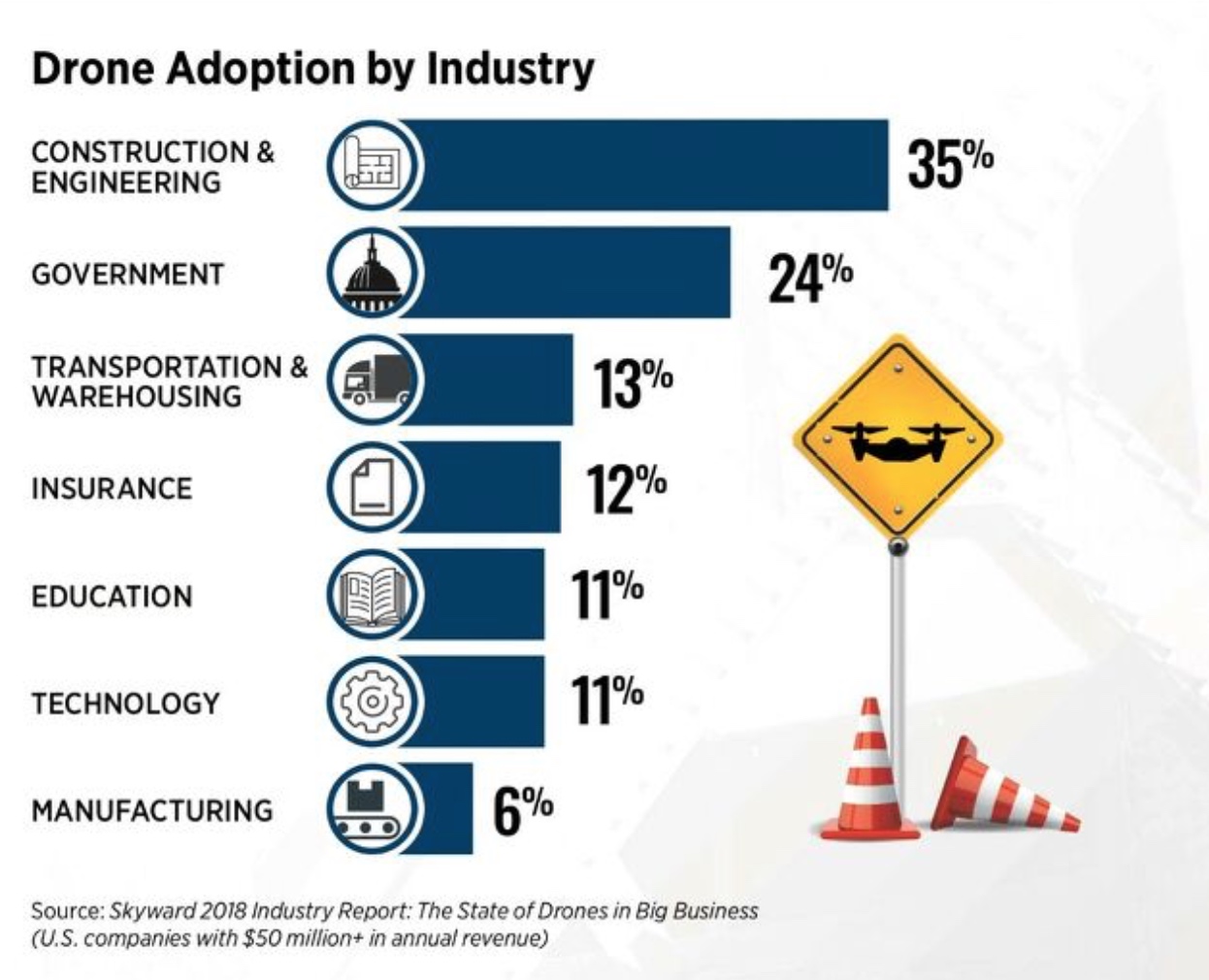 In the water industry, drones equipped with thermal, optical gas imaging (OGI) and multispectral systems can be used in leak and water ingress detection. Other drones have been used to cost-effectively test water samples.
Moving earth and building roads with autonomous construction equipment isn't a reality yet, but it's where the industry is headed. For years, earthmoving equipment manufacturers have been adding automation. In the U.S., about half of all motor graders and 35 percent of all dozers use positioning sensors and a display to provide operators with a reference between blade position and the target grade. These semi-autonomous machines improve productivity and allow contractors to put less skilled operators on a machine.
"Compared to traditional methods—which include installing and reinstalling stakes and surveying—intelligent machine control on excavators results in up to a 66 percent reduction in construction time and up to 8 percent reduction with dozers," Witkowski said. Caterpillar and Volvo CE are also developing autonomous construction equipment.
It's not easy to say when fully autonomous machines will go beyond prototypes. "It will be driven by customer demand," Witkowski said, because a shortage of skilled labor is a pain point for contractors. Being able to operate machines 24/7 will greatly improve productivity versus manned operation. However, a construction jobsite is far less controlled than mining sites, where autonomous haul trucks are already working. "It's a much more difficult challenge to introduce full automation to a jobsite," Witkowski said.
Andrew Liang, lead engineer for Built Robotics, believes his company has a viable autonomous solution. The two-year-old firm retrofits skid-steer loaders with software and sensors for autonomous operation. Products are currently being tested on contractor jobsites near San Francisco.
"Autonomy is really sensors and software," Liang said. Initially, he sees autonomous machines being used on greenfields, highways and jobs where there are many repetitive tasks and less congestion. According to Presence Research, the market for autonomous equipment is expected to triple in size over the next few years, with several companies other than traditional OEMs entering the market.
What we are seeing today in unmanned air systems and autonomous construction equipment in infrastructure is only the beginning.