Led by the state's Department of Transportation, the North Dakota IPP team will work with CNN, law enforcement and Xcel Energy on projects slated to begin in August and September.
There's no doubt North Dakota has embraced unmanned aircraft systems (UAS) and the economic benefits the technology can provide the state.
The Northern Plains UAS Test Site became the first of the testing operations designated by the Federal Aviation Administration (FAA) to conduct research flights in 2014, and the country's first commercial UAS technology and business park, Grand Sky, opened at the Grand Forks Air Force Base a short time later.
Now, as one of the 10 teams selected for the Integration Pilot Program (IPP), the state will work with a variety of partners to address two of the main issues holding drones back from full integration into the National Airspace: the ability to safely conduct flights over people and to fly beyond the visual line of sight (BVLOS) of the drone pilot.
Led by the North Dakota Department of Transportation, the team will work with CNN, law enforcement and Xcel Energy on the first two phases of the project, said Russ Buchholz, the department's director and Information Technology Division/UAS Integration Program administrator. Safety will be a priority, as will developing repeatable procedures that commercial drone pilots across the United States can incorporate into their operations.
"North Dakota is one of the largest UAS users in the country," Buchholz said. "It's only going to grow further. Being part of IPP will help streamline processes and make operations safer and easier. Secretary (of Transportation) (Elaine) Chao mentioned safety as one of the focuses and we're pushing that—for the citizens below and the employees who no longer have to do some of these dangerous jobs."
THE PROJECTS
During phase one, which Buchholz expects to begin in mid-August, the team will focus on operations over people in an urban environment while flying in
controlled airspace. They'll work with CNN and law enforcement to conduct these flights, and hope to eventually find a way for media and emergency responders to deploy drones simultaneously.
"If law enforcement is at a scene it might be a newsworthy event and CNN or an affiliate might want to deploy a drone," said Nick Flom, executive director of the Northern Plains UAS Test Site, which is part of the North Dakota IPP team. "That coordination piece is challenging and the short answer for CNN and other news media is they can't be in that area. So we're looking at how we can engage both of those parties in an ops-over-people environment, maybe using a UAS Traffic Management-like system for coordination so they don't have to pick up the phone. Instead, it would be automated."
This project will be completed in a layered approached, Flom said, starting with flights over people in controlled air space and then moving to the coordination of multiple news and law enforcement drones.
While they'll deploy two drones at first to test coordination, that number could grow, Buchholz said.
"Right now, we're starting with the risk factor and with safety in mind," Buchholz said. "First, we're going to deploy one system to make sure we can validate the data. In the future, we'll have multiple drones. We'll start with two in controlled airspace and could go further than that, but we have to be able to prove the safety case. We expect to eventually have multiple drones using sensor development to detect and avoid so they're not conflicting with one another."
For the second phase, the focus will shift to BVLOS flights with Xcel Energy. These flights will be a bit more complicated, so it will likely take longer to obtain waiver approvals from the FAA, Buchholz said, which is why this testing isn't expected to begin until September.
Xcel Energy already has approvals for BVLOS flights for transmission line inspections, Flom said, and this project will build upon the work the company has already done. How? The transmission lines they inspect today tend to be located in rural areas, making the missions fairly straightforward. The IPP team wants to take this a step further and actually deploy drones to inspect the distribution lines found in cities.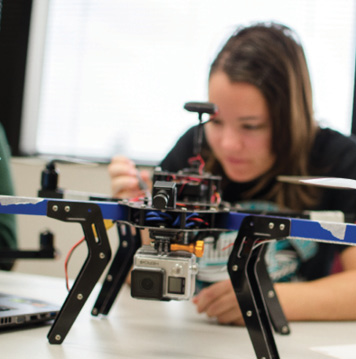 "We're adding to the complexity by doing more urban environment operations, while still focusing on BVLOS," Flom said. "That adds value to the research."
Buchholz expects both phases to last three to six months, he said. Depending on the outcomes, once initial testing is complete, the team will either dig deeper into these research areas or start looking at some of the other initiatives that were part of their IPP application.
THE CHALLENGES
With both projects, the team will conduct community outreach in the towns and communities where testing will take place, Buchholz said. While it's good to get the public involved and to gain insights from their feedback, this type of engagement could lead to obstacles along the way, especially if someone objects to drone flights in their neighborhood because they don't understand the benefit.
"Public outreach is a challenge," Flom said. "How do I get the public to see that a drone flying over a distribution line is no big deal, and that there are no safety concerns or no security or privacy concerns?"
The team also will have to work with public officials in the cities they're flying in, Flom said, including key stakeholders such as city council members, mayors and city administrators. Many community leaders have very little, if any, experience testing UAS and might be leery of the technology, Flom said—especially when they start talking with stakeholders about the more advanced types of missions the IPP teams plan to complete.
"Maybe it's easier to have conversations with local governments when you're talking about straight visual line of sight flights," Flom said. "With these advanced operations, there could be new hurdles we haven't even thought of yet, and we're trying to cram everything into two years. If you look at the test site program, we're four and a half years into it and we're hitting on all cylinders now. We weren't at the front end. With IPP, we're still trying to figure out the value to the industry. I think we'll really hit our stride in two years, and I want to make sure we don't lose that momentum as the program concludes."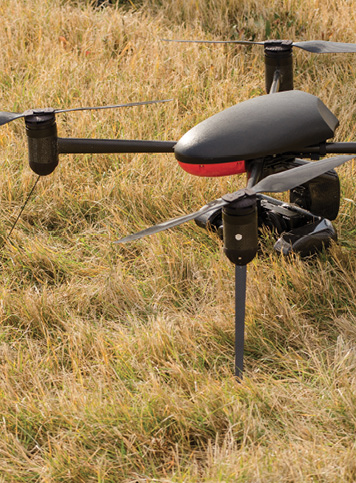 And of course, safety is the No. 1 priority for every project. To maintain safety, the team has to be aware of other obstacles in the airspace and be prepared to respond. There are more and more UAS operating in the sky, Buchholz said, including hobbyists who don't know the rules and regulations, putting everything else in their path in danger. Pilots also will need to coordinate with aircraft that are supposed to be there, such as manned systems that are operating medical flights for local hospitals.
Sticking with an incremental approach to testing also could prove to be difficult, Flom said, because it's not how they typically operate. Everyone is always looking for bigger and better technologies and use cases, but these projects are about finding repeatable procedures that will help make complex drone flights routine.
"It's easier to get a one-off advanced operation that isn't necessarily repeatable than it is to find a way to routinely do something in multiple different areas," Flom said. "That takes more time, but it's beneficial to spend the extra time to find repeatable operations that will advance commercial operations."
OTHER APPLICATIONS
North Dakota plans to pursue other initiatives the team listed on their IPP application, either through the program or on their own, said Nick Flom, executive director of the Northern Plains UAS Test Site. Linear infrastructure road inspection is one of those projects, a time consuming task that's currently completed on the ground via truck. Another application involves deploying UAS for long-range bridge inspection. If they're not rolled into the IPP program, the North Dakota Department of Transportation will take on these projects at some point in the future.
THE FUTURE
Initially, it's going to take time for these projects to gain momentum, but as the teams begin to really home in on their research areas and the projects get off the ground, Buchholz sees the process going smoothly, especially with the guidance the FAA is providing through program managers who can answer questions, fast track requests and review the quarterly reports each team must submit.
All 10 IPP teams have different projects they're focusing on, but many have similar components, Flom said, which will make it easier to develop repeatable procedures. They're all working to move the commercial UAS industry forward by focusing on more advanced UAS operations and getting the community involved, which is an important piece to the puzzle. The teams will report lessons learned from this engagement and the research they conduct to the FAA, and that will help guide the way toward clear regulations and routine use.
"If you look at the 10 IPP teams, maybe there's 20 initiatives getting a pretty good classification across a group of different use cases," Flom said. "My interest is not just finding one-off operations. I want to see things that can be transferred to the UAS industry as a whole. I'm hoping everybody does that. We're not doing anything with package delivery but we know that's a problem that needs to be solved. We'll solve some issues and other teams will solve others and collaboratively, we'll have great use cases to provide to the entire industry. I think everyone is going to be able to find value through IPP."
THE NORTH DAKOTA ADVANTAGE
The state has focused on developing UAS to grow its economy for years, and its landscape helps make testing these systems easier, said Russ Buchholz, the North Dakota Department of Transportation director and Information Technology Division/UAS Integration Program administrator.
"We're a rural state with limited tree vegetation," he said. "You can see a lot for a fair amount of distance when flying UAS."