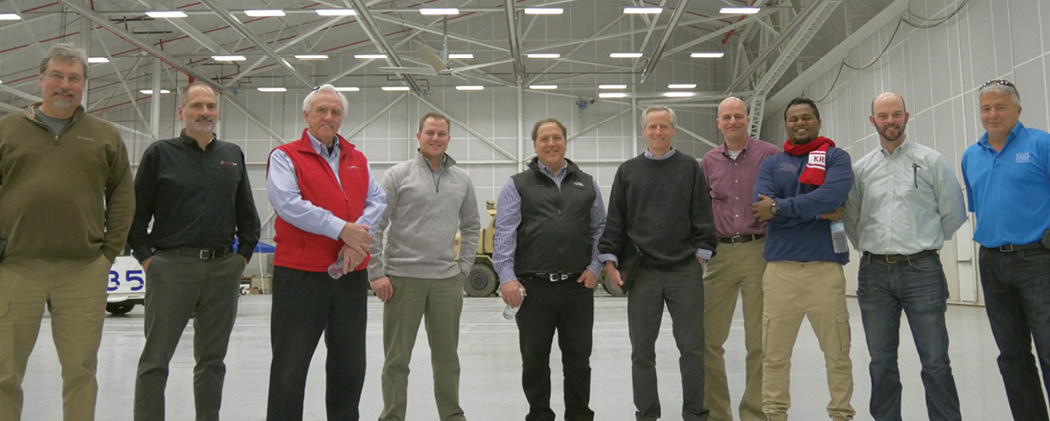 Even though investors are pouring money into drone startup companies it can still be challenging to find the right connection. Now drone startups have a new potential avenue for money—the Genius NY program, one of the largest business competitions for unmanned systems in the world.
In Genius NY, six finalists are chosen to compete for a chance at up to $1 million in funding. First place wins $1 million; second place $600,000; third place $400,000; and fourth through sixth places win $250,000. This competition is open only to companies focused on unmanned systems, including hardware, software and analytics.
The finalists each also receive a $10,000 per month company stipend as well as a housing subsidy and office space. More importantly the program connects them with speakers, instructors, workshops, and opportunities for networking and investment. The Tech Garden in Syracuse, New York, which hosts Genius NY, can also help finalists find the kind of expertise any new firm needs including local firms to help with legal questions, insurance, accounting, marketing, manufacturing and so on.
Like other incubators Genius NY helps the teams hammer out the gritty details of bringing their technology to market.
"Our team of executive advisors can with work teams on a one-on-one basis, connecting them with industry professionals for guidance on business strategy and high-level mentoring," said Jon Parry, director of Genius NY. "Money is the immediate draw with Genius NY, but the reality is that some teams can raise capital on their own. What really draws some more experienced teams are the intangible assets we bring."
A unique aspect of Genius NY is that in the first three months, finalists do not yet know their prize ranking. "In those three months, they really refine their business plans, their go-to-market strategies," Parry said. "On finals night, in March, the six teams pitch their business cases, and the executive advisors pick the winners. Still, the finalists know coming in that they have at least $250,000 in investment, and in this three months, each team still receives a $10,000 a month stipend and the housing subsidy, so they have enough to pay the bills. It's just that the larger funding gets unlocked in March."
Afterward, all six teams spend another nine months working on their projects, culminating with a demonstration for investors and program judges. During this phase, instead of competing, the finalists will actually work together, sharing technology and resources. After this demo, follow-up incubation is offered with additional funding as incentive to continue operating in central New York.
Central New York Opportunities
Genius NY, which is funded with $5 million from Empire State Development, New York's department of economic development, is part of the state's increasing focus on unmanned systems. For example, the state is investing roughly $250 million in unmanned systems over the next five years as part of its Upstate Revitalization Initiative.
Central New York is an emerging hub of unmanned systems technology, The region hosts to one of six Federal Aviation Administration-designated unmanned aircraft system (UAS) test sites in the United States at Griffiss International Airport. This site is managed by the NUAIR Alliance, a partnership of more than 90 private, public, academic partners.
NUAIR is helping to develop a ground-based sense and avoid system, deploying state-of-the-art range instrumentation to track UAS in the air. NUAIR is also managing a $30 million, 50-mile UAS flight traffic management corridor between Syracuse and Rome, New York. The aim is to test Beyond Visual Line Of Sight (BVLOS) concepts and technologies, one of the capabilities widely seen as essential to opening up the drone market applications that require longer flights to be both logistically and economically practical.
Central New York is also home to Fort Drum and the New York Air National Guard 174th Attack Wing. Fort Drum's aerial-to-ground gunnery range is one of the largest drone practice areas east of the Rocky Mountains, while the 174th Attack Wing was the first Air National Guard Unit to fly the MQ-9 drone, also known as the Predator B. The 174th Attack Wing is also the only Air Force organization in the United States to fly the MQ-9 in class "C" airspace, the common airspace around commercial airports, and it conducts qualification training for MQ-9 pilots and sensor operators and trains all MQ-9 maintenance technicians for the Air Force, Air National Guard and the Air Force Reserve.
"A number of companies influential in the industry can also be found in the region, such as Lockheed Martian, Saab Sensis, SRC, Gryphon Sensors and others," Parry said. "Some advisors for Genius NY have come from those companies."
First Team of Winners
2017 was the first year of the Genius NY competition, which received more than 250 submissions from teams all over the world. The first prizewinner was AutoModality, which is dedicated to creating autonomous mobile systems that can navigate the world around them without relying on GPS. The company's "Perceptive Navigation" software and sensors are designed to help drones get as close to a target as a human inspector, building 3-D models to help drones steer through terrain and stream high-quality video live from mounted cameras to handheld devices.
"AutoModality can help get drones under the girders of bridges or in warehouses tracking inventory," Parry said. "We see a lot of growth potential in their market, and have been able to help them hire people by getting local recruiting firms to find the talent they needed."
The second-place team, Ascent Aerosystems, creates unique cylindrical drones about the size and shape of a thermos bottle. "They're easy to transport in book-bags, and are rugged and durable," Parry said. "They started on Kickstarter and sold 400 units, and we connected them with manufacturers in our region and they are now successfully filling all those purchases—we see units shipped out almost every day."
Seeking Technology Diversity
Applications are open for the 2018 competition until October 1. "People can learn more and apply by going to GeniusNY.com," Parry said. "We plan to announce the finalist six teams in December."
A third-party panel of judges will review all the applicants, including a technical judge with an engineering background as well as a more business-oriented judge with entrepreneurial or industry experience. "In the last competition, 20 teams made it to the semifinals," Parry said. "Then we had them create a video pitch along with a slide deck for us to review, and our judges sent out specific questions if they had them, in order to choose six finalists."
When it comes to what Genius NY might want for 2018, "we are looking for a diverse, complementary group of technologies," Parry said. "Last year, for example, we probably had a dozen or more UAV platforms, and a lot were great applications, but we'll likely not want more than one hardware platform company. That can be challenging for people in crowded market spaces, but other companies with not as much market opportunity may have a chance."
For instance, "we didn't get a lot of applicants on the data analytics side," Parry said. "It's a very important component of the industry—drones collect more data than you might think, and industry will want to take that data and come up with accurate solutions for problems based on that data. We hope that we'll have an analytics company in the mix in the coming round."
Judges will also consider what benefits finalists may bring to the central NY region. "For instance, one finalist, SkyOp, is a training company for unmanned aerial systems," Parry said. "Training is a key ingredient for the region to support a successful business ecosystem. We anticipate many more pilots in the region will need part 107 licenses to fly small unmanned aerial systems, including those in big organizations such as first responder departments or police enforcement."
One stipulation of Genius NY was that the six 2017 finalists had to give up 5 percent equity. For 2018, the top three teams will have to give up 6 percent equity, while the other three teams will have to give up 4 percent equity, Parry said.
Rising Funding
Genius NY is part of the overall trend in rising funding for unmanned systems. Both deals and funding to unmanned systems startups have generally risen since 2012, though funding did see a 5 percent dip in 2016, according to tech industry analysis firm CB Insights. There was a record 100 deals worth approximately $454 million in funding, and the first quarter of 2017 saw a quarterly deals record of 32 investments worth $113 million, CB Insights added.
Given this funding landscape, Parry thinks Genius NY plays a valuable role "by focusing on companies that are too early-stage for a traditional venture capitalist. We're making investments enough to make teams grow for a 12- to 18-month period, and then venture capitalists or strategic investors can come in to help take them to the next level.