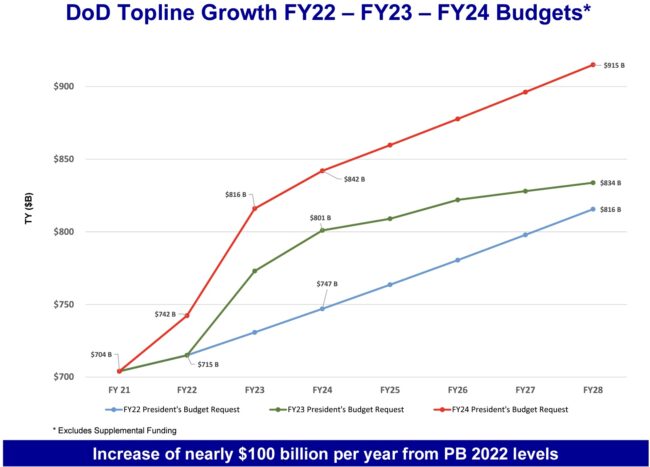 The U.S. Department of Defense released its in-depth budget documents on March 13, showcasing an $842 billion budget for fiscal 2024 that includes increasing investments in unmanned systems to help keep up with what Secretary of Defense Lloyd J. Austin III called the "pacing challenge" of China, and other threats.
"This budget seeks to meet this critical challenge today, tomorrow, and into the future by providing the resources today to continue to implement our National Defense Strategy and keep our nation safe while delivering a combat credible Joint Force that is the most lethal, resilient, agile, and responsive in the world," Austin said in a statement.
The budget is an increase of $26 billion over fiscal 2023 and $100 billion more than fiscal 2022. While the bulk of the president's budget has been declared "dead on arrival" on Capitol Hill by some lawmakers, defense spending usually has a larger constituency and more bipartisan support.
And while the investment in big-ticket defense items still dwarfs spending on unmanned systems, there are some increases in requested for such systems across the services.
The budget includes $547.8 million for modifying five U.S. Air Force MQ-9 Reapers to meet the U.S. Marine Corps' interim requirement for a Group 5 UAS. The budget would fund the development, testing and integration of Marine Corps-specific sensors and technology kits for Special Operations Forces.
The budget also includes $15 million to add Link 16 and other avionics and datalinks systems to U.S. Army MQ-1C Gray Eagles. The service bought a dozen of the systems in fiscal 2023 but won't add any more this year; the Air Force divested its MQ-1s in 2018, replacing them with the MQ-9 Reaper.
The Pentagon plans to buy two additional low-rate initial production MQ-4C Tritons for the U.S. Navy, adding to the three budgeted for fiscal 2023. That $823.7 million request includes the two vehicles and one Main Operating Base-Mission Control System.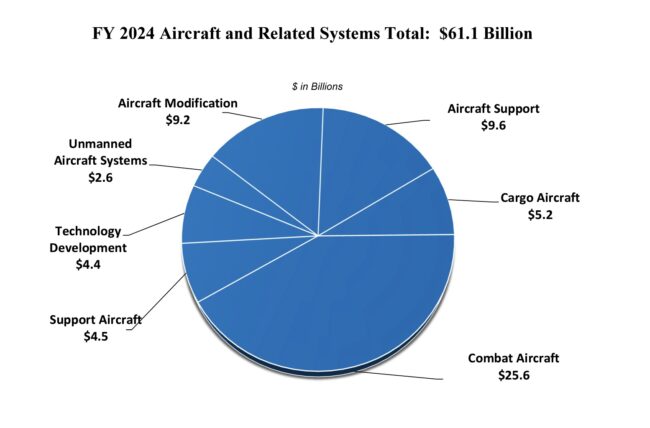 The U.S. Navy's budget request includes nearly $1 billion for three low-rate initial production MQ-25 Stingray carrier-based tanker aircraft, along with advanced procurement to support four future LRIP models. The budget request would also support continued integration of the system's ground control station and ground and flight testing of the air vehicles, which so far include four engineering development models and two of three system demonstration test articles.
The Navy also seeks $238 million for medium and large unmanned surface vessels, down from the fiscal 2023 amount of $310 million. The Navy is not developing cutting-edge systems, but says it they are "intended to be relatively low developmental technologies that combine robust and proven commercial vessel designs with existing military payloads to rapidly and affordably expand the capacity and capability of the surface fleet."
The budget request would fund continued development and testing of the vessels and their payloads and procurement of nine large USVs from fiscal 2024 to fiscal 2028. It also seeks $104 million for the Extra Large Unmanned Undersea Vehicle, or XLUUV.
The U.S. Army's budget includes nearly $1 billion for further development of the Optionally Manned Fighting Vehicle, intended to replace the Bradley Infantry Fighting Vehicle. The budget would fund system designs through critical design review and material costs for seven prototypes. The Army plans to enter low-rate initial production in 2027 with a full-rate production decision in fiscal 2030.
"We are developing a network of connected unmanned and manned sensors that will enable us to see more, farther, and more persistently than our enemies. We will deliver faster, more survivable fighting vehicles, including unmanned robotic systems able to deliver more firepower," Army budget documents say.
"We are innovating, through experiments like Project Convergence, to transform the Army into a data-centric force where commanders at all levels have the information they need to make decisions. Finally, we are transforming how we sustain the fight, rethinking how the Army provides logistics and sustainment support with lighter and more climate resilient vehicles and headquarters."
Systems to counter small UAS would get increased funding in the budget. The Army's research and development budget would fund advanced development of C-SUAS systems at $64 million, up from $35 million in fiscal 2023, along with another $36 million for system development and demonstration, up from $15 million. The Navy seeks $11.8 million for C-SUAS research and development, up from $7.4 million.