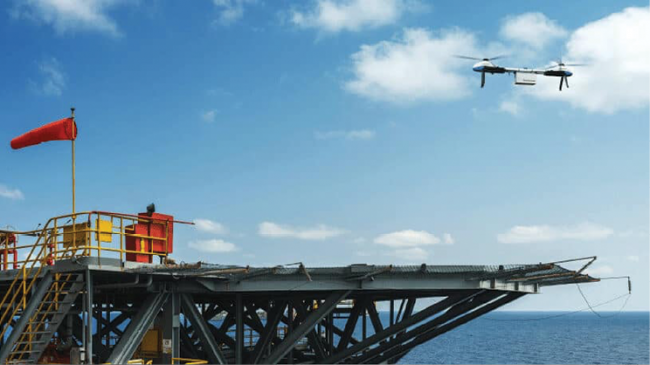 Offshore wind, petroleum and the power of the ocean itself all fuel the global energy market. Increasingly, companies use drones to inspect, protect and help secure the pipelines, turbines and other equipment that generate these critical marine-based energy sources. Yet the laws and regulations that govern drone use for this critical sector, both in the sea and the air above it, remain as murky as the waters in which they operate. Here, we explore the offshore energy sector, highlight drone applications within them and delve into the regulatory fixes that can take this lucrative market even higher…and deeper.
As Michael Hill, regional director for Montreal-headquartered Volatus Aerospace and lead for the company's projects in this space, put it: "The future of offshore resupply and air cargo is remotely piloted."
LAY OF THE LAND FOR WATER-BASED ENERGY
The U.S. Department of Homeland Security divides energy infrastructure into three interrelated segments: electricity, petroleum and natural gas. Each one of these segments contains an offshore component. For the electricity segment, offshore oil accounts for 2% of the country's energy. Renewables, including wind, contribute 3%.
THE FUTURE OF OFFSHORE RESUPPLY AND AIR CARGO IS REMOTELY PILOTED.

Michael Hill, regional director, Volatus Aerospace
The entire U.S. petroleum segment consists of more than 500,000 crude oil-producing wells, 30,000 miles of gathering pipeline and 74,000 miles of crude oil pipeline. Add to these staggering numbers 152 petroleum refineries, 95,000 miles of product pipeline and 2,000 petroleum terminals. Many of these are in the sea.
While most natural gas wells remain land-based, some are drilled into the ocean floor in coastal waters. According to the U.S. Energy Information Administration (EIA), 71% of total U.S. offshore production of dry natural gas comes from federal waters in the Gulf of Mexico. The EIA reported that offshore production from ocean waters administered by Alabama, Alaska, California, Louisiana and Texas equaled about 0.3% of total U.S. dry natural gas production in 2020.
Each one of these segments' offshore components presents unique challenges that drones have helped to answer.
OIL AND GAS
Statistica reports that, by the end of last year, the U.S. had 480 active offshore oil rigs and 106 gas rigs. "Rig numbers," the German market data company notes, "have been steadily increasing following a pandemic-induced slump in mid-2020."
Texas and New Mexico contain the majority of these rigs and have been harvesting most of the U.S.' petroleum in their shared Permian Basin since the early 1920s. These structures, often located in hazardous and remote locations, present significant weather, safety and health risks to those who must maintain them.
Drones have made positive impacts for rig inspections and resupply missions.
OFFSHORE SURFACE INSPECTIONS
Flare stacks provide an integral safety mechanism for the oil and gas industry because they safely burn off dangerous excess gasses. Offshore oil and gas platforms with active flares require routine inspections of both the flare and the flare tower. Given the open flame, pressure and heat, traditional inspection methods require shutting the system down for a period of time and allowing the area to fully cool. Inspectors then either climb the structure using scaffolding and rope, or view the area by helicopter. A full inspection using these methods could take up to three to four weeks to complete.
Costs can be staggering. Honeywell, the multinational conglomerate corporation headquartered in Charlotte, North Carolina, estimates losses of up to $1 million dollars per day during flare downtime.
Drones enable all relevant personnel to stay out of danger zones, completing inspections in a fraction of the time, while providing high quality thermographic data relating to critical components without work stoppage. In one day, drones can inspect three to four stacks with a two-person drone crew compared to the typical two days it would take to do this same work manually.
FOR SOME COMPANIES, ROVS HAVE COMPLETELY ELIMINATED THE NEED FOR DIVERS ON THE JOB.

Andrew Lawrence, account executive, Deep Trekker
SHIP-TO-SHORE RESUPPLY
Drones also have changed the game for offshore cargo resupply, crucial to day-to-day operations. Delivering items offshore using traditional methods remains costly. Helicopter deliveries can cost upwards of $18,000 per hour during the day. This cost ramps up by a factor of three for emergency nighttime operations. Maritime vessel deliveries can cost upwards of $5,000 to $8,000 a day, not including crew and other vessel-related expenses.
Drones significantly reduce these costs, while safely and reliably delivering required goods at any hour, especially across the "middle-mile." Volatus Aerospace is currently working on several global resupply opportunities using the Montreal-headquartered company's Avidrone, a heavy lift UAV for ship-to-shore and rig-to-rig resupply operations.
This fully automated vertical takeoff and landing (VTOL) UAV allows for touch-and-go cargo deliveries, including those BVLOS. The UAV has a dual-rotor system with a range of 100 miles at speeds of up to 60 miles per hour with a 90-minute flight time. This aircraft has a 4-foot payload box that can carry up to 50 pounds of automated package deliveries. Its safety systems include long range intelligence, surveillance and reconnaissance (ISR) target tracking features, integrated vision-based precision landing systems, dual-laser altimeters and a deployable parachute system.
Regional director Hill said the company aims to expand its ability to deliver payloads to offshore entities more frequently, cheaply and efficiently.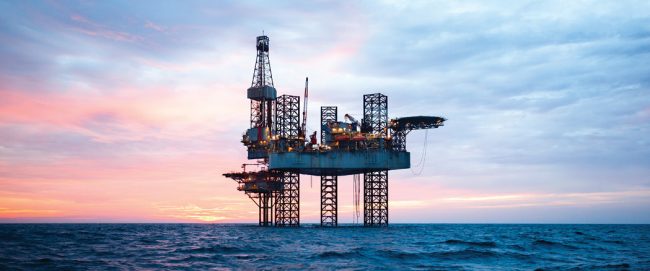 SUBSEA INSPECTIONS
In addition to rigs, offshore petroleum production and distribution relies heavily on pipeline infrastructure. The U.S. Government Accountability Office estimates the offshore oil and gas industry has approximately 40,000 miles of oil and gas pipelines located in federal offshore waters. Ensuring active pipeline integrity remains of the utmost importance, yet subsea inspections to detect leaks remain complex and difficult.
Traditional methods for undersea energy asset inspections often require scarce and expensive dive teams that must put themselves in harm's way. Even for a small job, diver costs can average between $1,500 and $5,000 daily, with prices scaling upward with the complexity of the job. Using remotely operated vehicles (ROVs), including underwater drones, can slash these costs by more than 70% while taking less time and significantly decreasing risk to humans.
Ontario-based Deep Trekker, one of the world's largest underwater robotics manufacturers, produces vehicles that help operators inspect and protect subsurface assets, both inside and out. Drawing on more than a decade of experience, the company's ROVs can provide safe and effective inspections for hydroelectric, nuclear and fossil fuel installations, as well as for offshore wind, oil and gas rigs. Its battery-powered ROVs excel in low visibility and confined spaces; in pipes, they can detect cracks, pitting, cavitation and pressure differentials.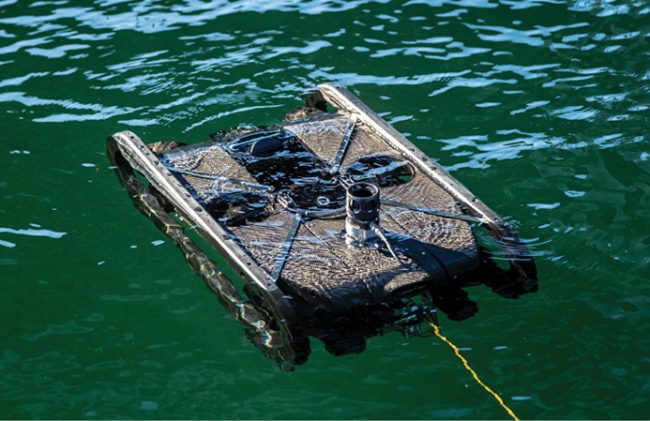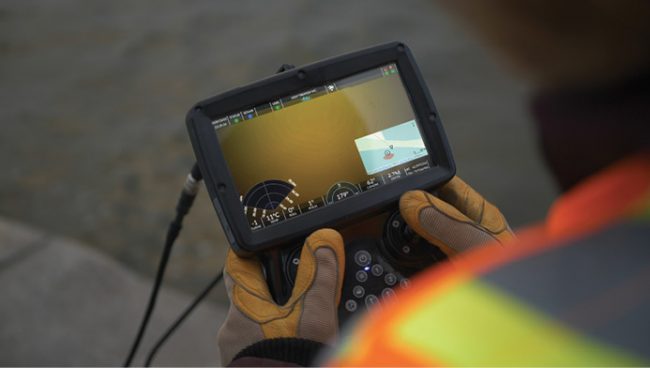 Deep Trekker built its biggest and flagship ROV, the REVOLUTION ROV, for missions that require precise movements, more power and greater payloads. The vehicle's four vector thrusters enable both forward and backward movements as well as 360-degree rotation. Two vertical thrusters allow for ascent and descent in water columns, as well as the ability to hold altitude at depth. "This ability to hold depth is useful in inspections," explained Andrew Lawrence, Deep Trekker's account executive, "because you need to sit at a particular location for hours and hours."
Already equipped with an ultra-high definition camera and grabber, REVOLUTION can also integrate third party equipment such as multibeam imaging sonars for murky water, a variety of sensors (e.g., for photogrammetry) and cleaning equipment.
"For some companies, ROVs have completely eliminated the need for divers on the job," Lawrence elaborated. "Some customers who still employ divers use our robots, equipped with multibeam sonar, to help alert the diver to potential hazards. ROVs are an extremely useful tool, with or without divers."
WINDS AND OCEANS
In 2021, U.S. offshore wind pipelines grew 24% over the previous year, generating 35,324 megawatts of power, according to the "U.S. Department of Energy's Offshore Wind Market Report: 2021 Edition." That same year, the global number of people involved in floating offshore wind energy more than tripled. By December, more than 200 worldwide offshore wind energy projects contributed to almost 308,000 megawatts of capacity.
Almost as pervasive as the wind, oceans blanket more than 70% of the Earth. Tides and waves can produce mechanical energy. Dams, generators, channel systems, and float systems with hydraulic pumps and oscillating water column systems that compress air in containers help produce this energy. Turbines and generators can convert the heat differential between the ocean's surface and deep waters to manufacture thermal energy.
While winds and oceans create energy in different ways, they both use turbines and pipelines—and face similar challenges. Inclement weather can damage turbine towers and, in the case of windmills, rotor blades. Salt, rain and lightning also can impact this equipment. Drones enable safe, efficient and less expensive visual inspections of these critical components. Equipped with sensors for thermography, LIDAR or a combination of both, drones have detected flaws as shallow as a quarter-inch deep.
Turbines also have underwater structures and cables that connect them to the seabed. As with rigs, until recently, divers had to perform these inspections. Underwater drones now allow for remote inspections that take minutes instead of hours or days.
REGULATORY SEA AND AIR LANES
Drones provide a significant value-add to all offshore energy segments. But the laws and regulations that govern their use, both in the air and under the sea, have not progressed as rapidly as the technology that propels them.
Law of the Sea
Sean T. Pribyl, former U.S. Coast Guard lawyer, merchant mariner and current business attorney in Holland & Knight's Washington, D.C. office, explained that the 1982 United Nations Convention on the Law of the Sea (UNCLOS) outlines the primary legal framework for uncrewed underwater vehicles (UUVs).
"UNCLOS sets forth a comprehensive legal framework for the use and protection of the sea, the seabed and subsoil, and the marine environment," Pribyl said. "Lawful use of UUVs, including ROVs, will depend on the location of the operation. This international law divides the maritime domain into clearly defined zones."
Coastal states exercise sovereignty over their internal waters, archipelagic waters and territorial seas, which extend to about 12 nautical miles from the land. Domestic law applies to operations in these inland waters and territorial seas. However, the U.S. Inland Rules of the Road (33 C.F.R. Ch. I, Subch. E) and International Regulations for Preventing Collisions at Sea, 1972 (72 COLREGS), which govern the respective operation of vessels in the U.S. inland waters, territorial seas and Exclusive Economic Zone (EEZ) with few exceptions, still fail to address submerged UUVs. (See previous IUS coverage at: https://insideunmannedsystems.com/unmanned-underwater-vehicles-an-ocean-of-possibilities/).
UNMANNED SYSTEMS HAVE THE SAME NAVIGATIONAL RIGHTS AS MANNED SYSTEMS.

U.S. Navy Commander's Handbook on the Law of Naval Operations, para. 2.3.5, March 2022
That said, ROVs are generally treated as a tethered extension of a vessel: "If an UUV is deemed a vessel, it would be subject to the requirements of the 72 COLREGs, including the requirement to conduct operations with 'due regard'—meaning non-interference with other vessels."
But the COLREGs do not expressly govern underwater or subsurface operations. Technically speaking, no ROV-specific domestic or international legal framework exists.
James Kraska, S.J.D, a retired Navy JAG and the Charles H. Stockton Professor of International Maritime Law at the U.S. Naval War College, noted that the U.S. Navy released its updated Commander's Handbook on the Law of Naval Operations in March. Considered official doctrine of the Navy, U.S. Coast Guard and Marine Corps, the handbook now states: "Unmanned systems have the same navigational rights as manned systems (para. 2.3.5)."
"While not legally binding on commercial operations" Kraska said, "commercial companies using UUVs should take heed of the Navy's interpretation of customary international law." Both he and Pribyl agreed that UUVs should exercise due regard and conform to the extent possible to all of the best practices being developed in the unmanned vehicle industry, such as Navigation Safety Advisory Council (NAVSAC) (Resolution 16-01) Unmanned Maritime Systems Best Practices.
The Air Up There
As with the majority of onshore drone operations, offshore middle-mile resupply and other drone operations need BVLOS authority to become truly repeatable and scalable.
Currently, the FAA requires a waiver to Part 107 to perform BVLOS operations. The recently published report from its BVLOS Aviation Rulemaking Committee (ARC) provides 400-plus pages of going-forward recommendations. (See https://insideunmannedsystems.com/a-risk-based-approach-the-uas-bvlos-arc-final-report/.) The agency remains engaged in public listening sessions on the report as it mulls over potential rules or other policy-making action.
In the meantime, the FAA seems to have accelerated BVLOS waivers: to date, 113 of its 292 total waivers permit BVLOS flight.
ENERGIZING THE INDUSTRY
Drones are making positive waves across the offshore energy sector. Cleaning up legal authorities will further propel them, literally and figuratively. Eliminating regulatory uncertainty will enable businesses to operationally excel. The U.S. energy sector fuels the economy and cuts across all critical infrastructure sectors, supplying the power needed for daily life. It's time regulatory bodies clarify the regulatory environment for drone use to better enable energy growth, efficiency and safety…and energize the industry.