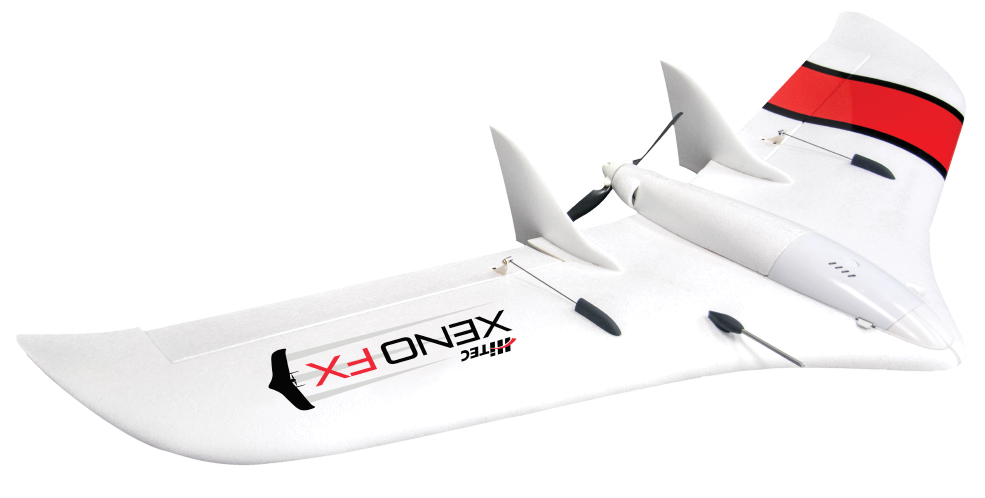 Hitec, known for servos, is leveraging its experience and reputation to make an impact in the drone market.
While Hitec RCD's roots lie in developing servos that advance radio control for both hobby and professional users, the company has expanded into various other product lines over the years, including airframes. The move into the UAS market began about a decade ago, with Hitec becoming a leading servos provider for drone manufacturers.
In that time, Hitec has delivered tens of thousands, if not hundreds of thousands, of servos to OEMs, giving the team insight into the drone market, General Sales Manager Shawn Spiker said. And with the resources to produce and scale their own airframes with the assistance of German-based partner Multiplex, and of course Hitec's experience on the actuator side, they certainly have the capability and know-how to make an impact.
UAS companies approached Multiplex for years asking for foam-injected pieces, Spiker said, and the company finally agreed to work with a few. That's when the team at Hitec decided it was time to make the move, looking to Multiplex to help convert the foam pieces developed in the U.S. into mass production.
"We started designing, building, engineering and doing the fabrication," Spiker said. "Through that work, there was so much synergy between all the companies and all the engineering talent that we've acquired over the last few years that we were able to become a drone manufacturer in our own right. And of course, probably the easiest part was dropping in one of the servos we'd already designed."
Hitec has five full-time engineers in the U.S. focused on the drone market, using mostly North American-based suppliers for any part of the systems that transmit data, Spiker said. Nothing sensitive comes from China, which is important to Hitec and the customers it serves.
Hitec also offers end-to-end drone services, with trained pilots flying various platforms across numerous industries.
"We can come in at a good price point with a product that has gone through the vetting process to be deployed on a military installation or a nuclear site," Spiker said. "We have very qualified, very talented people providing these services."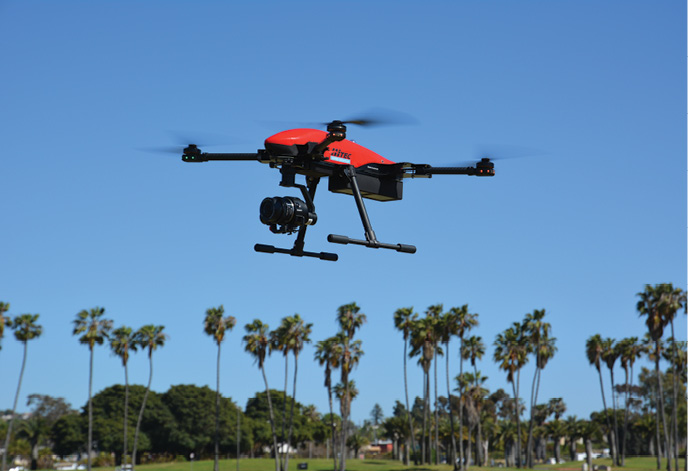 A DEVELOPING MARKET
There's no one manufacturer that has entirely figured out the drone market, Spiker said, and over the years he's seen many companies come and go. Developing components and integrating the various pieces is complicated, which is why Hitec has so many software engineers working to perfect its components and systems.
Many companies focused on the ag industry early on, but it didn't pan out as expected, Spiker said. Getting results required sophistication, and many farmers didn't see the value. While Hitec has had success in the ag industry, particularly with its XENO FX system, construction and inspection have been more fruitful.
Construction has become a core base customer for drone services, Spiker said, mostly because there's no need for complicated sensors, filters or anything that requires high-level processing. You fly the drone with an RGB camera to monitor a site or get the information needed for volumetric calculations. And the value is clear, saving construction companies time and manpower.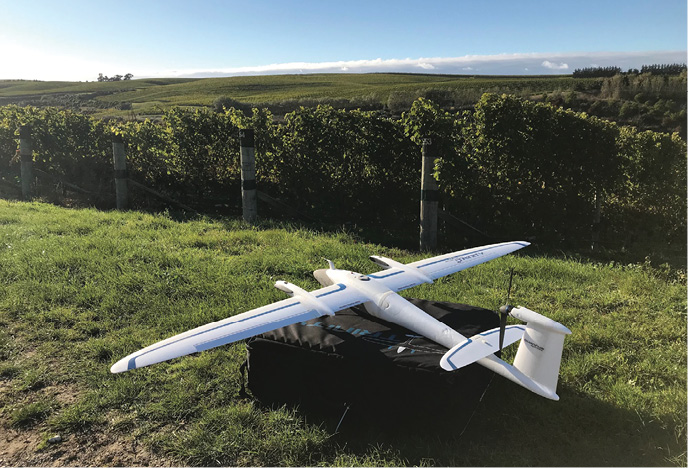 KNOWING THE MARKET
As a drone service provider, Hitec is going after the high-detail, high-resolution survey work that construction customers need, Drone Sales Manager Justin Cunningham said. The key is having the right tool for the job, which is why Hitec offers a variety of aircraft, not just its own. The company's history, reputation and worldwide footprint has helped it become what Cunningham describes as the largest drone service provider in the world.
And the fact they're flying non-Chinese aircraft has resulted in huge growth, Cunningham said, especially as they're working with government clients who can't use them anymore.
"I'm seeing a trend of people wanting to get away from it [Chinese-made drones] before it's too late, so we're getting a lot more business," Cunningham said. "Government agencies and first responders are getting away from their current fleets and looking to adopt new technologies and aircraft."
THE APPLICATIONS
Hitec takes on a variety of jobs, from creating orthomosiacs for construction sites to inspecting utilities, infrastructure and cell towers.
Hitec recently flew a 2,200-acre government facility, collecting high-resolution data with a 20 megapixel camera for 1 to 5 centimeter accuracy. The client received a land survey that showed elevations, erosion and weather damage. The mission was completed in three flights that collected about 2,000 images each.
"What would have taken a pilot with a Phantom a week we were able to do in a matter of four hours from takeoff to landing," Cunningham said. "It's all about efficiency, and that resonates with having the right tool for the job. The big thing is we have the ability to fly our aircraft in areas, such as government land, that other companies in the consumer market can't because they're locked out with a specific aircraft they have. We're able to go out and provide data that is extremely accurate."
This flexibility has opened up more utility and general infrastructure inspection in the federal world, Cunningham said, including clients like the Marine Corps and NOAA.
HITEC'S OFFERINGS
Hitec offers a variety of UAS, including its proprietary fixed-wing platform XENO FX, which is equipped with the Sentera sensor, made of Multiplex's resilient Elapor® foam and optimized for the ag industry. That system is getting a lot of interest in the Korean and Japanese markets, Cunningham said. In Korea, for example, it's flown daily over the cabbage fields used to make kimchi.
In the U.S., the XENO is sold to Midwest colleges training farmers, giving it a bright outlook in the U.S. ag industry.
The company also offers the easy-to-use Straight Up Imaging (SUI) Endurance multirotor, equipped with a lightweight aerodynamic body, powerful brushless motors, efficient carbon fiber propellers and a camera stabilization unit. Then there's the Quantum Systems Trinity F90+, a fixed-wing VTOL sUAS that also features the Elapor® foam construction and optimized electronics layout.
A variety of sensors are available for all three aircraft, including high-resolution RGB cameras, FLIR thermal sensors and LiDAR—allowing users to quickly change sensors to collect different types of data. That flexibility goes back to offering a full solution. The team talks to customers to find out their end goals, and then recommends specific sensors for their jobs.
IMPROVING GNSS
Hitec plans to add GNSS to the systems, Spiker said, which is something that isn't found on many sUAS that aren't made in China or Taiwan—and is exactly why the team wanted to build its own. They're integrating the Septentrio mosaic multi-band, multi-constellation GNSS receiver.
The board will be small and lightweight, Spiker said, and optimized so users can integrate it into their own systems.
"We weren't exactly happy with the options we had, so we decided to design around our needs," Spiker said. "We wanted to simply replace the existing GPS system with something that's comparable in weight and size and has the precision, accuracy and performance advantages that we wanted and we know the market wants too."
The team is in the process of testing the board in a variety of vehicles, because the plan is to not just use it in the company's systems, but to sell it to OEMs as part of the other peripherals Hitec offers, including the Ground Control Station (GCS). The goal is to sell a complete solution that makes it possible to plug all the peripherals straight into the autopilot.
A BRIGHT FUTURE
Spiker sees the biggest growth in the next three to five years coming from individual drone sales, including the peripherals. The company is ramping up its production capability, while still selling the actuators Hitec has built its reputation on.
"There's a lot of growth in our future. We're going after specific markets, but we're also tailoring aircraft toward customer needs," Cunningham said. "And then the servo market is never going anywhere. We're adding the servos with different protocols that are very useful for these aircraft."
The fact Hitec isn't a Chinese company will also fuel growth, as they're not impacted by the restrictions and difficulties that come from manufacturing there.
"That's our strength," Spiker said. "It's exciting to be in this space and have this position of strength to dive into a new market."