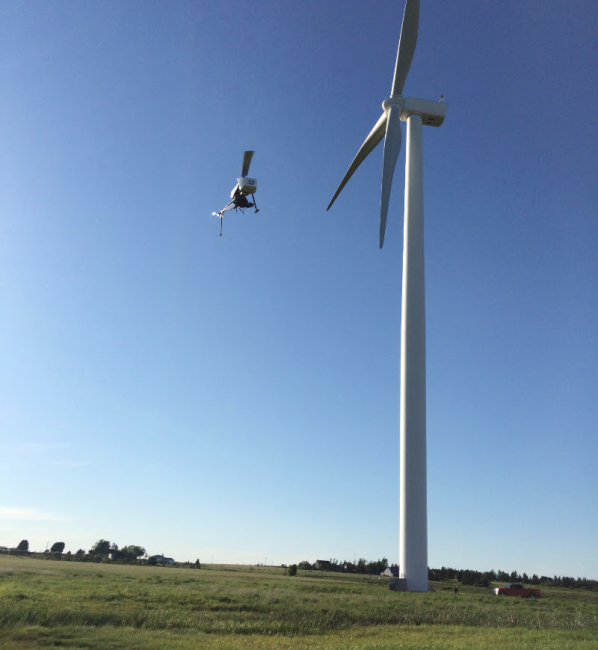 To inspect wind turbine blades, workers typically repel down each blade while capturing images, or try to take photos from the ground.
Not only are these methods time consuming—it typically takes about a day to inspect one wind turbine—they're also pretty dangerous. That's why ING Robotic Aviation and Capstone Infrastructure wanted to see how feasible it is to use a UAS for this type of work instead. Capstone owns multiple wind farms across Canada.
Last month, the team headed out to a wind farm in Amherst, Nova Scotia for a one-week mission, and used ING's Responder rotary wind aircraft to perform wind turbine blade inspections for Capstone. This is the first time ING has worked with wind turbine inspection, CEO Ian Glenn said, and the team learned a lot throughout the process about the purpose of these inspections and the data they need to collect.
The project was successful, and they found that the UAS could collect the data quicker and safer. In fact, they were able to inspect multiple turbines in a day, Glenn said.
"Every moment those blades aren't turning, it costs the company money," Glenn said. "What we did with Capstone showed we could do the inspections much safer and faster, and produce data that's at least as good as what they would get otherwise. In the end we proved using UAS for these inspections is at least three times faster, 50 percent cheaper and results in 2/3 less down time for the turbines."
For this project to be successful, they needed experienced operators with a clear understanding of the sensor data requirements and a UAS that could withstand the windy conditions, Glenn said.
"Our Responder has outstanding wind performance. Our approach to aviation and the ability of the Responder to fly in higher winds than most small drones can operate proved to be a key point for us," Glenn said. "Before us, other guys came out to fly a UAS and it blew right into the turbine. That's not good. It's really important you spend a lot of time understanding the problem space."
During the flights, the Responder collected 36 megapixel geo-referenced and altitude stamped photos. Because the Responder can carry a larger payload, they were able to equip it with the cameras needed to collect high resolution imagery of the blades, Glenn said. The communication architecture they implemented gave them control of the camera at the control station, enabling them to optimize the data they collected while safely operating the UAS.
Capstone is happy with the initial data, Glenn said, and he expects to continue to work with them in the future. The team at ING Robotic Aviation learned a lot about wind turbine inspection and the benefits of using UAS, and Glenn said he is proud to have worked with Capstone on this project.
"We're all about reducing risk and cost, and providing better data," Glenn said. "We proved once again that if you have a good solid system, great operators and an aviation approach, you can do that. Statistically we blew the traditional method out of the water. And that's great. That's what we all expect to do with our drones."