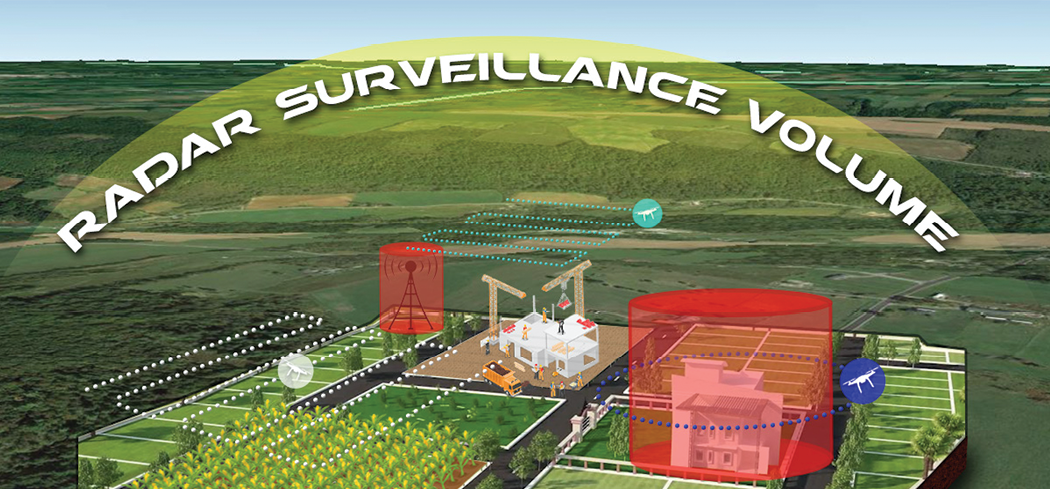 Yay—the plague is managed to a point where we can go to XPONENTIAL in PERSON this year! If you are like me, you are probably concerned about remembering how to talk with people face to face, finding your business cards and dusting off your work attire (and hoping it still fits). For the few of you who kept it all together and want to find out what is happening in the drone world, I'm happy to report that the industry made progress in several key areas such as Remote ID (RID), operations over people and night operations, UAS traffic management (UTM) and electronic vertical take-off aircraft (eVTOL). That said, I will concentrate on two of the biggest big advancements underway, which will do the most for true drone commercialization.
REALLY BIG THING ONE: OUT OF SIGHT DRONES
XPONENTIAL always has a lot to explore, but the biggest thing to see this time around is advances in beyond visual line of sight rulemaking and tech. Last month, the FAA started the Beyond Visual Line of Sight Aviation Rulemaking Committee (BVLOS ARC) as the first step toward writing BVLOS rules. The drone world has been waiting for this for years and there will be lots of BVLOS ARC members and key companies in BVLOS technology at XPONENTIAL. You can see the BVLOS ARC members here if you want to seek them out and share your perspective. 
BVLOS ON RAILS: Before going to Atlanta, I recommend reading the BVLOS exemption/waiver the FAA granted BNSF railroad in July for hints of similar things the agency will likely approve in the BVLOS rules. You can find the new BNSF exemption grant here.
BNSF's BVLOS waiver gives insight into the multiple layers of sensors the company is using to provide its remote pilots with the ability to manage conflicts with air traffic as they perform inspections over BNSF property. While the details of how they are doing it are not provided, the FAA shared a lot more than they usually do with this approval. First, the waiver indicates they use electro-optical sensors to allow the pilot in command to remotely examine her drone, check weather and scan the site before launch. Next, sensors scan for manned aircraft equipped with ADS-B. EcoDyne's (booth 1833) EchoGuard radar sensors cover the inspection area to detect non-cooperative aircraft. An L3 Harris (booth 3209) RangeVue Pro sensor fusion system takes all this data and presents the remote pilot with a fused sensor picture to avoid collisions. BNSF did not seek to fly over people with the waiver (yet) and they are using mitigation tactics to ensure they do not. Interestingly, a "set" of small drones are being used under this waiver: the Skydio S2 (booth 2425), and the Easy Aerial Osprey (booth 3521). Neither drone company has publicly announced it is seeking UAS Type Certification (more on Type Cert later), but it is interesting to note that they used the Type Cert's process of durability and reliability (D&R) testing hours as a component of evidence in the waiver proposal.
CALLING ALL DRONE MAKERS: North Dakota's Northern Plains UAS Test Site (NPUASTS, booth 1625) and the University of North Dakota (UND) (booth 1424) are must-visits for OEMs and drone operators who want to work BVLOS now and at scale. NPUASTS used system integrators L3 Harris, Collins Aerospace (virtual booth 1174) and Thales (booth 3331) to build "Vantis"—the physical infrastructure put together to enable BVLOS ops anywhere in the state. In addition to managed Skyline C2 infrastructure from uAvionix (booth 2159), Vantis uses radars from C-Speed, Terma and Fortem Technologies (booth 2812) to provide the capability for detect and avoid (DAA). Using its status as an FAA BEYOND team and ASSURE's UND, NPUASTS is branching out into Advanced Air Mobility (AAM), deploying a Volansi eVTOL test bed to find out how to deliver packages long-range over rural terrain. NPUASTS is building BVLOS "templates" that OEMs and operators can test out in North Dakota and then use in other parts of the country. Good stuff.
ACTING LOCAL BUT THINKING GLOBAL: Visit NUAIR (booth 3331) to discuss starting local with BVLOS with an eye to building the requirements for BVLOS nationwide. Like BNSF, NUAIR begins with a defined operational area and layered surveillance methods to support BVLOS operations. NUAIR's twist: they are developing standards-defined performance requirements for drone communications, navigation and surveillance that they intend to release publicly. NUAIR will use its "local BVLOS standard scenario" to help partners operate from the Cornell Biological Field Station in central New York. One example underway is the use of a drone in a box to find harmful algal blooms in Lake Oneida and then direct a robot boat to nip the bloom in the bud. They use SRC radars and uAvionix ADS-B receivers for this operation to surveil the lake, but public performance-based standards will let users innovate their own choice of systems.
ACTING GLOBAL BUT THINKING LOCAL: Visit the Ohio Pavilion (booth 1807) to see what state and local UAS organizations in Ohio can do when paired with a global aviation organization like Air Force Research Lab (AFRL, at booth 1717). My favorite DOD acquisition organization, Agility Prime, now works with AFRL and is using AFRL gear and procedures to help civilian operators obtain a Military Flight Release (like a military airworthiness certificate, good for testing) as part of AFRL's approval process to fly with them. AFRL uses two FAA ASR-9 surveillance radars, and a long-range Common Air Surveillance Radar (CARSR) along with ADS-B sensors (installing soon) to provide a consolidated DAA picture to remote pilots. This is handled via Raytheon's Standard Terminal Automation Replacement System (STARS), a widely fielded U.S. air traffic control terminal automation system. AFRL calls the entire system "Sky Vision." Everything from small drones to eVTOLs are flying over Ohio as I write.
REALLY BIG THING TWO: CERTIFIED DRONES
The other Really Big Thing to watch for at XPONENTIAL is small drone type certification. Before last November there was no evidence of a defined pathway to type certification for small drones, partially because Part 107 explicitly said small drones did not need certification to fly under the rule. In November 2020, the FAA decided drones seeking to fly BVLOS and conduct operations over people may be better served if they underwent type certification. Not long after it was announced, these drones entered the type certification process and got through the first step:
The FAA followed up with more detailed guidance this July in its policy memo from AIR600-21-AIR-600-PM01—you should read it before XPONENTIALif possible. You can find it here.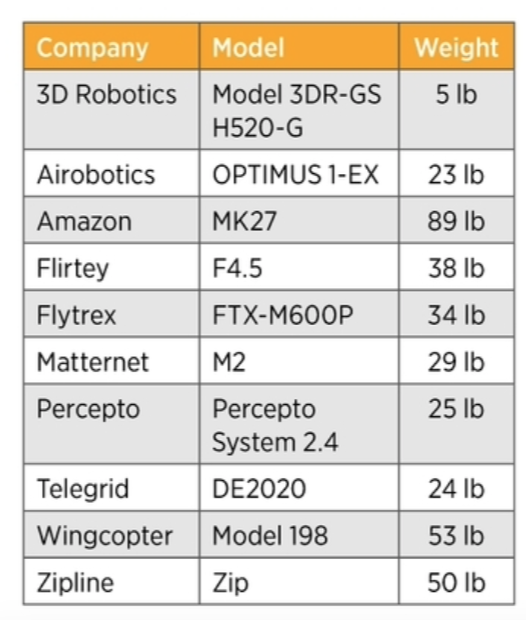 One of the most interesting parts of the memo is the diagram shown above.
The red box around the drone indicates that the type certification process will concentrate on the unmanned air vehicle itself, understandable because that process parallels what is done for manned aircraft type certification. However, the devil is always in the details—or in this case the eight "specified interfaces" an operator might need to fly the unmanned air vehicle. The only specified interface with existing manned aircraft documentation is GPS—the other seven do not have a manned aircraft analog. Because the FAA requires applicants to submit data on the specified interfaces that can affect unmanned air vehicle airworthiness, I foresee a lot of work for the industry standards organizations writing drone-specific standards for these interfaces.
Two of the publicly known certification applicants will be at XPONENTIAL (Wingcopter, booth 1925, and Percepto, virtual booth 1173). However, rumor has it Skydio (booth 2425) and Easy Aerial (booth 3521) may enter the process. The "specified interfaces" are well represented and the experts to see are Skyward, a Verizon company (booth 2216) and Qualcom (booth 3629) for LTE, Spirent (booth 3408) and Trimble (virtual booth 1320) for GPS, L3 Harris (booth 3209) and Collins Aerospace (virtual booth 1174) for commercial SATCOM. I suggest you ask them what they think about being part of the drone type certification process, and about how they envision progress with the FAA and their relationship to it.
I've highlighted just two of the big things happening in the drone world. The gamut of eVTOL, UTM, operations over people methods of compliance, RID performance, European/British/Canadian/Australian drone control advancements, the impact of made in America polices and, of course, NASA's Martian drone are all worthy of attention. However, no matter how important these big things are, drones will not have significant economic impact until they can safely fly BVLOS and over people. Except for the Martian drone. I think it has some time before NASA must worry about ops over Martians.