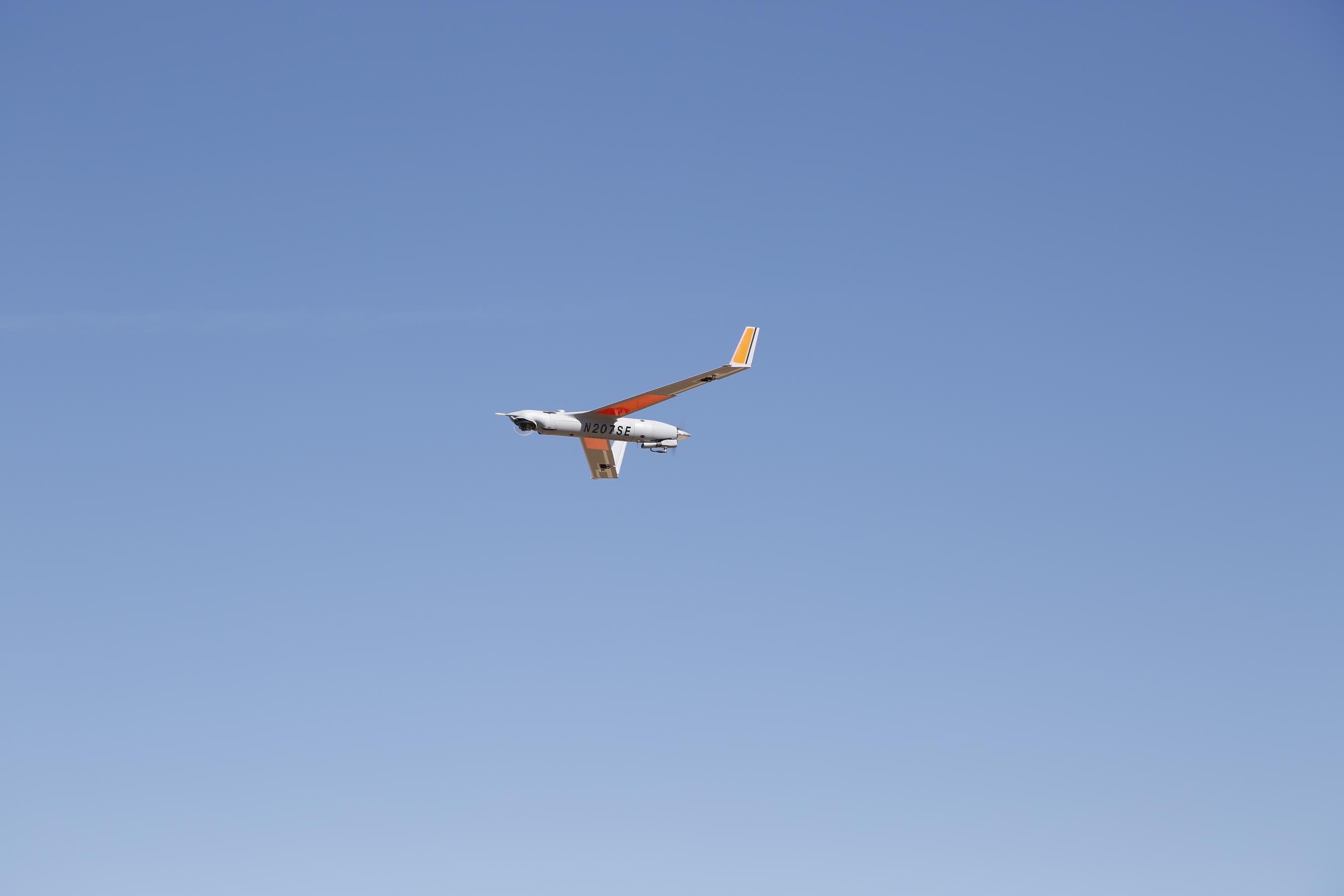 Insitu's ScanEagle recently completed a series of test flights to show how unmanned aerial systems can enhance railway safety and infrastructure inspection—the first commercial beyond visual line of sight UAS operation in the contiguous 48 states, an accomplishment the company describes as historical.
The flights were part of the FAA's Pathfinder program, an initiative to develop UAS regulations in collaboration with the industry. The ScanEagle was launched in a tower site near Vaughn, New Mexico, and in the first day covered 64 miles of the 132-stretch of track BNSF designed for the exercise. The flights were completed in October over a four-day period.
Through these flights, the ScanEagle was able to provide BNSF Railway with full motion video and still imagery—information that can be used to create 3D mosaics and other products to detect anomalies or problems with the track, said Charlton Evans, Commercial and Civil UAS Program Manager for Insitu. While they could only use limited systems on board because of the classification of the aircraft, Insitu was still able to provide BNSF with vital information about the track's condition.
While the details aren't ironed out yet, there are plans in the works for more test flights in 2016, Evans said. When they do go back, the team will have a better definition of what types of products will provide BNSF with the best information, as well as a more advanced payload onboard the aircraft to gather that data.
"BNSF was very excited about what we got out of these flight operations," Evans said. "They see it as decreasing the overall system risk and increasing the reliability and safety of trains. We believe we can help them avoid derailments because of the perspective we can give them from an unmanned system."
Today, BNSF's inspection vehicles use lasers to precisely measure track geometry and ultrasound to inspect rails for internal defects, according to the BNSF website. Three vehicles also test track strength on branch lines, sidings and yards. Most of the key routes are inspected four times a week, and some are even inspected once a day.
"Our Pathfinders project is expected to be a significant enhancement to the tremendous amount of data and information we already gather as part of our track inspection program," said Greg Fox, executive vice president for operations at BNSF Railway, according to a news release. "The capabilities these aircraft have to gather additional intelligence that can then be fed in real-time to track inspectors on the ground will fundamentally enhance our program and the safety of our railroad while helping to keep our people safe in harsh and extreme conditions."
Getting to the test flights
BNSF first approached Insitu about 18 months ago after they learned about the UAS work the company did with ConocoPhillips, Evans said. From there, the team went to work to get the necessary approvals from the FAA to make these beyond visual line of sight test flights possible. They not only had to get a Certificate of Authorization for the flights, they had to make the safety case for the FAA to permit the beyond visual line of sight operations.
"Our communication plan we put in place made everyone in the region aware of what we were doing and where we were going to do it," Evans said. "There was a high degree of awareness and coordination that occurred so we could ensure we wouldn't be in the same piece of sky as another airplane while we were flying."
The team also had to integrate with military training happening at the same time and in the same area as the test flights, Evans said. They worked closely to ensure both parties maintained safe operations, a challenging yet important part of these test flights.
Why ScanEagle
The ScanEagle is well suited for this type of commercial application because it features a long endurance time (24 hours) and a relatively small platform, Evans said. Once UAS are approved for these types of operations, the ScanEagle will be able to fly hundreds and hundreds of miles of track over the horizon, gathering data that can be handed off from ground control station to ground control station along the way.
"BNSF is envisioning covering tracks with unmanned systems like ours and being able to process data in a central location and then alerting trains of problems with the track in real time," Evans said. "That's tough and expensive to do with current technology or manned aircraft."
The future
While the team faced many hurdles to get the necessary approvals to perform these flights, Evans said it was well worth the time and effort spent. These flights were historic, and shows the FAA is working to apply a risk based approach to approvals, which Evans says is different than just putting a set of rules out to the industry and saying everyone must follow those rules. The industry is approaching the FAA with operational plans and providing a safety case to support their plans.
"This is a different approach the FAA is taking, and these flights are a great example of how it works," Evans said. "These are the first UAS flights in the lower 48 beyond line of sight, and that's historical because the FAA is making it possible to do this through new approaches to safety management."